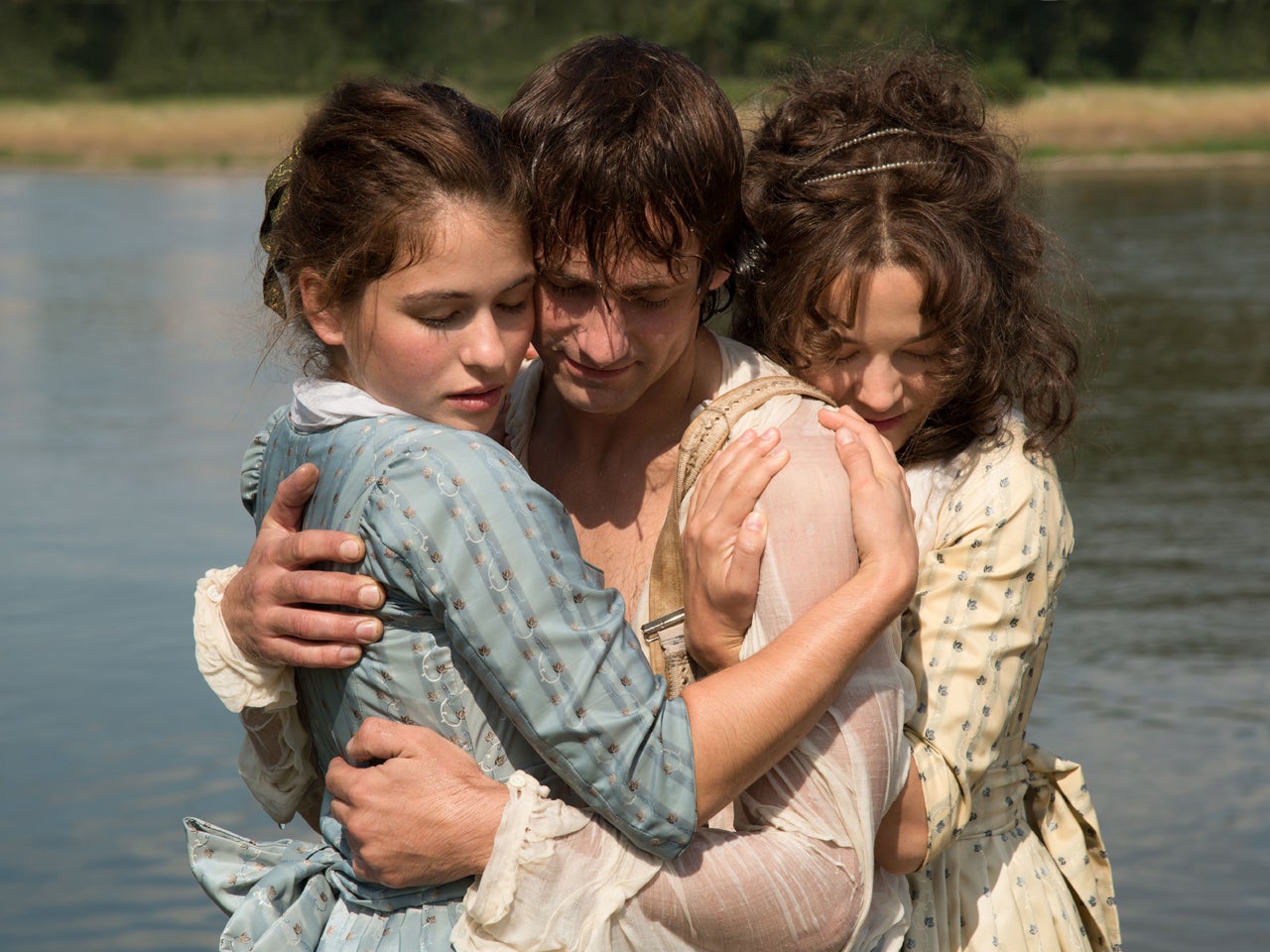 NYFF review: The romantic triangle "Beloved Sisters"
Friedrich Schiller was Germany's William Shakespeare, a poet and playwright who espoused Romanticism and was for a time forced into exile because of his political writings. Alongside Goethe, he is considered the premier figure of German letters.
And, as uncovered in recent biographies and dramatized in a new film, he was also the lover of two sisters from a prominent Weimar family, and continued to be even after marrying one of them.

"Beloved Sisters," a German production about the siblings Charlotte von Lengefeld and Caroline von Beulwitz and their relationship with Schiller, is a handsomely-mounted period romance that nonetheless feels confined by the strictures of biopics, in which 18th century characters speak about social mores, class and gender dynamics with the hindsight of 21st century writers.
The first intimation that the three may share erotic feelings comes after Schiller has rescued a child from drowning. Shivering from his wet clothes, the poet disrobes, and the two sisters (one already married to a man she despises) cling to his naked flesh in order to keep him warm. That they do.
The realization that Eros has struck sparks illicit communications between Schiller and the two women, conducted via coded messages to allay suspicion. And two sisters who had once vowed to share everything, now face a serious test: Is Schiller enough for the both of them? And will jealousy tear apart their sibling bond?
The appealing cast -- Henriette Confurius as Charlotte, Hannah Herzsprung as Caroline, and Florian Stetter as Schiller -- is straddled with a screenplay that would like to emphasize the transgressive potential of the written word (its hero and heroines are revolutionaries in more than one sense; one of the sisters dares to become a novelist!). Here, the mere act of writing becomes as transgressive as the carnal emotions they express. But the film dramatizes these messages by having the actors speak directly into the camera -- a trope that dispels intimacy and accentuates the artificiality of the film. [Also annoying: film inter-titles -- "Jena 1788" -- that swoop and swerve for no reason across the screen.]
"Beloved Sisters" is, at heart, a bodice-ripper, though with comely women more than willing to have their bodices ripped. Anne Schäfer is particularly eager as the neurotic, clingy Charlotte von Kalb, a married woman with whom Schiller had also engaged in a long-term affair, to his financial benefit.
Director Dominik Graf has a good eye for locations; the sun-kissed countryside, tremulous waterfalls and immaculate estates capture the period well, and the costume design appears authentic and lived-in. But as love grows to divide the two sisters, and the non-chalance of the affair threatens Caroline's chances for a tidy divorce from her husband of means, the story becomes ground in sniping and smashed china plates.
Distributed in the U.S. by Music Box Films, "Beloved Sisters" will open in theatres on Dec. 24. In German and French. Festival running time: 2:50; General release: 2:20. It has not yet been rated.
To watch an international trailer for "Beloved Sisters" click on the player below.
More reviews from the 52nd New York Film Festival:
For more info:
Thanks for reading CBS NEWS.
Create your free account or log in
for more features.