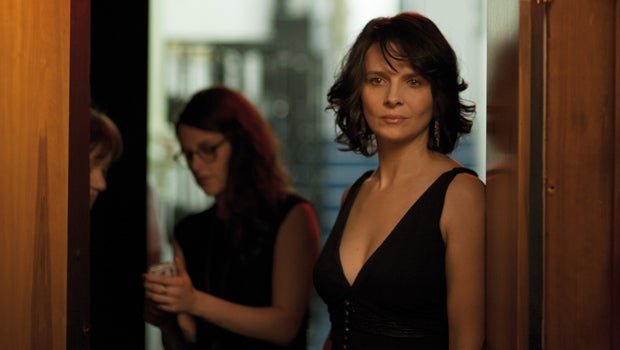 NYFF review: Kristen Stewart, Juliette Binoche in "Clouds of Sils Maria"
The two are like a well-oiled machine: the personal assistant, Valentine (Kristen Stewart), juggling two phones and an iPad; and her boss, Maria Enders (Juliette Binoche), a middle-aged actress who still commands the luxury of turning down roles. Valentine is so skilled at handling the business end of Maria's schedule, you wonder what Maria would ever do without her.
In addition to booking interviews and running lines, Valentine is also instrumental in pushing Maria into a meeting with a theatre director who wants the actress to appear in his revival of the play that made Maria a star two decades earlier. In the play, about the power struggle and romantic yearnings between a female executive and her female intern, Maria would now play the older woman.

The star-making role of the intern would now be played by a classically-trained 19-year-old, Jo-Ann Ellis (Chloe Grace Moretz), who has devolved into a train wreck with vocal fry, immortalized on the Internet with paparazzi video of her drunken escapades and police arrest.
Maria is torn about appearing in the production. In addition to her difficulty of seeing the play with a new perspective while inhabiting the older character, there is also the factor of the passage of time -- revisiting her early success and her emotional associations with the playwright and costars, all being twisted by the reality of the present day; and her difficulty in taking her new costar (or her ridiculous, hit 3-D sci-fi flick) seriously.
Valentine, the more clear-eyed of the two, is able to refute Maria's doubts about the play and her performance ("It's theater, it's an interpretation of life. It can be truer than life itself"). But the power struggle between Maria and Jo-Ann as they settle into their stage roles is nothing compared to the struggle facing Maria and Valentine, as their relationship becomes more strained, mirroring the power dynamic of the play's characters.
Directed by Olivier Assayas (the magnificent miniseries "Carlos"), "Clouds of Sils Maria" is a mesmerizing examination of how life can imitate art, and of how artists struggle to find the truth in artistic expression, when the truth feels too ephemeral to grasp. [It had its U.S. premiere Wednesday at the New York Film Festival.]
Binoche, who won a Best Supporting Actress Oscar for 1996's "The English Patient" (and who was nominated for Best Actress four years later for "Chocolat"), is commanding as Maria, whose self-doubt at revisiting her early success also reflects her struggle with aging, and her position in the industry, as a new generation of film actors (and film fans) seems alien to her.
Kristen Stewart's performance will be a revelation to those who only know her from Hollywood franchises. Her Valentine is not only intelligent, forthright and funny; she also holds her own against her older employer -- more than just a sounding board, she tries to be the conscience of Maria, and of Maria's stage character. She's an exceptionally natural, un-self-conscious performer.
Moretz ("Hugo," "The Equalizer") takes what could have been a showy but thankless role -- a caricature of a Lindsay Lohan-like celeb -- and embody her with all the positive, self-empowering attributes that Valentine (for one) sees in her. And yet, she is still a 19-year-old, and self-awareness (as Maria may attest) takes time to accrue.
In fact, the only thing that could upstage this effective trio of actresses is the Swiss Alps, where the film was shot, and where the passage of time seems an afterthought.
Distributed by IFC Films, "Clouds of Sils Maria" is scheduled to open in U.S. theatres in early 2015. It has not yet been rated. Running time: 2:04.
To watch a trailer for "Clouds of Sils Maria," click on the video player below.
For more info:
More reviews from the 2014 New York Film Festival:
Thanks for reading CBS NEWS.
Create your free account or log in
for more features.