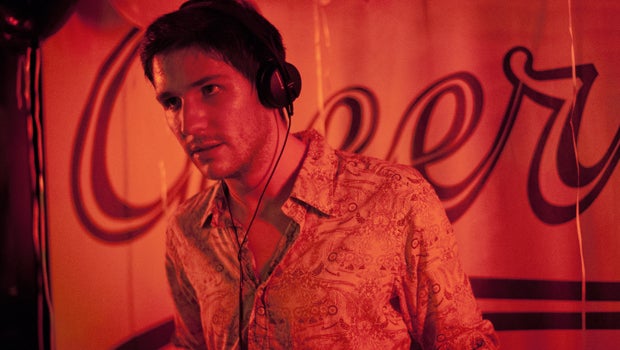 NYFF review: A DJ's raves in "Eden"
With great authenticity and visual flair, "Eden," a new French film, recreates the era in which euphoric strains of house and garage music gained increasing popularity in France in the 1990s and 2000s, starting trends that would later see international success for the likes of Daft Punk.
In 1992, a pair of young students who called themselves Cheers began DJing, finding themselves at the forefront of a new style of garage music dubbed "the French touch."

The driving force of Cheers, Paul (Felix de Givry), lives, eats and breathes music. Working parties or hosting shows on a radio station, we see him driven to DJ both at home and abroad. But the grueling lifestyle, drugs, alcohol and penury take their toll.
The stardom that other DJs of his generation (such as Daft Punk) achieved only motivates Paul further to continue pursuing his dream, even as his life seemed stuck in neutral. His enthusiasm for mixing music and sharing it with a crowd nonetheless leaves him isolated at the turntables -- it is a lonely life, regardless of the crowds.
As the film skips ahead a few years at a time, we see over the course of two decades a new music vocabulary take hold. But Paul's obsessive focus on DJing gets in the way of his developing a meaningful partnership, of completing his studies, or of being able to adequately support himself.
The constant nightlife doesn't help him to avoid taking drugs to excess, which adds to his money problems and the dependency he continues to have for his mother's purse, years after having come of age. His spiral into depression is only alleviated by continued DJ gigs, and so a vicious cycle is set.
Director Mia Hansen-Løve's protagonist is based in part on the experiences of her brother, Sven, an innovative DJ who rubbed shoulders with the brightest names in the music business, who nonetheless needed to change course in his life after a 20-year run.
In addition to creating a seductive authenticity to the nightclub scenes, the film boasts the music of such artists as Daft Punk, Frankie Knuckles, Jaydee, Martin Solveig and The Orb. [Thomas Bangalter and Guy-Manuel de Homem-Christo -- the team of Daft Punk -- were particularly helpful in the production of the film; in return, a humorous running gag shows the two being refused admittance to Cheers raves because no one recognizes them without their helmets.]
Unfortunately, the drama of its central character is comparatively weak. Paul may be musically astute, but otherwise he is pretty much a cipher -- and the women in his life try but fail to draw him out. Among them is Greta Gerwig, who appears early in the film as an American student in Paris whose relationship with Paul is already on the wane. If only she came in size 33 1/3.
"Eden," which had its U.S. premiere Monday at the New York Film Festival, will be distributed in the U.S. by Broad Green Pictures; a Spring 2015 release date is being planned. In French (with English subtitles) and English. Running time: 2:11. The film has not yet been rated.
To watch a trailer for "Eden" click on the video player below.

For more info:

More reviews from the 2014 New York Film Festival:
Thanks for reading CBS NEWS.
Create your free account or log in
for more features.