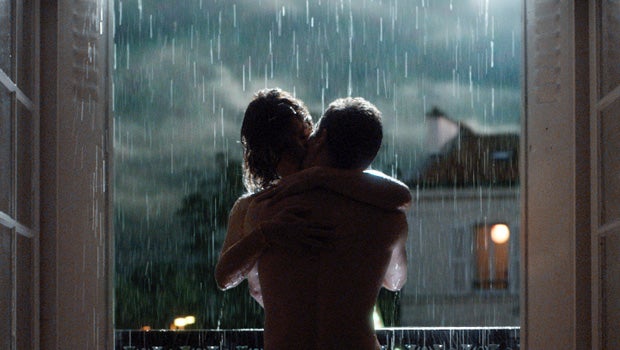 NYFF review: Crimes of passion in "The Blue Room"
The illicit lovers in the seductive new film "The Blue Room," based on the 1964 novel by Belgian mystery writer Georges Simenon, are certainly, defiantly guilty. But of what, we are not sure.
At least not at the beginning of this trim policer, which opens with Julien (Mathieu Amalric) and Esther (Stéphanie Cléau) during one of their many Thursday afternoon assignations in a blue-painted room of a hotel above the pharmacy where she works. Each is married -- she to a sickly pharmacist (yes), he to a quiet but dutiful wife who may or may not suspect.
But we soon discover that this passionate meeting between them is a flashback, and that we are flies on the wall of an interrogation room, where Julien is being quizzed about his affair, his motives, and his alibis. Is this a crime of passion? Who exactly is the victim? Or is he a victim of a plot that spun well beyond his control?
As an actor Amalric is most familiar to U.S. audiences as a stroke victim suffering from locked-in syndrome in "The Diving Bell and the Butterfly," and as the Bond villain in "Quantum of Solace." This year he starred in Roman Polanski's "Venus in Fur," and Wes Anderson's "The Grand Budapest Hotel."
But he also has a long string of credits as director, including documentary shorts and TV films, and he displays an assured hand here. Using a constrained film frame that seems to hem in the protagonists, and a rapturous, Bernard Herrmann-like musical score by Grégoire Hetzel that could have been written for a Hitchcock thriller, Amalric keeps the audience guessing about the threats facing Julien, Esther and their spouses.
One of the surprising -- and surprisingly effective -- choices made by the director was to cast his partner, a non-actress, in the role of the other woman, opposite one of France's most recognizable actresses (Lea Drucker) as Julien's wife.
At a press conference at the New York Film Festival (where the film had its North American premiere last night), Amalric said going with an unknown allows the audience to better project their own ideas onto the character's face. "If the mistress had been an actress, it would have been a fight between actors," he said. Rather, Cléau was able to project what Amalric described as "the threat of the unknown. It's not the performance of an actress, but something more than that."

In fact, Amalric and Cléau also collaborated on the screenplay. But Amalric revealed that much dialogue was not delivered as written but in the vernacular of local townspeople hired to play bit parts -- a postal clerk, a doctor, a hotel maid -- whose testimony at court is as plain-spoken, and damning, as you would expect.
Amalric said Monday that Julien's inability to comprehend exactly the consequences of his actions proves a salient point: "Love is dangerous, really dangerous." We wouldn't dare disagree.
Distributed by Sundance Selects and IFC Films, "The Blue Room (La chambre bleue)," opens in U.S. theatres on October 3. In French, with English subtitles. It is a swift and compelling 76 minutes short, and definitely would be rated R if the MPAA ever gets a look at it.
To watch a trailer for "The Blue Room" (a tiny bit NSFW), click on the video player below.
More reviews from the 52nd New York Film Festival:
For more info:
Thanks for reading CBS NEWS.
Create your free account or log in
for more features.