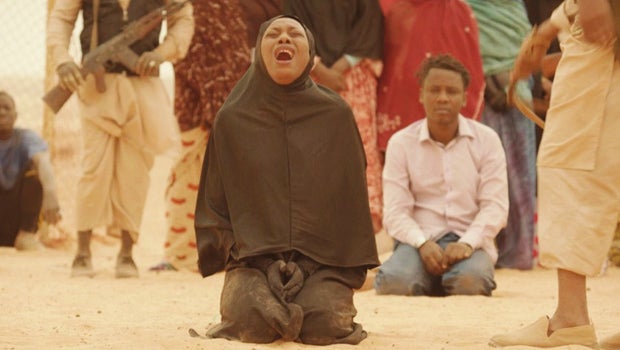 NYFF review: The beautiful and haunting "Timbuktu"
They stand with guns atop the clay-brick walls of a desert town under siege -- buildings that are centuries old and dotted with satellite dishes. The Islamic jihadists who have taken control of the city of Timbuktu, Mali, are at once above the residents (while trying to impose their ideology upon them), but also completely outside their understanding (many don't speak the local tribal languages).
Having assumed the role of police, the Islamists ride through town on motorcycles, and with bullhorns proclaim the new sharia laws that must be followed: No music, no football, no loitering in front of your house, no adultery (especially during Ramadan). Women must be completely covered.
Some residents are acquiescent; a man walking down the street is confronted by police who say his pant legs are too long and must be rolled up. When the pant legs keep falling down, he strips off his garment and drapes it over his shoulder. It's easier.

But a cleric pointedly challenges jihadists who enter his mosque carrying automatic rifles, saying it is unholy to bring weapons into a house of God, and the men sheepishly disperse. A woman fish seller who is told she must wear gloves while she works loudly berates the jihadists, daring them to cut off her hands if they so offend her; they are stunned, to be rebuked so boldly. And a policeman assigned to root out someone playing music dumbfoundedly calls his superiors to ask what to do, since the music he hears coming from one house is a song praising Allah.
The narrative of "Timbuktu," Mauritania's entry for the Academy Awards' Best Foreign Language Film Oscar, is not so much about plot as it is incidents in the life of a city whose residents are reeling from the onrush of change, or standing defiantly in its path. It received its U.S. premiere last night at the New York Film Festival.
The director and co-writer, Abderrahmane Sissako (who was born in Mauritania, raised in Mali, and now lives in France), has said he was inspired to make "Timbuktu" by the story of an unmarried couple in Mali who were killed by Islamic extremists for having children outside of marriage. [Timbuktu was a stronghold for Islamists from 2012 until 2013, when they were driven out by Malian and French troops.]
The film ignores specific historical events, but instead paints a humanistic portrait of life in an occupied territory, in which the new authority wields power in ways that are self-righteous, cruel, and without sense. The point is illustrated in the opening sequence, in which a jeep's occupants fire their weapons as they give chase to a gazelle. "Don't kill it, tire it out," one says.
The largest thread interwoven across the film's scenes of jihadists and townspeople concerns Kidane (Ibrahim Ahmed), who owns a herd of cattle tended by his young daughter. While most of his neighbors have fled the territory with the arrival of the jihadists, he has stayed put with his family, convinced that the interlopers will soon be gone. In such a landscape that has surely seen invaders come and go, leaving barely visible marks in the sand, it is undoubtedly easy for Kidane to believe that.
But while they are there, he must suffer under their rule, just as his wife must contend with the attention of a jihadist leader who always seems to come towards her tent whenever her husband is away.
The clash of customs between the opposing sides can take on absurdist overtones, as when young people flout the no-football law by playing without a ball, miming the passes, kicks, blocks and scores of a real match. But the seriousness of sharia law is abundantly clear in a scene in which a man and a woman are buried up to their heads in the sand and stoned to death.
Filmed in Mauritania, "Timbuktu" features a mixture of professional and amateur cast members whose naturalism only strengthens the human drama; such is the case with Layla Walet Mohamed, who plays Kidane's young daughter, Toya.
The filmmakers have the advantage of Mauritania's starkly beautiful landscape, but cinematographer Sofiane El Fani (who also shot last year's "Blue Is the Warmest Color") does a superlative job of filling the widescreen frame with images that are mesmerizing in their beauty, dramatic power and irony.
"Timbuktu" will be released in the U.S. by Cohen Media Group on January 28, 2015. In Arabic, Bambara, French, English, Songhay and Tamasheq, with English subtitles. Running time: 1:37.
To watch a trailer for "Timbuktu" (in Arabic with French subtitles), click on the video player below.
More reviews from the 52nd New York Film Festival:
For more info:
Thanks for reading CBS NEWS.
Create your free account or log in
for more features.