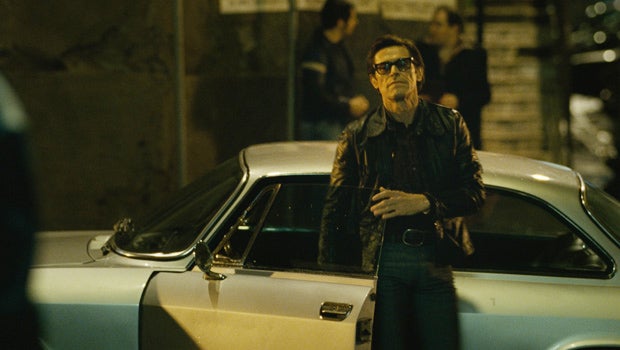 NYFF review: Abel Ferrara's transgressive "Pasolini"
"Decadence and twilight are inherently poetic." -- Pier Paolo Pasolini, in one of his final interviews
Pier Paolo Pasolini (1922-1975) was a multi-hyphenate of the first order: poet, journalist, playwright, novelist, actor, painter and outspoken Marxist. But he gained his greatest international renown as a director of films that challenged social mores and censorship laws. One of his most notorious was "Salo, or the 120 Days of Sodom," set during Italy's fascist period and inspired by the writings of the Marquis de Sade, and released shortly after Pasolini was murdered.
Abel Ferrera, a less-hyphenated but just-as-challenging filmmaker ("Bad Lieutenant," "King of New York," "Ms. 45"), has conjured a new film that is a meditation on the life and art of Pasolini -- his political views and hatred of government corruption and consumerism, his spirituality, and his homosexuality.
"Pasolini" has its U.S. premiere today at the New York Film Festival.
This thoughtful and sexually graphic depiction of what amounts to the final days of Pasolini's life is literate and visually playful, but ultimately frustrating. What is but a fragment of Pasolini's life and thought seems so slight compared to the ideas that fed his prodigious output, and that loomed so large at a time when corrupt government officials, corporations, terrorists, the Church, and artists like himself were grappling for Italy's soul.
The film opens with a series of riveting interviews being conducted by journalists who question the filmmaker on his political agenda. These are followed by Pasolini's meetings with friends and colleagues to discuss his planned works; a vivid re-imagining of an unfinished screenplay that Pasolini was preparing at the time of his death; and his fateful final night, which began with his picking up a young man for anonymous sex on a beach and ended with his being attacked and bludgeoned.
The scenes of Pasolini's unfinished screenplay, "Porno-Teo-Kolossal," feature the actor Ninetto Davoli, who had appeared in several Pasolini films and was his friend and lover. He plays Epifanio, a man convinced that the Messiah has been born, and follows a shining star in the sky to where he believes the baby has arrived. What he finds, however, is a bacchanalian orgy between lesbians and homosexuals engaging in an annual rite of conception to preserve the human race.
Epifanio then travels on a staircase towards Heaven, but fails to reach paradise, realizing only then the preciousness of the Earth he has left behind.
As Pasolini, Willem Dafoe's graceful intellectualism permeates his performance as he truly inhabits the role -- he even wears some of Pasolini's own clothes.
But while the filmmakers' desire to create a sliver of Pasolini's life rather than a broad canvas is certainly practical, it feels unsatisfying. Incorporating many of Pasolini's own words from his interviews and writings, the screenplay flows with his literate disseminations of the problems facing Modern Man, in a society in which governments fail to act as adjuncts of the people they supposedly represent.

However, these fragments -- even those that appear to suggest a definitive answer to the enduring mystery behind Pasolini's murder on Nov. 2, 1975 -- occlude one another, impeding our understanding of his artistic and personal motivations. There is a disjoint between the film's representations of the philosophic and the carnal, the artistic and the political, when one suspects they are, to him, all of a piece.
It is, sadly, only an introduction to the man. But at least it is that.
In English, Italian and French, with English subtitles. Running time: 1:27. No U.S. distributor has been announced.

More reviews from the 52nd New York Film Festival:
For more info:
Thanks for reading CBS NEWS.
Create your free account or log in
for more features.