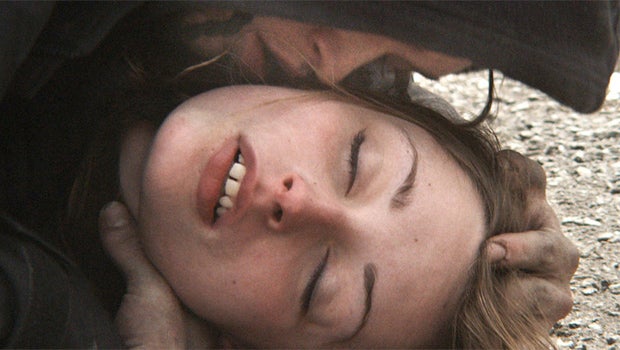 NYFF review: "Heaven Knows What," a heroin love story
As much as love and passion have factored into many of the New York Film Festival's features this year, none has been more uncompromising than "Heaven Knows What," in which the object of affection is heroin.
The film, which has its U.S. premiere at the festival on Thursday, is based on an unpublished memoir, "Mad Love," by Arielle Holmes, who at age 19 had met filmmakers Josh and Benny Safdie. The brothers were struck by the young woman's beauty and self-awareness -- and the fact that she was homeless and addicted to heroin. Holmes was also engaged in a torturous relationship with a "mysteriously evil" boyfriend and fellow addict.
At one point Holmes attempted suicide, after which the Safdies pressed her to write down her life story, which became the basis of this film. And rather than get an actress to fill her shoes, they asked Holmes to play this version of herself, named Harley, a young woman who attempts suicide out of a misguided notion of proving one's love.

Harley's reason for living is to get high -- to panhandle money and cajole dealers for an advance on her fix. [Her logic goes, If you're promising to give me two hits tonight and two in the morning, why not just give me all four now? How do you argue against that?]
With a series of shorts and two features ("Daddy Longlegs" and "The Pleasure of Being Robbed"), as well as a documentary on basketball player Lenny Cooke, the Safdies have obviously been inspired by the work of director John Cassavetes, whose naturalistic, unpretentious style was evident in films that became the bedrock of contemporary independent cinema.
"Heaven Knows What" was filmed on New York City streets in a cinema verite style, with handheld cameras and long lenses, and shots seemingly stolen among the crowds of the Upper West Side, in Riverside Park, on the subway and outside Bellevue Hospital. The shooting style perfectly suits the untethered lifestyle of the addicts and their sense of dislocation and existence outside of mainstream society. This is beautifully captured in the title sequence, shot in a single long take in a hospital psych ward with no dialogue, in which the hell that Harley faces -- both physically and psychically -- is vivid and jarring.
The film's cast is comprised mostly of non-actors, except for Caleb Landry Jones ("X-Men: First Class"), who plays Holmes' boyfriend, Ilya. His self-destructiveness consumes those around him like a black hole. Harley eagerly debases herself for him, but then she isn't really doing so for him; she's doing it for heroin.
Holmes herself is a revelation; it is understandable why the directors were so taken by her and her life story, but at the same time it is painful to watch her as she retraces the mis-steps of her life, putting her well-being in jeopardy while rationalizing every wrong turn she takes.
Distribution for "Heaven Knows What" has just been picked up by Radius/TWC, which is planning a U.S. release in the second quarter of 2015. Running time: 1:34. This film is not yet rated.

More reviews from the 52nd New York Film Festival:
For more info:
Thanks for reading CBS NEWS.
Create your free account or log in
for more features.