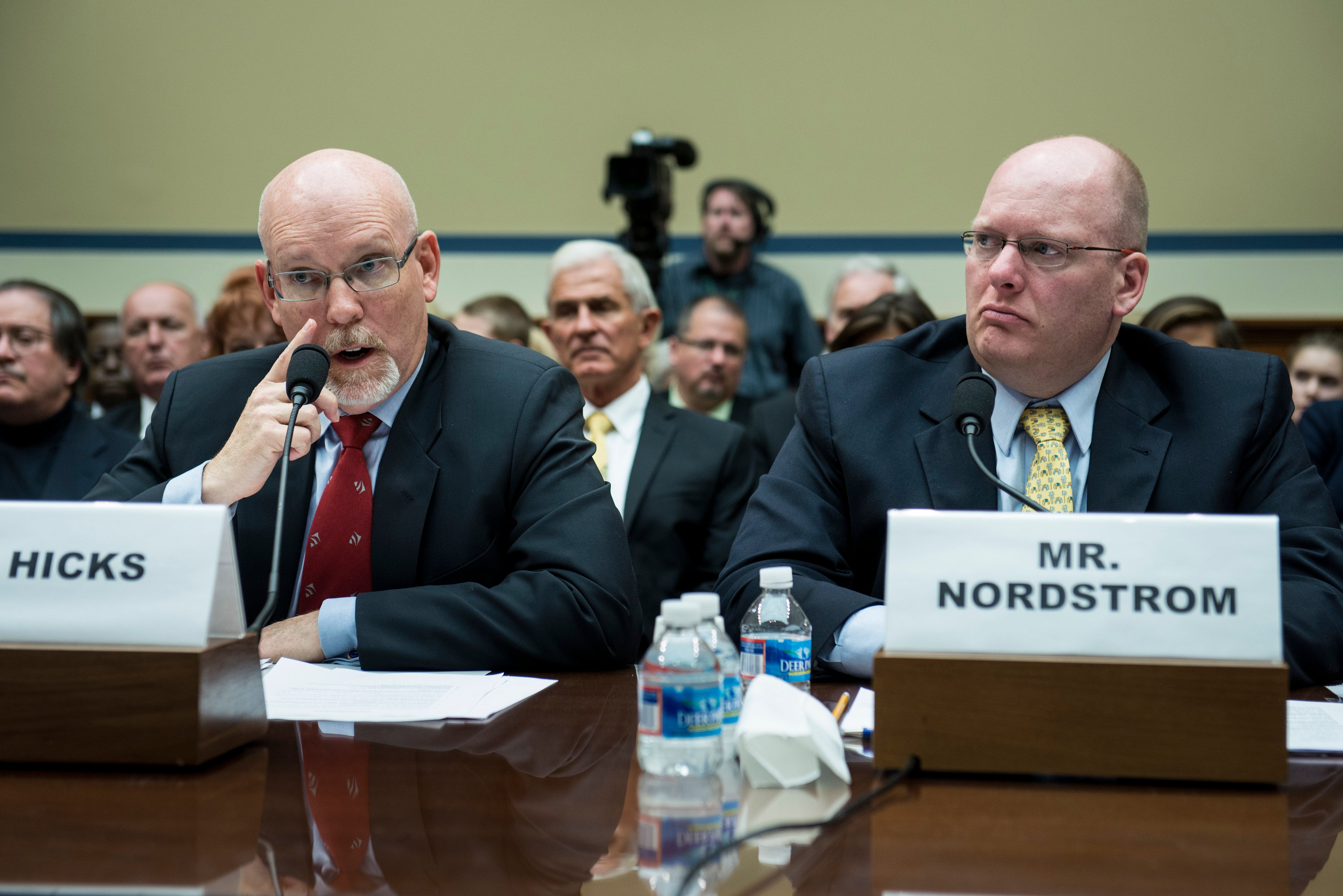 Benghazi timeline: How the probe unfolded
As soon as it was revealed that U.S. diplomatic offices in Benghazi, Libya, had been attacked on the Sept. 11, 2012, leaving four Americans -- Ambassador Christopher Stevens, Sean Smith with the U.S. Foreign Service, Glen Doherty and Tyrone S. Woods -- all dead, questions arose over how it could have been allowed to happen.
Obama administration officials initially gave differing explanations, and the ensuing political firestorm over what they knew, and when, is still raging in Washington. In early May, three "whistleblowers" appeared before a congressional committee and gave accounts of the events preceding, during and after the attacks that differed from previous administration responses.
President Obama on Monday forcefully dismissed the ongoing controversy over the talking points that the administration initially crafted to describe the attacks, calling it a politically-motivated "sideshow" that "defies logic."
The following is a timeline of events going back to the day after the attacks on the U.S. outposts in Benghazi.
May 17, 2013: Several Obama administrations who were in key positions during the consulate attack acknowledged to Sharyl Attkisson that a range of mistakes were made both that night and in subsequent messaging to Congress and the public, but they insisted those missteps reflected "incompetence rather than malice or cover up."
The officials spoke to CBS News in a series of interviews and communications under the condition of anonymity so that they could be more frank in their assessments. This is the most sweeping and detailed discussion by key players of what might have been done differently.
"We're portrayed by Republicans as either being lying or idiots," said one Obama administration official who was part of the Benghazi response. "It's actually closer to us being idiots."
Separately, Rep. Darrell Issa subpoenaed retired diplomat Thomas Pickering, who co-chaired the independent review board that investigated the Benghazi attack, to testify in a closed session prior to public hearings.
May 16, 2013: After further review of the emails released by the White House, Major Garrett reported that some of the quotes previously leaked by Republicans on Capitol Hill were wrong.
May 15, 2013: The White House released some 100 pages of internal emails showing how the CIA talking points originally referenced al Qaeda's links to the attack in addition to at assessment that it may have been "spontaneously inspired" by the Cairo protests. After revisions, however, the al Qaeda references were removed.
U.S. intelligence officials told CBS News that the CIA did not want to compromise the FBI investigation by suggesting, even by implication, who might have been involved. Senior U.S. intelligence officials also tell us that they wanted to protect classified information already developed on possible culprits.
May 13, 2013: President Obama dismisses the renewed controversy over the talking points that the administration initially crafted to describe the the Sept. 11, 2012, attack, calling it a politically-motivated "sideshow" that "defies logic."
"The whole issue of talking points, frankly, throughout this process, has been a sideshow," Mr. Obama said in a White House press conference with British Prime Minister David Cameron. "What we have been very clear about throughout was that immediately after this event happened ... nobody understood exactly what was taking place during the course of those few days."
May 12, 2013: Former Defense Secretary Robert Gates appears on "Face the Nation," forcefully defending the Obama administration against charges that it did not do enough to prevent the tragedy in Benghazi. He said some critics of the administration have a "cartoonish impression of military capabilities and military forces."
When Gates was asked whether he thought Hillary Clinton might have been complicit in a coverup of the details surrounding the State Department's handling of the incident, he replied flatly: "No."
On the same show, Thomas Pickering -- the former UN Ambassador who, along with former Joint Chiefs of Staff chairman Adm. Mike Mullen, prepared the Accountability Review Board report on the State Department's handling of the Benghazi attacks -- says he didn't think it was necessary to interview former Secretary of State Hillary Clinton "because in fact we knew where the responsibility rested."
May 11, 2013: CBS News' Sharyl Attkisson reports details of approximately 100 interagency government emails, sent on Sept. 14 and Sept. 15, regarding the content of the talking points on the Benghazi attacks. The talking points were revised numerous times before Rice used them on political talk shows on Sept. 16. While the White House says the changes were merely stylistic, critics argue the changes suggest administration officials tried to spare the State Department political criticism over its response to the attacks.
A U.S. intelligence official familiar with the drafting of the talking points told Margaret Brennan: "The changes don't reflect a turf battle. They were attempts to find the appropriate level of detail for unclassified, preliminary talking points that could be used by members of Congress to address a fluid situation."
"Overall, the changes were made to address intelligence and legal issues. First, the information about individuals linked to al Qaeda was derived from classified sources. Second, when early links are tenuous, it makes sense to be cautious before pointing fingers to avoid setting off a chain of circular and self-reinforcing assumptions and reporting. Finally, it is important to take care not to prejudice a criminal investigation in its early stages."
May 10, 2013: Secretary of State John Kerry suggests the congressional hearings featuring the testimony of the three "whistleblowers" shed little new light on the actual events, referring to the hearings as a, "pure, prolonged, political process that really doesn't tell us anything new about the facts."
A senior administration official tells CBS News' Margaret Brennan that suggestsions State Department officials had helped make final, controversial edits to talking points released to members of Congress regarding the Benghazi attacks -- the same talking points used by Ambassador Susan Rice in her television appearances on Sept. 16, were "just false."
"The minor edits they did make were to clarify that the Benghazi mission was not a consulate. As we have said all along, these points were revised by the CIA," said the official.
May 9, 2013: House Speaker John Boehner, R-Ohio, says GOP attempts to piece together a chronological timeline of what transpired within the administration following the Sept. 11 attacks at the U.S. offices in Libya are far from over, and that more hearings should be expected.
May 8, 2013: In much-anticipated congressional testimony, three U.S. officials who were stationed in Libya during the Sept. 11 terrorist attacks deliver emotional accounts of the events and their aftermath. They renew criticism against the government for allegedly issuing stand-down orders to special forces who they claim could have assisted in the response, arguing that such forces could have mitigated the attack's damage had they been promptly deployed.
Speaking publicly for the first time since the attacks, Mark Thompson, the acting deputy assistant Secretary of State for counterterrorism; Greg Hicks, former deputy chief of mission in Libya; and Eric Nordstrom, former regional security officer in Libya, provided perhaps the most detailed public record of what, from their perspectives, happened on the night of September 11, and what might have been done differently.
Hicks said he recalled telling Ambassador Stevens, "we're under attack" in Benghazi, before being cut off.
May 6, 2013: CBS News' Sharyl Attkisson reports more details from Hicks' private testimony in which he claimed a team of Special Forces prepared to fly from Tripoli to Benghazi during the Sept. 11, 2012, attacks was forbidden from doing so by U.S. Special Operations Command Africa.
Hicks told congressional investigators that if the U.S. had quickly sent a military aircraft over Benghazi, it might have saved American lives. The U.S. Souda Bay Naval Base is an hour's flight from Libya.
Admiral Mike Mullen and Ambassador Tom Pickering issue a joint statement saying: "From the beginning of the ARB process, we had unfettered access to everyone and everything including all the documentation we needed. Our marching orders were to get to the bottom of what happened, and that's what we did."
Former Coordinator for Counterterrorism, Ambassador Daniel Benjamin, refutes criticism that his bureau was out of the loop.
"It has been alleged that the State Department's Counterterrorism Bureau was cut out of the discussion and decision-making in the aftermath of the Benghazi attacks. I ran the bureau then, and I can say now with certainty, as the former Coordinator for Counterterrorism, that this charge is simply untrue. Though I was out of the country on official travel at the time of the attack, I was in frequent contact with the Department. At no time did I feel that the Bureau was in any way being left out of deliberations that it should have been part of."
May 5, 2013: Excerpts of an interview investigators conducted with Gregory Hicks, the no. 2 U.S. diplomatic official in Libya who was in Tripoli during the attack on the U.S. Consulate in Benghazi, are leaked to CBS News.
"I think everybody in the mission thought it was a terrorist attack from the beginning," Hicks told investigators.
"For there to have been a demonstration on Chris Stevens' front door and him not to have reported it is unbelievable," he said. "I never reported a demonstration; I reported an attack on the consulate. Chris - Chris's last report, if you want to say his final report - is, 'Greg, we are under attack.'
"...I've never been as embarrassed in my life, in my career, as on that day" (that Amb. Rice appeared on talk shows calling the attack the result of a demonstration,) Hicks continued in his interview with investigators. "The net impact of what has transpired is, [Rice,] the spokesperson of the most powerful country in the world, has basically said that the president of Libya is either a liar or doesn't know what he's talking about. ....My jaw hit the floor as I watched this."
"I have heard from a friend who had dinner with (Libyan) President Magarif in New York City that he was still angry at Amb. Rice well after the incident," added Hicks.
May 3, 2013: The names of Ambassador Chris Stevens, Sean Smith, Tyrone Woods and Glen Doherty are added to the Memorial Wall in the front hall of the State Department. During a ceremony attended by CIA Director John Brennan, Secretary of State Kerry and Vice President Joe Biden, their names are listed among the fallen.
May 1, 2013: The FBI posted on their website surveillance photos of three men wanted in the investigation into the Benghazi attack. The FBI said the individuals, one of whom appears to be holding a rocket launcher, were on the grounds of the U.S. Special Mission in Libya when it was attacked on September 11, 2012.
April 30, 2013: The attorney for a whistleblower on the Sept. 11, 2012 attacks on the U.S. consulate in Benghazi, Libya, said the Obama administration was impeding efforts to allow her client and other whistleblowers to speak.
April 24, 2013:Following the release of the interim report on Benghazi, a group of House Republicans ask President Obama to publicly release more documents related to the September 2012 attack.
April 23, 2013:In an interim progress report on the Benghazi attacks, five House committees call former Secretary of State Hillary Clinton and other high-ranking State Department officials responsible for reducing security levels at the consulate, contradicting the testimony Clinton gave before Congress.
The interim report -- released by Republicans on the House Armed Services, Judiciary, Foreign Affairs, Intelligence and Oversight and Government Reform Committees -- reaches three major conclusions.
First, the committees' Republicans conclude that Clinton approved security reductions at the consulate, pointing to evidence such as an April 2012 State Department cable bearing her signature. The cable was a formal request from then-U.S. Ambassador to Libya Gene Cretz for more security. In her testimony before Congress in January, Clinton said, "With specific security requests they didn't come to me. I had no knowledge of them."
The interim report also charges that White House and senior State Department officials attempted to protect the State Department from criticism by altering accurate talking points drafted by the intelligence community. For instance, the report says that, after a Sept. 15, 2012 meeting, administration officials removed references to the likely participation of Islamic extremists.
The report also contradicts administration claims that the talking points were changed to protect classified information. None of the email exchanges reviewed ever mentioned a concern about classified information, according to the report.
April 17, 2013: CBS News' Sharyl Attkisson reports that the House Oversight Committee sent letters to the three federal agencies -- the CIA, the Defense Department and the State Department -- in response to new revelations from alleged whistleblowers on the Benghazi attacks. The letters make the case for the whistleblowers to be able to share sensitive or classified information with their own attorneys, and ask for each agency's official description of the legal steps that process must follow. The letters also state that additional witnesses may be "compelled by subpoena to give testimony."
Mar. 14, 2013: CBS News correspondent Bob Orr reports Libyan and U.S. investigators have been questioning a man identified as Faraj al Chalabi, to determine if he played a role in the Benghazi attacks. Chalabi has long been affiliated with the Libyan Islamic Fighting Group, and is believed to have connections to other outside Islamist radicals. Officials stopped short of calling him a "suspect."
March 5, 2013: CBS News' Sharyl Attkisson reports some of the first revelations on "who changed the Benghazi talking points."
One source who reviewed the documents said removal of the word "al Qaeda" from the talking points was initiated, at least in part, by one of the "press shops." The source said press officers from the Defense Intelligence Agency, the White House and the FBI were "looped in" from the start and that some of them expressed concerns in writing that the media would ask follow up questions if certain words or phrases were used. The source added that the Director of National Intelligence James Clapper and then-Deputy CIA Director Michael Morell were included in these emails.
A DNI spokesman acknowledged that press officers from his agency and other agencies were looped in and took part in the talking points exchanges, but he said "no press officers suggested the edits of the specific words 'al Qaeda.'"
March 3, 2013: Sens. John McCain and Lindsey Graham again demand additional documents detailing the White House's handling of the Sept. 11 Benghazi attack, saying they will continue to hold up John Brennan's CIA director nomination until they get them.
Feb. 23, 2013: The White House agreed to give the Senate Intelligence Committee documents related to the Benghazi attacks, which had been demanded as a condition of ending the filibuster against voting on the nomination of John Brennan to be CIA director. The White House has said it has already turned over more than 10,000 pages of Benghazi-related documents, along with witness interviews, staff briefings and hours of testimony.
Feb. 13, 2013: U.N. Ambassador Susan Rice appeared on the "Daily Show with Jon Stewart" and said those who have accused the Obama administration of a cover up in the wake of the attack on the U.S. Consulate in Benghazi are "dead wrong, and they are in fact doing a disservice to those we lost."
She defended her initial characterization of the Benghazi attacks as an outgrowth from a spontaneous protest, telling Stewart: "I shared the best information that our intelligence community had at the time, and they provided the talking points that I used."
She admitted, "they were wrong in one respect, we learned subsequently... and that is that there wasn't, in fact, a protest. But in every other respect, they have more or less held up over time."
Asked why she was selected to brief the talk shows on that particular Sunday, Rice explained, "Secretary Clinton, who had been asked originally to do it, felt that she didn't want to, couldn't do it that week, having been through quite a pretty intense week with the loss of our colleagues in Benghazi ... so I was asked as I've been in the past, and I said I would."
Feb. 12, 2013: Republican Sens. John McCain, Lindsey Graham and Kelly Ayotte said they are sending letters to President Obama, Attorney General Eric Holder and Director of National Intelligence Director James Clapper looking for more answers on the Benghazi attacks. The administration had not responded to the previous letters over several months. "We've killed a small forest" writing letters, says Graham.
Feb. 7, 2013: Joint Chiefs Chairman Gen. Martin Dempsey and then-Defense Secretary Leon Panetta testify before Congress, where they are grilled on questions surrounding Benghazi, among other things.
Panetta said before the Senate Armed Services Committee hearing that while the U.S. lacked sufficient advance intelligence to anticipate the attacks, we did "everything we could" to save American lives once they had begun.
Like Clinton during the prior month, Panetta emphasized the sheer number of security threats faced by U.S. diplomats abroad in the months leading up to the Benghazi attacks, pointing out that Benghazi was one of "almost 300 areas of concern" to the National Counterterrorism Center (NCTC).
On September 11, he said he and Dempsey, the chairman of the Joint Chiefs of Staff, "received a number of reports of possible threats to U.S. facilities, including those in Cairo, Egypt."
"But there were no reports of imminent threats to U.S. personnel or facilities in Benghazi," Panetta said. "Time, distance, the lack of an adequate warning, events that moved very quickly on the ground prevented a more immediate response."
A number of the president's fiercest critics on Benghazi -- including Sens. Lindsey Graham, R-S.C., and Kelly Ayotte, R-N.H. -- questioned Panetta and Dempsey on the degree to which Mr. Obama was engaged with what was happening on the ground in Libya on the day of the attacks. According to Panetta, he and Dempsey spoke personally with Mr. Obama about the situation only once on September 11, though Dempsey noted that "his staff was engaged with the National Military Command Center and kept pretty constantly through the period, which is - which is the way it would normally work."
"He relied on -- on both myself as secretary and on General Dempsey's capabilities," Panetta said. "He knows generally what we've deployed into the region. We've presented that to him in other briefings. So he knew generally what was deployed out there. But as to specifics about time, et cetera, et cetera, no, he just left that up to us."
Asked by Graham if he was "stunned" that Clinton was unaware of an August cable from slain Ambassador Chris Stevens saying the consulate wouldn't be able to withstand a coordinated attack, Dempsey said he was "surprised."
Jan. 29, 2013: In a global "town hall" with young people, Hillary Clinton said her biggest regret during her four years as secretary of state was the loss of American lives in Benghazi, Libya.
Jan. 28, 2013: Three days before ending her tenure as secretary of state, congressional leaders ask Hillary Clinton in a letter to turn over all the e-mails, cables, and memoranda that she and her deputies received regarding to security in Benghazi; documents reviewed by the State Department's Accountability Review Board (ARB); as well as video of the September 11, 2012 attack on the Benghazi compound. The letter was signed by House Foreign Affairs Committee Chairman Ed Royce, R-Calif., House Oversight and Government Reform Darrell Issa, R-Calif., and House Oversight and Government Reform Subcommittee on National Security Chairman Jason Chaffetz, R-Utah.
Jan. 27, 2013: President Obama and then-Sec. Clinton gives an interview to Steve Kroft for "60 Minutes," in which they discuss the Benghazi controversy and Clinton's emotional Capitol Hill testimony.

Clinton said: "I deeply regret what happened (in Benghazi), as I've said many times. I knew Chris Stevens. I sent him there originally. It was a great personal loss to lose him and three other brave Americans. But I also have looked back and tried to figure out what we could do so that nobody, insofar is possible, would be in this position again."

Jan. 24, 2013:During hisconfirmation hearingsafter being nominated for secretary of state, ex-Sen. John Kerry is questioned about Benghazi and Hillary Clinton's earlier testimony.

When pushed to respond to some of Clinton's testimony by Sen. Ron Johnson, R-Wis., Kerry said: "If you're trying to get some daylight between me and Secretary Clinton, that's not going to happen here today."

Jan. 23, 2013: In her final days as secretary of state, Hillary Clinton appears before a pair of congressional committees investigating the Benghazi attack.

"As I have said many times, I take responsibility. And nobody is more committed to getting this right. I am determined to leave the State Department and our country safer, stronger, and more secure," she said. "For me, it's personal."

Clinton, growing emotional at times during the course of her testimony, cited the inherent risk of taking an active diplomatic role in the global arena -- particularly in a moment in which "Arab revolutions have scrambled power dynamics and shattered security forces across the region." Clinton also said that while she had been broadly aware of security concerns in Benghazi, she had not personally reviewed an August 12 cable requesting reinforcements.

Even while Clinton conceded State Department shortcomings in the lead-up to the attacks, she strongly defended both her own response to the violence, as well as that of the White House and U.N. Ambassador Susan Rice. She was particularly dismissive of the controversy surrounding White House officials' early comments suggesting the attacks might have been the result of spontaneous protests spurred by an anti-Muslim video.

"We had four dead Americans. Was it because of a protest or because of guys out for a walk one night and decided to go kill some Americans? At this point what difference does it make, Senator?" Clinton asked Sen. Ron Johnson, R-Wis.

Jan. 8, 2013: Tunisian authorities conditionally released one of the only men in custody for alleged links to the Benghazi attack, the latest blow to an investigation that has limped along for months. Ali Harzi, a 26-year-old Tunisian extradited from Turkey in October, was one of the only people actually detained over the attack and at the time Tunisian authorities said they "strongly suspected" he was involved. He must remain in Tunisia as part of his release conditions.

Also on Jan. 8, 2013: Sen. Lindsey Graham, R-S.C., becomes the first of several Republican politicians who call for the delay in the nomination of John Brennan as CIA director until the Obama administration answers to their satisfaction "what transpired before, during and after the attack on our consulate."

Jan. 3, 2013: President Barack Obama signed a $633 billion defense bill that, among other things, bolsters security at diplomatic missions worldwide after the deadly attack in Benghazi.

Dec. 31: A bipartisan report from the Senate Homeland Security Committee points fingers at the State Department, Pentagon and White House for failing to recognize and respond to security risks at the U.S. Consulate in Benghazi before the Sept. 11 terrorist attack.

The report, titled "Flashing Red," finds that the Defense and State departments hadn't assessed the availability of U.S. agencies to respond in Benghazi "in the event of a crisis....Although DOD attempted to quickly mobilize its resources, it did not have assets or personnel close enough to reach Benghazi in a timely fashion," the report says.

Dec. 19: One State Department official resigned and three others were put on administrative leave after independent review of security lapses at the U.S. Consulate in Benghazi.

The State Department's chief of security Eric Boswell, resigned, while his deputy Charlene Lamb, an official in the Near East Division that oversees Libya, and another remain on the payroll but were put on leave.

Career diplomat Thomas Pickering, who ran the review board that produced the report, said: "Frankly, the State Department had not given Benghazi the security, both physical and personnel resources, it needed."

Dec. 20: State Department officials acknowledged that "mistakes occurred" regarding the security situation in Libya, and pledged the department is taking immediate action to correct "systemic problems" that may have prevented the department from preempting the attacks.

Dec. 18: An independent panel charged with investigating the Benghazi attacks concluded that "systemic" management and leadership failures at the State Department led to "grossly" inadequate security at the mission in Benghazi. The report (PDF) singled out the Bureau of Diplomatic Security and the Bureau of Near East Affairs, saying there appeared to be a lack of cooperation and confusion over protection at the mission in Benghazi.

Despite those failures, the Accountability Review Board determined that no individual officials ignored or violated their duties and recommended no disciplinary action now. But it also said poor performance by senior managers should be grounds for disciplinary recommendations in the future.

Dec. 15: The State Department announced Secretary of State Hillary Clinton will not testify before Congress on the Benghazi attacks anytime soon, despite previous assurances to the contrary, because she had fainted and suffered a concussion.

Dec. 13: U.N. ambassador Susan Rice officially withdrew her name from consideration to replace Hillary Clinton as secretary of state.

Dec. 11: It was revealed that Senators were told at a closed-door hearing before the Intelligence Committee that State Department personnel under attack on Sept. 11 at the U.S. consulate in Benghazi, Libya, didn't fire a single shot in their defense.

According to a source who attended the hearing, committee chairman Sen. Dianne Feinstein, D-Calif., repeatedly pressed State Dept. under secretary Patrick Kennedy on whether diplomatic security agents were under instructions not to fire their weapons. Kennedy reportedly testified that no such orders were given; but he confirmed that, indeed, no shots were fired by State Dept. personnel.

Dec. 5: One of the only known suspects held in the attack on a U.S. consulate in Libya wants any interrogation by the FBI to take place in a Tunisian judge's office with his attorneys present, one of his lawyers said. Ali Harzi, a Tunisian, was detained in Turkey and extradited to Tunisia in October where authorities have said he is "strongly suspected" of being involved in attack. Harzi has been charged with "membership of a terrorist organization," and FBI investigators have expressed interest in interviewing him.

U.S. officials have said that Harzi is not considered to be one of the ring leaders of the Benghazi attack, CBS News national security correspondent David Martin reports.

Nov. 27: U.N. Ambassador Susan Rice meets with some of her harshest critics on Capitol Hill, including Senators John McCain, R-Ariz., and Lindsey Graham, R-S.C., to explain her initial remarks on the attack. The meeting did not appear to resolve anything, with Graham saying he was "more disturbed now than I was before," and McCain saying he was "significantly troubled by many of the answers that we got and some that we didn't get."

In a statement released after the meeting, Rice detailed her meeting with the senators, and said she and CIA Deputy Director Michael Morell, "explained that the talking points provided by the Intelligence Community, and the initial assessment upon which they were based, were incorrect in a key respect: there was no protest or demonstration in Benghazi." She insisted there was no intention of misleading the public.

Nov. 19: "The talking points about the intelligence assessment that Ambassador Rice used were produced by the intelligence community," says Shawn Turner, of the Office of the Director of National Intelligence. "Officials determined that the unclassified points should use the broader term 'extremists' when referring to those responsible for the attack. The White House and State Department offered one edit, changing 'consulate' to 'diplomatic facility' for accuracy."

Nov. 16: Former CIA Director David Petraeus gave closed-door briefings to Congress on the Benghazi, and when exactly U.S. officials knew there were terrorist elements involved. After the hearing, Democrats and Republicans disputed whether Petraeus has been consistent in his testimony, and whether the CIA talking points on the attack were altered.

Nov. 15: CBS News obtained the CIA talking points given to U.N. Ambassador Susan Rice on Sept. 15 regarding the attack. The CIA reports that the assault appeared to be "spontaneously inspired" by the protests against the YouTube movie and that "there are indications that extremists participated in the violent demonstrations." The talking points also said the investigation was ongoing and their assessment of the events from that night may change.

Lawmakers also got their first look at video recorded by security cameras at the consulate on the night of the attack. CBS News' David Martin reports that a U.S. intelligence official said the video shows no sign the assault arose out of a demonstration. But the classified video, shown to the House and Senate Intelligence committees, also indicates the attack, though intentional, was not well planned. The video makes clear the attackers did not know the layout of the compound.

Video of the second attack on a CIA annex about a mile from the consulate shows a more organized assault. The first attack created an opportunity for the second attack, but whether it was planned that way all along is not clear.

Nov. 14: President Obama defends U.N. Ambassador Susan Rice at the first press conference since his re-election, calling attacks on her handling of the Benghazi attack "outrageous."

"If Sen. McCain and Sen. Graham and others want to go after somebody, they should go after me," he said. "And I'm happy to have that discussion with them. But for them to go after the U.N. ambassador? Who had nothing to do with Benghazi? And was simply making a presentation based on intelligence that she had received? To besmirch her reputation is outrageous."

Nov. 8: Senate Intelligence Committee announces a closed hearing on the Benghazi attack will be held Nov. 15. Among those invited to testify are Director of National Intelligence James Clapper, CIA Director Gen. David Petraeus, FBI Deputy Director Sean Joyce, Under Secretary of State Patrick Kennedy and National Counterterrorism Center Director Matthew Olsen.

Nov. 1: CBS News' Sharyl Attkisson reports that the Obama administration did not convene its top interagency counterterrorism resource - the Counterterrorism Security Group - during the Benghazi attack.

As to why the Counterterrorism Security Group was not convened, National Security Council Spokesman Tommy Vietor told CBS News: "From the moment the President was briefed on the Benghazi attack, the response effort was handled by the most senior national security officials in governments. Members of the CSG were of course involved in these meetings and discussions to support their bosses."

Attkisson also reported on a draft letter obtained by ForeignPolicy.com, written the very day of the Benghazi attack, that someone on the U.S. team in Benghazi apparently spotted a suspicious member of the local police force photographing the inside of the U.S. mission. The letter, intended for the head of the Libyan Ministry of Foreign Affairs in Benghazi, called for an investigation. It's not clear if it was ever sent. Another draft letter written two days before complained of an inadequate local police presence around the compound, requested ahead of Stevens' visit.

Oct. 24: CBS News' Andres Triay confirms that government investigators are in possession of footage from security cameras at the U.S. compound. The quality is said to be "decent."

CBS News' Margaret Brennan reports that the footage had been in Libyan custody for "weeks" until it was handed over to U.S. government investigators. Brennan also confirms that there was no live video feed of the attack in Benghazi that was being viewed at Diplomatic Security headquarters during the night of the attack.

CBS News' David Martin and Andres Triay confirm the arrest of a Tunisian suspect in Turkey who is believed to be involved with the attack.

CBS News' Martin reports a SIF team was activated in Italy and a destroyer moved off the coast of Libya during the attack. However, these elements were activated in light of the growing tensions in the region - protests in Egypt, Tunisia, Libya and Algeria - not necessarily to specifically relieve Benghazi.

Oct. 23: Attkisson obtains some of the government's first internal emergency alerts sent during the assault.

As the assault began, at 4:05 p.m. ET on September 11, an alert from the State Department Operations Center was issued to various government emergency watch lists including the White House Situation Room, the office of the Director of National Intelligence, and the FBI. Entitled "US Diplomatic Mission in Benghazi Under Attack," the alert reports "approximately 20 armed people fired shots; explosions have been heard as well. Ambassador Stevens, who is currently in Benghazi, and four COM (Chief of Mission/embassy) personnel are in the compound safe haven.

Another alert an hour later reports: "the firing... has stopped...A response team is on site attempting to locate COM personnel."

At 6:07 p.m. ET, an alert was sent with the subject heading "Ansar al-Sharia Claims Responsibilty for Benghazi Attack." The U.S. Embassy in Tripoli, says the alert, reports the group "claimed responsibility on Facebook and Twitter and has called for an attack on Embassy Tripoli." That alert was sent around midnight in Benghazi, hours before the wave of mortar attacks against the CIA annex began.

Oct. 20: Attkisson reports no outside U.S. military help was sent to Benghazi despite the presence of a major naval air base in Sigonella, Italy, less than one hour's flight away.

Oct. 19: In the weeks before his death, Stevens sent the State Dept. several requests for increased security for diplomats in Libya, CBS News' Attkisson reports.

Oct 16: CBS News' Sharyl Attkisson and David Martin confirm that unarmed Predator drones were moved to fly over Benghazi during the attack.

Oct. 15: In an interview with CBS News' Margaret Brennan, Clinton first acknowledges that the State Dept. considered using outside assets to rescue those under siege in Benghazi but decided against it: "Well we considered everything and, um, we did as you know send additional assets from Tripoli. But it was a fast moving, very difficult assault to try to figure out. As you know, the assault on the post ended, there was a gap of time, then the assault on the annex, um, so everybody who had any responsibility was scrambling very hard to figure out what more could be done."

Clinton said they did not send assets from outside Libya "partly because of the difficulties of trying to do that...but I think all of this will be examined in the Accountability Review Board because after all we have this independent board to sort through everything."

Clinton also said that she did not speak with or brief Ambassador Susan Rice before her television appearances on Sept 16, and that she accepts responsibility for what happens at the State Dept.

Oct. 10: The House Oversight and Government Reform Committee holds a hearing into the attack, with testimony from Lt. Col. Wood, former regional security officer in Libya Eric Nordstrom, State Department's deputy assistant director for international programs Charlene Lamb and State Department's Under Secretary of State for Management Patrick Kennedy.

Lawmakers questioned the pre-attack security levels and the government's initial linking of the attack to the anti-Muslim film.

Meanwhile, Colonel Hamid Hassi, a senior Libyan army officer, tells CBS News' Elizabeth Palmer that he believes American intelligence knows exactly where Ansar al Sharia, the group linked to the attack, are hiding.

Oct. 5: CBS News' Sharyl Attkisson reports Lt. Colonel Andy Wood, who headed the Site Security Team in Libya, said U.S. diplomatic personnel in Libya repeatedly requested increased security, but the State Department in Washington DC denied those requests. Wood said his team and a six-member mobile security deployment team were pulled from Libya in August, and that two other MSD's also left between February and August.

Some members of Congress and others said there were 13 threats and attacks leading up to the Sept. 11 assault.

Oct. 8: In an interview with CBS News' Attkisson, Lt. Col. Wood said there was "pressure to reduce the number of security people" in Libya, starting shortly after his arrival in February.

The State Department told CBS News' Margaret Brennan that despite the withdrawal of Wood's security support team, it had "no impact whatsoever on the total number of fully trained American security personnel in Libya overall or in Benghazi specifically." In addition, the State Dept. said Wood was stationed in Tripoli and was not a part of the assessment of security in Benghazi.

Brennan also first reports that there is video evidence of the assault in Benghazi and that it is now in the hands of government investigators.

Oct. 4: CBS News' Bob Orr reports the FBI arrived at the consulate in Benghazi, where it conducted an examination, collecting evidence and documentation to the extent possible given the time elapsed from the incident.

Oct. 3: Secretary Clinton responds to question from CBS News' Margaret Brennan about claims that Washington denied requests for additional security in Libya: "Let me start by cautioning everyone against seizing on any single statement or piece of information to draw final conclusions. I take this responsibility very seriously, and I believe that our diplomats, our leaders, and the American people deserve a rigorous, serious, careful process ... no one wants the answers more than we do here at the department."

Oct. 2: Secretary Clinton announces her appointees to the Accountability Review Board (ARB), which will conduct the probe of the events of Sept. 11. The board begins work the same week.

Oct. 1: State Dept. security team reviews security camera footage of the attack in Benghazi for the first time.

Sept. 28: The Office of the Director of National Intelligence releases the following statement: "As we learned more about the attack, we revised our initial assessment to reflect new information indicating that it was a deliberate and organized terrorist attack carried out by extremists. It remains unclear if any group or person exercised overall command and control of the attack, and if extremist group leaders directed their members to participate. However, we do assess that some of those involved were linked to groups affiliated with, or sympathetic to al-Qa'ida."

Sept. 21: Secretary Clinton says "what happened in Benghazi was a terrorist attack," adding "we found the video that's at the core of this series of events offensive, disgusting, reprehensible."

Sept. 20: House Oversight Committee sends a letter to Secretary Clinton asking for information in regard to the attack.

CBS News obtains a memo detailing injuries sustained by DS personnel in Benghazi:

"Special Agent David Ubben, was injured during the attacks on Consulate Benghazi. From the last I have heard, Dave repeatedly entered the burning Consulate to recover injured personnel, was involved in a heavy firefight, and at some point was struck by mortar shrapnel. David has been successfully evacuated to Tripoli, was stabilized and is currently in Germany for more medical treatment. David has suffered a serious compound fracture to his leg and shrapnel injuries to his head. As of our last communication, the doctors are optimistic that his leg will be saved but he may currently have some minor brain injuries. "

Secretary of State Hillary Clinton delivers a closed briefing to Congress.

Sept. 19: Director of the National Counterterrorism Center Matthew Olsen tells Congress that the Benghazi assault was "a terrorist attack on our embassy. ... We are looking at indications that individuals involved in the attack may have had connections to Al Qaeda or Al Qaeda's affiliates; in particular, Al Qaeda in the Islamic Maghreb."

Sept. 18: Secretary Clinton tells CBS News' Margaret Brennan that the attack was the work of extremists:

"Let me assure you that our security in Benghazi included a unit of host government security forces, as well as a local guard force of the kind that we rely on in many places around the world. In addition to the security outside the compound, we relied on a wall and a robust security presence inside the compound. And with all of our missions overseas, in advance of September 11, as is done every year, we did an evaluation on threat streams. And the Office of the Director of National Intelligence has said we had no actionable intelligence that an attack on our post in Benghazi was planned or imminent."

Clinton announces that the FBI has arrived in Libya.

Meanwhile, CBS News' Elizabeth Palmer reports from Benghazi that witnesses say there was no protest outside of the U.S. Consulate in Benghazi on the night of Sept. 11.

Sept. 16: U.S. Ambassador to the United Nations Susan Rice tells Bob Schieffer on CBS' "Face the Nation" that there is no information that suggests the attack was preplanned.

"We'll want to see the results of that investigation to draw any definitive conclusions," Rice said. "But based on the best information we have to date, what our assessment is as of the present is in fact what began spontaneously in Benghazi as a reaction to what had transpired some hours earlier in Cairo where, of course, as you know, there was a violent protest outside of our embassy ... sparked by this hateful video. But soon after that spontaneous protest began outside of our consulate in Benghazi, we believe that it looks like extremist elements, individuals, joined in that -- in that effort with heavy weapons of the sort that are, unfortunately, readily now available in Libya post-revolution. And that it spun from there into something much, much more violent. ... We do not have information at present that leads us to conclude that this was premeditated or preplanned."

Rice was then asked specifically whether or not al Qaeda was involved in at least some part of the incident. She replied: "Well, we'll have to find out that out. I mean I think it's clear that there were extremist elements that joined in and escalated the violence. Whether they were al Qaeda affiliates, whether they were Libyan-based extremists or al Qaeda itself I think is one of the things we'll have to determine."

Earlier in that same program, Libyan President Magariaf tells Schieffer that the assault was preplanned and some of the attackers were foreigners.

"The way these perpetrators acted and moved ... this leaves us with no doubt that this has preplanned, determined -- predetermined ... It was planned -- definitely, it was planned by foreigners, by people who -- who entered the country a few months ago, and they were planning this criminal act since their -- since their arrival," Magariaf said.

Magariaf also claimed "about 50" people had been arrested in connection with the attack. Magariaf separately states Ahmed Boukhatala is one of the lead suspects. CBS News' Elizabeth Palmer interviews Boukhatala, who admits he was there the night of the attacks, but denies any involvement. At that point, he had still not been questioned and was moving freely in Benghazi, challenging Magarif to "come to my house and arrest me" if he was a suspect.

Sept. 15: CBS News' D'Agata is the first reporter to locate the secret CIA annex in Benghazi. He reports that the roof of the house is covered in mortars. CBS News broadcasts images of the helmets and bloodied flak jackets discovered there.

Sept. 14: The bodies of Stevens, Smith, Woods and Doherty are returned to the U.S. They are welcomed in a televised ceremony at Joint Base Andrews. Secretary Clinton publicly denounces the "Innocence of Muslims" video that had sparked of series of protests throughout the Muslim world, and had at one point been believed by some to be the cause of the attack on the consulate in Benghazi.

CBS News' Brennan reports that Clinton visits the Situation Room and Oval Office "half a dozen times this week" and spends "countless hours" there.

CBS News' Charlie D'Agata interviews members of the 17th of February Brigade's VIP protection team involved in the evacuation, and obtains exclusive photos of an injured American being evacuated to the airport from the annex under the brigade's escort. They put the total number of Americans evacuated from Benghazi at 32.

Sept. 13: CBS News' David Martin reports that a radical Islamic group called Ansar al Sharia is the lead suspect in the attack, according to U.S. officials. The name means "Supporters of Islamic law."

CBS News' Charlie D'Agata gets access to an injured Libyan guard based inside the consulate, who offers a firsthand account of the attack and makes the first mention of Blue Mountain, a British security firm contracted by the State Department that employed Libyans to conduct procedural security measures inside the compound, including x-rays of equipment.

Sept. 12: Secretary of State Hillary Clinton announces the death of Stevens and Smith via press release.

Clinton holds a video conference with the entire embassy staff in Tripoli, which by then also included everyone who was evacuated from Beghazi.

Clinton later delivers live remarks from the Treaty Room of the U.S. State Department.

President Obama addressed the public from the Rose Garden:"The United States condemns in the strongest terms this outrageous and shocking attack. We're working with the government of Libya to secure our diplomats. I've also directed my administration to increase our security at diplomatic posts around the world. And make no mistake, we will work with the Libyan government to bring to justice the killers who attacked our people.

"Since our founding, the United States has been a nation that respects all faiths. We reject all efforts to denigrate the religious beliefs of others. But there is absolutely no justification to this type of senseless violence. None. The world must stand together to unequivocally reject these brutal acts.

"Already, many Libyans have joined us in doing so, and this attack will not break the bonds between the United States and Libya. Libyan security personnel fought back against the attackers alongside Americans. Libyans helped some of our diplomats find safety, and they carried Ambassador Stevens's body to the hospital, where we tragically learned that he had died...

"No acts of terror will ever shake the resolve of this great nation, alter that character, or eclipse the light of the values that we stand for. Today we mourn four more Americans who represent the very best of the United States of America. We will not waver in our commitment to see that justice is done for this terrible act. And make no mistake, justice will be done."
In an interview with President Obama the same day, "60 Minutes" correspondent Steve Kroft presses the president on early accounts that the attack stemmed from a spontaneous protest, saying it didn't "sound like your normal demonstration."
"We're still investigating exactly what happened," Mr. Obama said. "I don't want to jump the gun on this. But you're right that this is not a situation that was exactly the same as what happened in Egypt. And my suspicion is, is that there are folks involved in this, who were looking to target Americans from the start."
Meanwhile, Clinton visits the Near Eastern Affairs bureau, and the information technology bureau where Sean Smith was assigned, CBS News' Margaret Brennan reports. Clinton later references the assault as an "attack by a small and savage group."
Meanwhile, senior State Dept. officials share initial details of the attack in Benghazi with members of the press via phone briefing. A senior official says in response to an inquiry about alleged protests outside of consulate that night: "We frankly don't have a full picture of what may have been going on outside of the compound walls before the firing began. ... With regard to whether there is any connection between this Internet activity and this extremist attack in Benghazi, frankly, we just don't know. We're not going to know until we have a chance to investigate."
CBS News' David Martin reports that some U.S. officials already were looking at the attack as a terrorist act, perpetrated by people either associated with or who sympathize with al Qaeda, that took advantage of the protest.
The FBI officially opens an investigation into the deaths of Stevens and the three other Americans killed, as reported by CBS News' Andres Triay and Bob Orr.
Thanks for reading CBS NEWS.
Create your free account or log in
for more features.