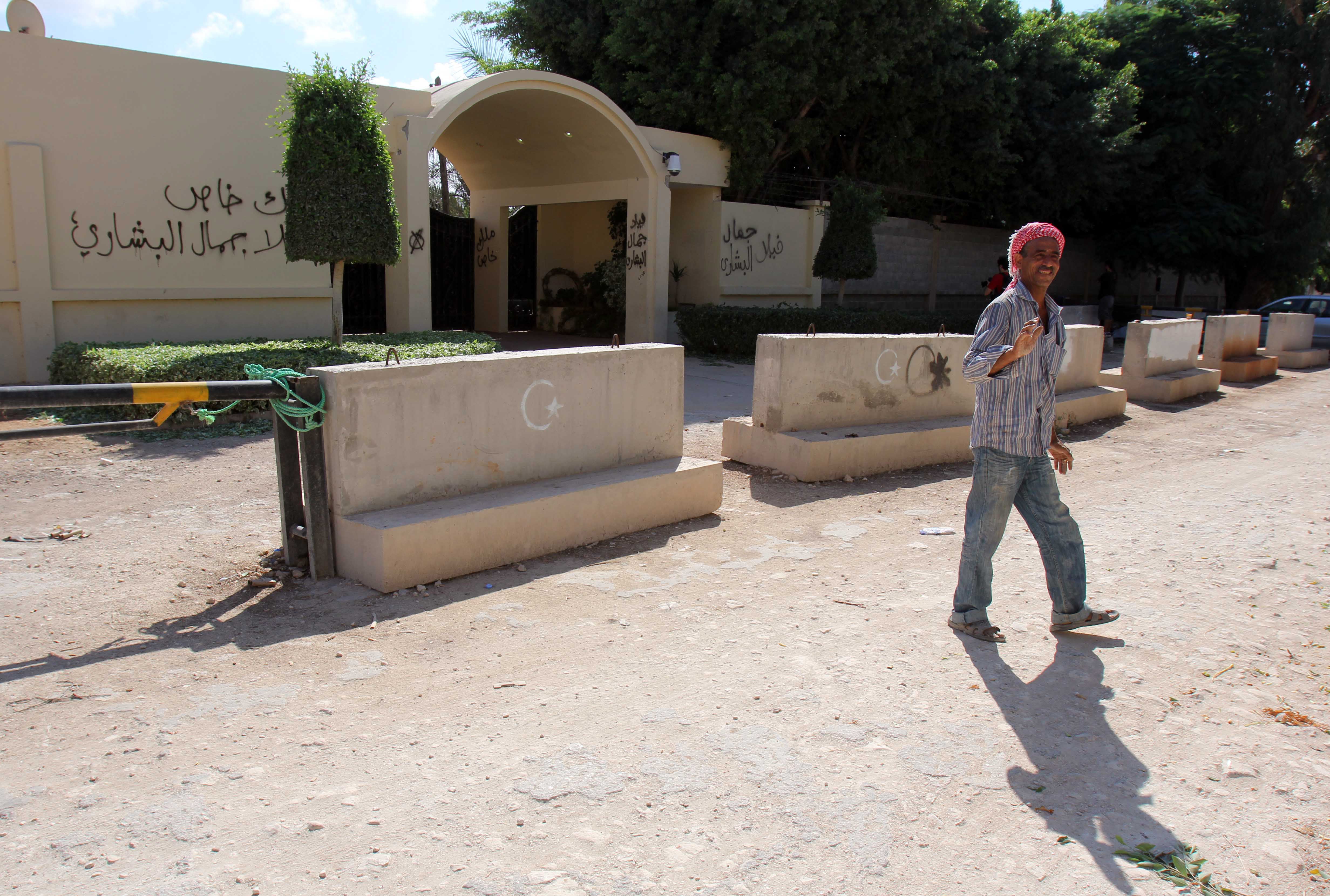 Official: We knew Benghazi was a terrorist attack "from the get-go"
Updated 11:30 a.m. ET
(CBS News) "Everybody in the mission" in Benghazi, Libya, thought the attack on a U.S. consulate there last Sept. 11 was an act of terror "from the get-go," according to excerpts of an interview investigators conducted with the No. 2 official in Libya at the time, obtained by CBS News' "Face the Nation."
"I think everybody in the mission thought it was a terrorist attack from the beginning," Greg Hicks, a 22-year foreign service diplomat who was the highest-ranking U.S. official in Libya after the strike, told investigators under authority of the House Oversight and Government Reform Committee. Hicks, the former U.S. Embassy Tripoli deputy chief of mission, was not in Benghazi at the time of the attack, which killed Chris Stevens - then the U.S. ambassador to Libya - and three other Americans.
When he appears this week before the committee, chaired by Rep. Darrell Issa, R-Calif., Hicks is expected to offer testimony at odds with what some American officials were saying in public - and on "Face the Nation" - just five days after the attack. Benghazi whistleblowers have rallied attention to discrepancies among the administration's reaction to the attack, which The Weekly Standard suggests was frayed by ever-evolving talking points that sought to remove references to al Qaeda.
On Sept. 16, U.S. Ambassador to the United Nations Susan Rice hit the media circuit, appearing on all five Sunday talk shows to dispel the notion that the strike was a premeditated terrorist act and to perpetuate the case that it began "spontaneously" out of protests in Egypt. Rice's spot on "Face the Nation" that day was preceded by the new President of Libya Mohammed al-Magariaf, who said his government had "no doubt that this was preplanned, predetermined."
Biden, Kerry honor fallen U.S. diplomats
FBI posts new pictures of Benghazi suspects
Full coverage: U.S. Consulate attack in Benghazi
"For there to have been a demonstration on Chris Stevens's front door and him not to have reported it is unbelievable," he said. "I never reported a demonstration; I reported an attack on the consulate. Chris - Chris's last report, if you want to say his final report - is, 'Greg, we are under attack.'
"...I've never been as embarrassed in my life, in my career, as on that day," Hicks continued in his interview with investigators. "The net impact of what has transpired is, [Rice,] the spokesperson of the most powerful country in the world, has basically said that the president of Libya is either a liar of doesn't know what he's talking about. ....My jaw hit the floor as I watched this."
Though the White House has said it was in contact with officials in Libya the night of the attack, Hicks said in the days following, he was never consulted about the talking points. One day after Rice's Sunday show blitz, Hicks said he called Beth Jones, acting assistant secretary for near eastern affairs at the State Department, and asked, "Why did Amb. Rice say that?" The tone of her answer - "I don't know," he said - indicated that "I perhaps asked a question that I should not have asked."
The net impact of Rice's statements, Hicks said, was "immeasurable." On top of his personal belief that "the reason it took us so long to get the FBI to Benghazi is because of those Sunday talk shows," he said, Magariaf lost face "in front of not only his own people, but the world" at a time of democratic transition in his country. He added, "I have heard from a friend who had dinner with President Magariaf in New York City that he was still angry at Amb. Rice well after the incident."
Appearing on "Face the Nation" to address Hicks's remarks, chairman Issa agreed Sunday that the "fatal error" in a debacle that marked a "misinformation campaign at best, and a cover-up at worst," was tossing into the lurch the relationship between the United States and Libya.
"You can't insult a foreign leader in a greater way than happened literally here, just those few days later," Issa said. "Ambassadors know that the one thing you can't do is contradict your host, especially at a time when you need their cooperation. This was a fatal error to our relationship, at least for a period of time. And we can't find the purpose. [Secretary of State Hillary Clinton] should have been among - above all else - the person who was on the same sheet of music with the Libyan government, and she wasn't."
Issa said his committee's hearing this week will try to get to the heart of why "the talking points were right, and then the talking points were wrong." Though he said it might be "in part" a cover-up effort in light of the State Department having turned down requests from diplomats on the ground for heightened security, "it does seem like it's bigger than that."
"There was this normalization, sort of a mentality, where you had to pretend like things were safe; the war on terror was over," Issa said. "And that may have gone in a great way to getting people to say, 'Well, we can't call this a terrorist attack because then the war on terror is back alive.'
"Well... the war on terror is very much alive," he continued, "whether it's Chechen nationals who come here, or whether it's what's going on in Syria - it's al Qaeda around the world. And that's the reality that, hopefully, State Department people will feel at least they are being properly protected after this attack."
Thanks for reading CBS NEWS.
Create your free account or log in
for more features.