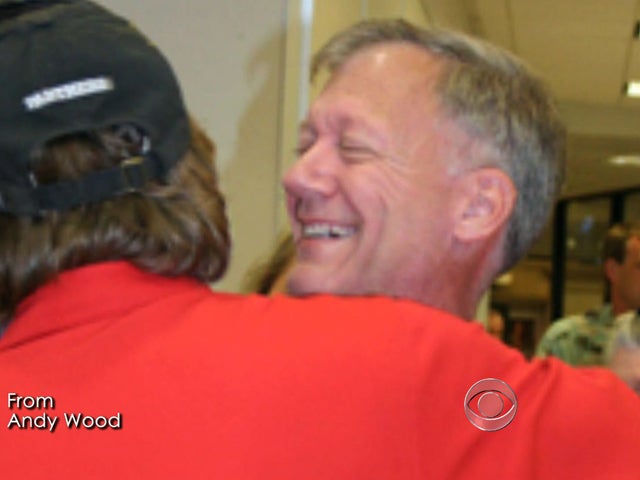 Congress to probe security flaws for Libya diplomats
Updated 10:43 PM ET
(CBS News) WASHINGTON - CBS News has learned that congressional investigators have issued a subpoena to a former top security official at the US mission in Libya. The official is Lt. Col. Andy Wood, a Utah National Guard Army Green Beret who headed up a Special Forces "Site Security Team" in Libya.
The subpoena compels Lt. Col. Wood to appear at a House Oversight Committee hearing next week that will examine security decisions leading up to the Sept. 11 Muslim extremist terror assault on the U.S. compound at Benghazi. U.S. Ambassador Christopher Stevens and three of his colleagues were killed in the attack.
Libya consulate: Was security added or taken away?
FBI team examines site of deadly Libya attack
Lt. Col. Wood has told CBS News and congressional investigators that his 16-member team and a six-member State Department elite force called a Mobile Security Deployment team left Libya in August, just one month before the Benghazi assault. Wood says that's despite the fact that US officials in Libya wanted security increased, not decreased.
Wood says he met daily with Stevens and that security was a constant challenge. There were 13 threats or attacks on western diplomats and officials in Libya in the six months leading up to the September 11 attack.
A senior State Department official told CBS News that half of the 13 incidents before September 11 were fairly minor or routine in nature, and that the Benghazi attack was so lethal and overwhelming, that a diplomatic post would not be able to repel it.
Wood, whose team arrived in February, says he and fellow security officials were very worried about the chaos on the ground. He says they tried to communicate the danger to State Department officials in Washington, D.C., but that the officials denied requests to enhance security.
"We tried to illustrate...to show them how dangerous and how volatile and just unpredictable that whole environment was over there. So to decrease security in the face of that really is... it's just unbelievable," Wood said.
The State Department official says there was a "constant conversation" between security details in Libya and officials in Washington D.C.
Sources critical of what they view as a security drawdown say three Mobile Security Deployment teams left Libya between February and August in addition to the 16-member Site Security Team on loan from the military. That's 34 highly-trained security personnel moved out over a six month period.
One State Department source told CBS News the security teams weren't "pulled," that their mission was simply over.
Also scheduled to appear at next week's hearing are Libya's former U.S. Regional Security Officer Eric Nordstrom and State Department official Charlene Lamb.
Thanks for reading CBS NEWS.
Create your free account or log in
for more features.