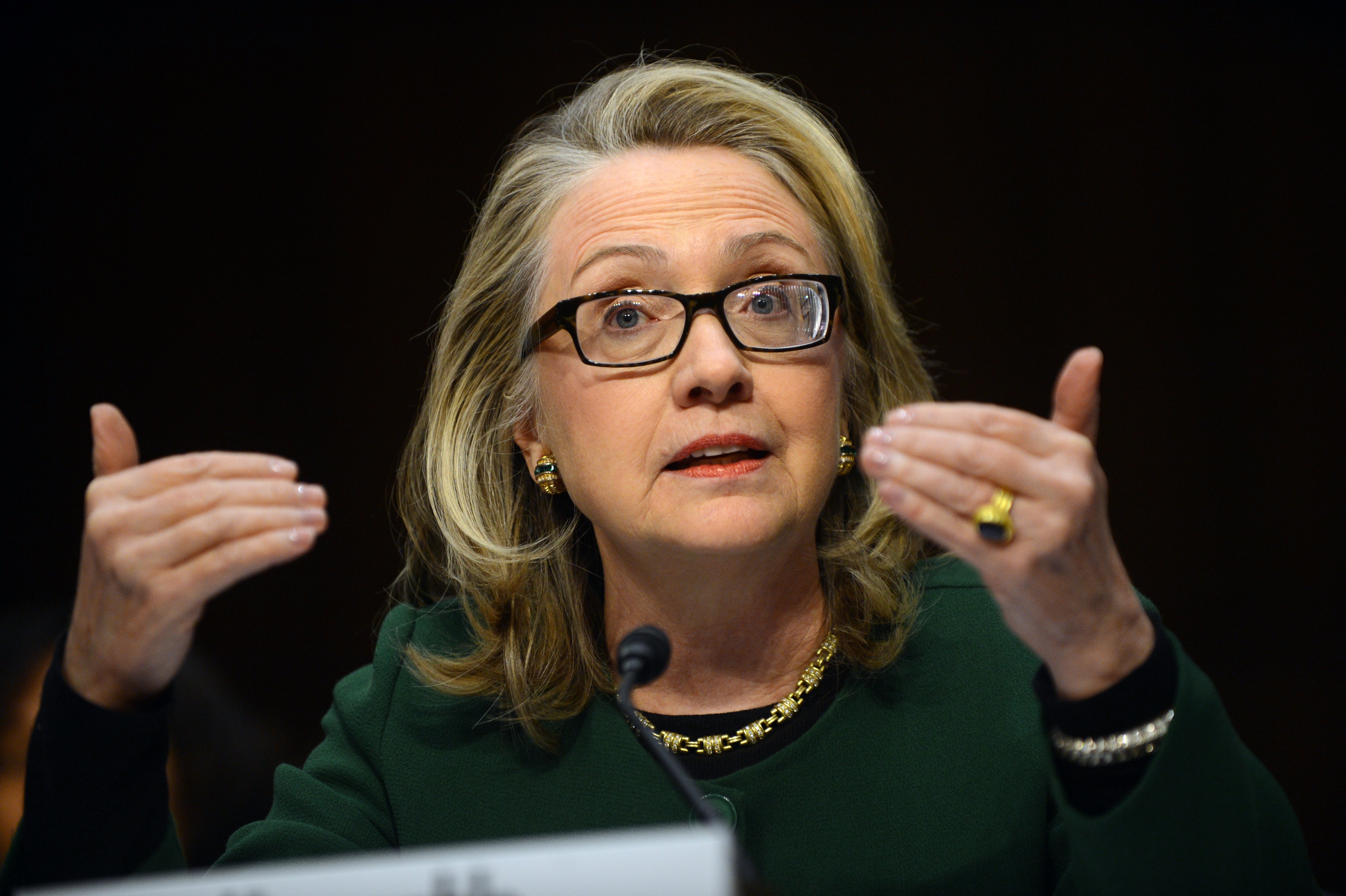 Hillary Clinton on Benghazi: "I do feel responsible"
Updated: 5:10 p.m. ET

Testifying before Congress for the first time since the September 11 attacks in Benghazi that left four Americans dead, Secretary of State Hillary Clinton today took responsibility for the failures that led to those deaths, citing a "personal" commitment to improving diplomatic security abroad. But even while conceding ongoing "deficiencies and inadequacies" within the State Department, Clinton defended her own actions and those of her staff with regard to their response to the violence, and outlined the numerous steps she says have already been implemented to prevent future similar occurrences.
Clinton, growing emotional at times during the course of her testimony, cited the inherent risk of taking an active diplomatic role in the global arena -- particularly in a moment in which "Arab revolutions have scrambled power dynamics and shattered security forces across the region." She lamented the loss of U.S. Ambassador Chris Stevens and the other three Americans who died in the September attacks, and spoke tearfully of having "stood next to President Obama as the Marines [who] carried those flag-draped caskets off the plane at Andrews."

"I put my arms around the mothers and fathers, the sisters and brothers, the sons and daughters," she said. "And the wives left alone to raise their children."
Still, Clinton argued that diplomats "accept a level of risk" in taking posts in high-risk, and that they "cannot work in bunkers and do their jobs."
"So it is our responsibility to make sure they have the resources they need and to do everything we can to reduce the risks," she said.

In that vein, Clinton said, she has worked with the State Department to swiftly implement a series of outside recommendations aimed at ensuring that similar attacks don't occur in the future. She repeatedly stressed her responsibility for the personnel in Libya as well as in the State Department generally, and added that her commitment to protecting future diplomats stretches beyond a policy level.
"As I have said many times, I take responsibility. And nobody is more committed to getting this right. I am determined to leave the State Department and our country safer, stronger, and more secure," she said. "For me, it's personal."
Clinton called the attack in September "one of those terrible tragic times" when the State Department's security assessment of the situation failed to take into account an imminent attack, and she emphasized her commitment to increasing the department's efficacy and operational capabilities before she steps down in the coming months.
"We are constantly assessing. And sometimes we get it wrong, but it's very -- it's rare that we get it wrong," Clinton said. "This was one of those terrible tragic times when, you know, there was an assessment shared by the ambassador, shared by others, that turned out not to take into account the -- the militants attacking that night."
Clinton also said that while she had been broadly aware of security concerns in Benghazi, she had not personally reviewed an August 12 cable requesting reinforcements.
"With specific security requests they didn't come to me. I had no knowledge of them," she said. But Clinton noted that she was involved in a "constant conversation" about helping Libya overcome "a deteriorating" security environment as underwent post-Qaddafi governmental transitions.
"We sent teams out, both civilian and military experts to try to help them," she said, in response to a question from Sen. Marco Rubio, R-Fla., about Clinton's efforts to both assess and improve the security situation in Libya. "What I found with the Libyans was willingness, but not capacity... What we've been trying to do, and you know, we need your help to help us pay for what we're trying to do, we are trying to help them build a decent security force to try to reign in the militias as best they can. So this was a constant conversation."
Even while Clinton conceded State Department shortcomings in the lead-up to the attacks, she strongly defended both her own response to the violence, as well as that of the White House and U.N. Ambassador Susan Rice. She was particularly dismissive of the controversy surrounding White House officials' early comments suggesting the attacks might have been the result of spontaneous protests spurred by an anti-Muslim video.

"We had four dead Americans. Was it because of a protest or because of guys out for a walk one night and decided to go kill some Americans? At this point what difference does it make, Senator?" Clinton asked Sen. Ron Johnson, R-Wis., when asked why the administration initially gave an inaccurate version of the events that took place.
In the aftermath of the attacks, much of the political controversy has surrounded Rice's September 16 television appearances, in which she suggested protests surrounding the video might have played a role in the attacks. Those comments, which turned out not to be true, were guided by a set of unclassified talking points given to Rice ahead of the appearances. Ahead of Rice's appearances, those talking points were edited to cut specific references to "al Qaeda" and "terrorism," and Republicans pounced on the discrepancies in an apparent campaign to derail Rice's bid to replace Clinton as Secretary of State.
Clinton said she did not ask Rice to go on television following the attacks, but vehemently defended the ambassador's remarks in the appearances she did make. On the suggestion that Rice had knowingly misled the people on Benghazi, Clinton said "nothing could be further from the truth."
Sen. John McCain, R-Ariz., who was one of the lawmakers most critical of Rice and has relentlessly hammered the administration over Benghazi for months, lambasted the White House for not consulting with people on the ground in Libya before speaking publicly about what happened. In agitated remarks, he called Clinton's testimony "not satisfactory."
"Here we are, four months later, and we still don't have the basic information," McCain said.
Clinton stated her disagreement with McCain on the administration's handling of its response before turning to budget concerns -- and the congressional holds on budget requests she suggested has infringed upon the State Department's ability to adequately do its job.
"We've had frequent congressional complaints. Why are we doing anything for Libya?" she said. "Currently, the House has holds on bilateral security assistance, on other kinds of support for anti- terrorism assistance. So we've got to get our act together between the administration and the Congress. If this is a priority and if we are serious about trying to help this government stand up security and deal with what is a very dangerous environment from east to west, then we have to work together."
Not everyone took Clinton at her word. Despite a pervading sense of respectfulness toward the outgoing Secretary of State at the hearing, including among Republicans, Sen. Rand Paul, R-Ky., accused Clinton of accepting culpability "for the worst tragedy since 9/11." He also said he would have "relieved" her of her job had he been president at the time of the attacks.
"I would think by anybody's estimation, Libya has to be have been one of the hottest of hot spots around the world. Not to know of the request for securities really I think cost these people their lives," Paul said. "Their lives could have been saved had someone been more available, had someone been aware of these things, more on top of the job."
In the House Foreign Affairs Committee hearing later in the day, Rep. Jeff Duncan, R-S.C., also accused Secretary of State Hillary Clinton of letting the U.S. consulate in Benghazi "become a death trap."
Pointing to the outside Accountability Review Board (ARB) report on what went wrong in Benghazi, Clinton noted in her response to Paul that "I am the secretary of state and the ARB made very clear that the level of responsibility for the failures that they outlined was set at the assistant secretary level and below." But she also suggested that his comments were grounded in a political -- not diplomatic -- context.

"The reason we put into effect an accountability review board is to take it out of the heat of politics and partisanship and accusations, and to put it in the hands of people who have no stake in the outcome," Clinton said. "The reason I said 'make it open, tell the world' is because I believe in transparency. I believe in taking responsibility and I have done so. And I hope that we're going to be able to see a good working relationship between the State Department and the committee going forward."
Thanks for reading CBS NEWS.
Create your free account or log in
for more features.