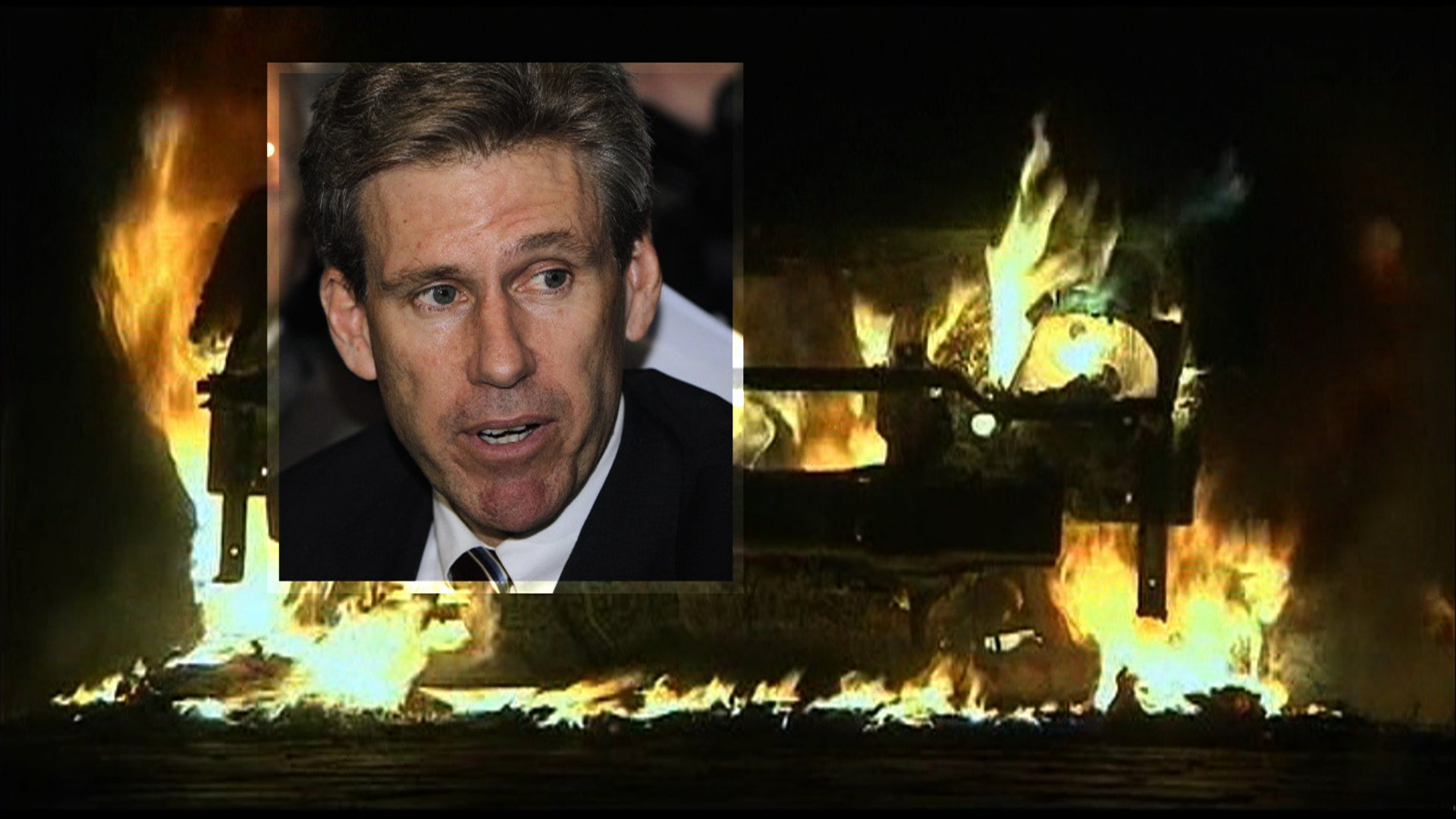 Sources: Key task force not convened during Benghazi consulate attack
CBS News has learned that during the Sept. 11 attack on the U.S. Mission in Benghazi, the Obama Administration did not convene its top interagency counterterrorism resource: the Counterterrorism Security Group, (CSG).
"The CSG is the one group that's supposed to know what resources every agency has. They know of multiple options and have the ability to coordinate counterterrorism assets across all the agencies," a high-ranking government official told CBS News. "They were not allowed to do their job. They were not called upon."
Information shared with CBS News from top counterterrorism sources in the government and military reveal keen frustration over the U.S. response on Sept. 11, the night Ambassador Chris Stevens and three other Americans were killed in a coordinated attack on the U.S. Consulate in Libya.
The circumstances of the attack, including the intelligence and security situation there, will be the subject of a Senate Intelligence Committee closed hearing on Nov. 15, with additional hearings to follow.
Counterterrorism sources and internal emails reviewed by CBS News express frustration that key responders were ready to deploy, but were not called upon to help in the attack.
CBS News has agreed not to quote directly from the emails, and to protect the identities of the sources who hold sensitive counterterrorism posts within the State Department, the U.S. military and the Justice Department.
As to why the Counterterrorism Security Group was not convened, National Security Council Spokesman Tommy Vietor told CBS News "From the moment the President was briefed on the Benghazi attack, the response effort was handled by the most senior national security officials in governments. Members of the CSG were of course involved in these meetings and discussions to support their bosses."
Absent coordination from Counterterrorism Security Group, a senior U.S. counterterrorism official says the response to the crisis became more confused. The official says the FBI received a call during the attack representing Secretary of State Hillary Clinton and requesting agents be deployed. But he and his colleagues agreed the agents "would not make any difference without security and other enablers to get them in the country and synch their efforts with military and diplomatic efforts to maximize their success."
Another senior counter terrorism official says a hostage rescue team was alternately asked to get ready and then stand down throughout the night, as officials seemed unable to make up their minds.
A third potential responder from a counter-terror force stationed in Europe says components of AFICOM -- the military's Africa Command based in Stuttgart, Germany -- were working on course of action during the assault. But no plan was put to use.
"Forces were positioned after the fact but not much good to those that needed it," the military source told CBS News.
"The response process was isolated at the most senior level," says an official referring to top officials in the executive branch. "My fellow counterterrorism professionals and I (were) not consulted."
The official says a protocol set forth in a classified presidential directive calls for the Counterterrorism Security Group (CSG) to be convened in the event of a possible terrorist attack. According to a public military document, the directive was designed to "synchronize the efforts of all the government agencies that have a role to play in the Global War on Terrorism."
The Administration also didn't call on the only interagency, on-call, short notice team poised to respond to terrorist incidents worldwide: the Foreign Emergency Support Team (FEST). FEST's seasoned experts leave within four hours of notification and can provide "the fastest assistance possible."
FEST Teams deployed immediately after al Qaeda bombings of U.S. embassies in East Africa in 1998, and the USS Cole in 2000, but were not used for Benghazi, to the chagrin of some insiders. It's likely that the CSG task force, if contacted, would have recommended FEST aid.
"First a tactical response was needed," says a senior U.S. counterterrorism official, "and while that was being implemented, the holistic response could have been developed and deployed within hours" which could have allowed the FBI investigate safely on site well ahead of the "24 days it took."
When asked why the FEST wasn't utilized, a State Department official said it was used previously in East Africa because of damage sustained to a U.S. Embassy "to help restore communications and other infrastructure support. In this case, that was unnecessary at Embassy Tripoli."
A White House official told us that at the start of the attack, Chairman of the Joint Chiefs Martin Dempsey and Defense Secretary Leon Panetta "looked at available options, and the ones we exercised had our military forces arrive in less than 24 hours, well ahead of timelines laid out in established policies." He also said a "small group of reinforcements" was sent from Tripoli to Benghazi, but declined to say how many or what time they arrived. The Pentagon moved a team of special operators from central Europe to Sigonella, Italy but gave no other details.
Ambassador Stevens and three other Americans died in a protracted battle over the course of eight hours. It's believed two of the victims, Navy SEALs Tyrone Woods and Glen Doherty, died in a mortar attack some six or seven hours after the U.S. Mission was first overrun by a terrorist mob that burned buildings and used AK-47 rifles, bombs, and mortars.
In the days after the assault, counterterrorism officials expressed dismay over what they interpreted as the Obama Administration's unwillingness to acknowledge that the attack was terrorism; and their opinion that resources which could have helped were excluded.
Counterterrorism officials from two agencies said they concluded almost immediately that the attack was by terrorists and was not spontaneous. "I came to this conclusion as soon as I heard the mortar rounds were impacting on top of the building our people were occupying," says one. "The position of the mortar must be plotted on a map, the target would have to be plotted, computations would be calculated that would result in the proper mortar tube elevation and the correct number of powder bags to be attached to the rounds."
A White House official says President Obama immediately acknowledged the assault was a terrorist attack. However, there was confusion as White House spokesman Jay Carney said three days later, "We have no information to suggest that it was a preplanned attack."
On Sept.16, U.S. Ambassador Susan Rice told CBS' "Face the Nation" and other talk shows that the assault appeared to have grown from a spontaneous protest over an anti-Islam video.
CBS' Bob Schieffer asked Rice whether she thought "that this was something that had been plotted out several months ago?" Rice answered, "We do not have information at present that leads us to conclude that this was premeditated or preplanned."
In an interview last week, President Obama said "the minute" he became aware of the Benghazi attack, he directed his staff to "make sure that we are securing our personnel and doing whatever we need to do."
Thanks for reading CBS NEWS.
Create your free account or log in
for more features.