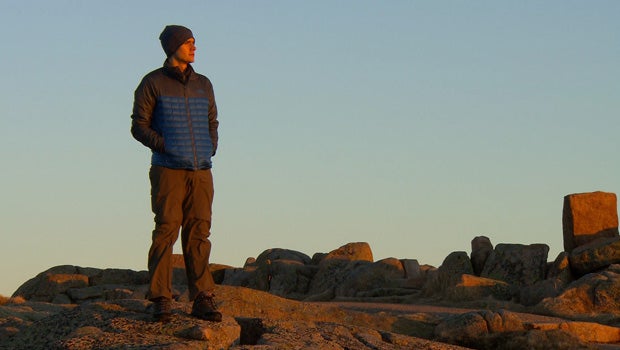 Conor Knighton is winding up his year-long journey through our National Parks. He's returned with a backpack full of picture postcards -- along with some thoughts:
I knew Yellowstone would be cold in the winter. Just HOW cold was a bit of a surprise. It was NEGATIVE 34 degrees when I was there two weeks ago.
But a smile would have been frozen on my face no matter what.
America's first National Park was my last stop on a year-long quest to visit every National Park -- all 59 of them.
It's a journey that began with a hike in the dark, one year ago today. I joined a small group of strangers on the top of Cadillac Mountain at Acadia National Park in Maine, to see the first rays of sun that hit the contiguous United States.
I wanted to get a head start on 2016, the 100th anniversary of the National Park Service. I knew I had a lot of ground to cover.
Soon, I was underground at Mammoth Cave in Kentucky; then, underwater at Biscayne in Florida, walking across sand and soil, from the lowest point in the United States to the base of our highest peak.
The 59 National Parks are spread out all across the country, and for most of the trip, I drove. It was always scenic, only sometimes scary.
When I did hop onto a plane, the change in landscape was even more dramatic.
One week, I was marveling at lava in Hawaii; the next, I was in awe of a glacier in Alaska.
Our country's natural beauty is as diverse as the people who live in it. Setting aside these places for the enjoyment of all was, and is, a uniquely American idea, and I've never felt prouder to be an American.
It was certainly an interesting year to be criss-crossing the country. I spent plenty of time in red states and in blue states. I saw a 1,500-foot-high canyon wall that already exists on the Mexican border. I watched the debate at my hotel in American Samoa, where the people I met can't even vote for the American president.
Much has been made about how divided we are as a country. You don't really feel that in the National Parks. They're places where red and blue can come together, sometimes in the same vista.
Naturalist John Muir once wrote, "Everybody needs beauty as well as bread, places to play in and pray in, where nature may heal and give strength to body and soul."
We may need that now more than ever. Fortunately, there's no shortage of cathedrals.
You'll continue to see stories from the parks on this broadcast. But I encourage you to go see one for yourself this year.
I've spent the last few days reflecting on the places, people and puppies I've experienced along the way in 2016. I spent last night at Point Reyes National Seashore in California. On December 31st, it's where the sun sets LAST in the Lower 48.
I wanted to have the longest year possible because I have loved every second of it.
Happy New Year, and Happy Trails!
To watch Conor Knighton sing "America the Beautiful" in EVERY National Park click on the video player below:

Also visited by Knighton while "On The Trail":
Thanks for reading CBS NEWS.
Create your free account or log in
for more features.