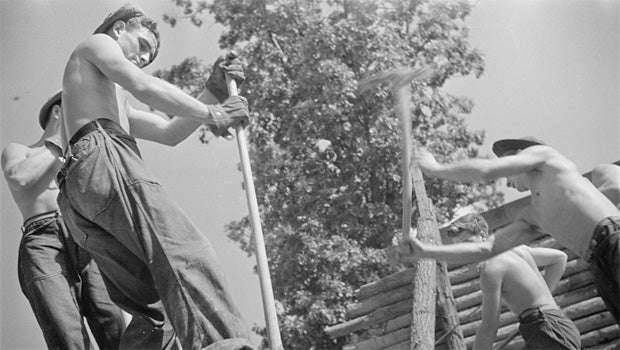 On The Trail: Trailblazers of our National Parks
This morning, a salute to the TRAILBLAZERS who transformed our National Parks decades ago, and to a new generation following in their footsteps. Conor Knighton does the honors:
This year, as Knighton has traveled from park to park, the landscape have been unbelievably different. But the landscaping -- well, there's been a common thread.
From deep beneath the Earth's surface in Kentucky, to high atop a volcano in Hawaii, walking through petrified forests, and resting on rocky ledges ... whether he knew it or not, he was seeing the work of the CCC.
The Civilian Conservation Corps was created in 1933 by President Franklin Roosevelt. It was the height of the Great Depression, and millions of Americans across the country were out of work -- and America's parks and public lands NEEDED some work.
"In creating this Civilian Conservation Corps, we are killing two birds with one stone," FDR said.
Within just three weeks of taking office, Roosevelt had pushed the Emergency Conservation Work Act through Congress -- part of his New Deal. Five days after it was signed into law, 25,000 young men signed up to work for the CCC.
The program would eventually employ 3 million Americans -- clearing trails, building bridges, and planting trees all across the country.
"Not only did their job support them, it also supported their families back home," said Ranger Sally Hurlbert at Shenandoah National Park, the first national park to get a CCC camp. "Every boy was paid $30 a month, and he was allowed to keep $5 of that for himself, and the other $25 was sent back home for his families."
There are two buildings still in Shenandoah that were built by the CCC as part of their camps. While the camps were meant to be temporary, the CCC had a lasting impact at Shenandoah. They built the park headquarters and its warehouse.
The rocks lining the famous Skyline Drive were all laid by the CCC.
"They were completely crucial to the development of the park," Ranger Hurlbert said. "Without them, we probably wouldn't have the kind of park that we have today."
President Roosevelt himself paid a visit to Shenandoah in August of 1933 to publicize how well the program was doing.
"I wish that I could take a couple of months off from the White House and come down here and live with them," he said. "Because I know I'd get full of health the way they have. The only difference is, that they've put ON an average of about 12 pounds a piece since they got here, and I'm trying to take off 12 pounds!"
A job with the CCC meant three square meals a day, new clothes, and new skills.
"They got a lot more out of it than just the daily work," Hurlbert said. "Because in the evenings, they offered instruction and education and skills that they could use beyond the CCC, when they got out in the future. For some of the young men that had only gone through the eighth grade, they actually gave them reading, writing and arithmetic type of classes."
The CCC was Roosevelt's most popular New Deal program. Over the course of nine years, the boys of the CCC planted close to 3 billion trees, and built more than 13,000 miles of trails.
But in 1942, as the country put its resources into WWII, Congress voted to defund the program. Many of Roosevelt's "Tree Army" shipped off to join the actual Army.
Their work made the parks accessible to the masses. In the years since, all of that tourism has taken its toll.
"We have a lot of work to be done here," said Randy King, the superintendent of Mount Rainier National Park. "There's no shortage of work. We do have a significant maintenance backlog. Across the National Park Service, it's about $11 to $12 billion."
Rainier alone has a close to $300 million maintenance backlog. The park's carpentry shop was built by the CCC in 1935. Today, there's no shortage of work -- just a shortage of workers.
"I would have loved the stimulus package with the Great Recession to have included bringing back the CCC," said Secretary of the Interior Sally Jewell. "Put five million young people to work back in 2009 when we really needed it."
She knows a NEW New Deal isn't likely, so Secretary Jewell has gone looking for money from BRANDS, like Camelback and American Eagle, that want to boost their environmental cred.
"You know, I didn't expect to be in the fundraising business when I took this job," Jewell laughed. "But the reality is, I have gone out and asked businesses to help us out. We're asking private donors, companies and organizations and individuals to fund Youth Conservation Corps crews around the country."
It's an initiative called the 21st Century Conservation Service Corps -- a public-private partnership to help fund youth crews working in parks and public land, sometimes even refurbishing old CCC buildings.
The goal is to get 100,000 young people and veterans working by 2018.
"What I'm hearing and seeing is how these young people that have worked in this park and other parks have this deep connection to place that will never leave them," Jewell said.
It was working at Rainier that gave high school senior Jovien Robison a connection to the people who had worked at this park before him.
"We just thought 'Nature is beautiful,' not 'People worked really hard to put in the effort for people to be able to understand how great nature is," Robison said.
It's hard work that's still paying off. Eighty-three years after Roosevelt's most popular program, the National Parks are more popular than ever.

For more info:

Did you miss Conor Knighton's live Facebook chat answering viewer questions? You can watch it here!

Also visited "On The Trail":
Thanks for reading CBS NEWS.
Create your free account or log in
for more features.