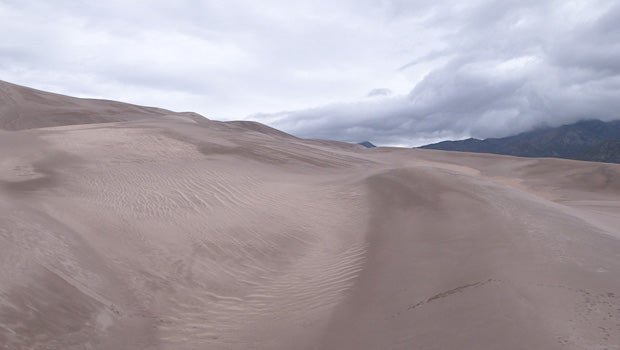 On The Trail: Great Sand Dunes National Park
Every one of our great National Parks deserves a shout-out -- except, perhaps, for the peaceful place our Conor Knighton wants us to LISTEN to:
At Great Sand Dunes National Park, there are plenty of sounds: The sand whipping across the dune field; the laughs of visitors sledding and tumbling down the soft hills; and, just two hours later, the patter of a sudden hail storm.
But these dunes in south-central Colorado -- famous for being the tallest in North America -- are one of the quietest places in the entire country.
"Those dunes are one of the most remarkable acoustic environments in the world," said scientist Kurt Fristrup. "Sound, when it strikes those surfaces, instead of bouncing back off, tends to get absorbed into the dunes. So it's acting like a big sound-deadening device."
Fristrup carries a backpack full of devices he uses to assess the sound quality as part of the National Park Service's Natural Sounds Division. For 30 days, the equipment will sit out in nature and just listen -- tracking wind speed, traffic patterns, and whatever else might stumble by.
"So in addition to measuring what the average conditions are, we try to capture a 'greatest hits' sort of album of all the unusual or particularly significant or interesting sounds that we get in parks," he said.
At Great Sand Dunes, Fristrup's team has captured everything from the sound of an elk bugling to defend its territory, to coyotes giving chase.
Coyote Chase

In fact, this pocket of sand in south-central Colorado is quiet enough you could record an actual album here.
"A really quiet recording studio might be about 20 decibels," said Fristrup. "And when you get up in the dunes, we get down into the single digits. We've had readings in these dunes that are on the order of three or four decibels."
With background noise levels that low, it makes eavesdropping easy; conversations from very far away can be heard.
"When you get into these really quiet places, all of a sudden, the soundscape you perceive becomes amazingly expansive," Fristrup said. "You suddenly feel much more closely connected to that place because every little sound, you're aware of it."
Below: "Singing sands" phenomenon - audible vibrations from an avalanche of sand compressing the air within - recorded at Great Sand Dunes National Park
"Singing Sands" Phenomenon

That connection -- to the SOUND of a place -- is crucial, even if it often goes unappreciated.
"Almost every visitor to a national park carries a camera and goes home with an image of the park," Fristrup said. "And I've often wondered why more people don't come to parks to make a recording, because in some respects, sound evokes memory more powerfully than a photo."
The sound of silence is a natural resource that's quickly diminishing. Scientists like Kurt Fristrup are determined to make sure we still preserve it for future generations.
"Our hearing is about 10,000 times more sensitive than it needs to be to hear me talk to you," he said. "Why is that? Because our ears were designed to listen to all the subtle sounds out here that alert us to possible danger, to possible opportunity. Going into a park, it's a chance to reawaken that sense of really mindful, attentive listening."
A chance to experience a SOUNDscape just as impressive as the landscape.

For more info:

Did you miss Conor Knighton's live Facebook chat answering viewer questions? You can watch it here!

Also visited "On The Trail":
Thanks for reading CBS NEWS.
Create your free account or log in
for more features.