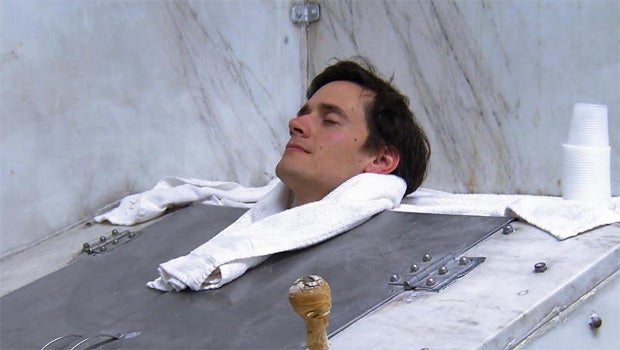 ​On The Trail: Hot Springs National Park
Our Conor Knighton is "On The Trail" for us during this centennial year of the National Park Service -- and this morning that cross-country trail leads him to Arkansas...
In the city of Hot Springs, Arkansas, you can't miss the water. It is everywhere -- bubbling out of the fountains, steaming up the sidewalks, and on tap, at 103 degrees, in the center of town.
But you just MIGHT miss the National Park. "I have had people stop me on the sidewalk out front standing on federal property, and they'll say, 'Where's the national park? How do I get to the national park?' I'm like, 'Oh, you're here!'" laughed Ranger Tom Hill.
Hot Springs is the smallest of our 59 National Parks, and its visitor center is located in the middle of a busy street.
"They're expecting the Yellowstone experience, where you drive through the little shack, and the ranger leans out and hands you a map and [says], 'Don't get run over by a bear,'" said Hill. "That doesn't happen here."
Hill is the curator at Hot Springs. In 1832, forty years before Yellowstone became our first National Park, Andrew Jackson protected this area as a land reservation -- not for its scenic beauty, but for what was underneath the land.
"They realized that there was something therapeutic about the geothermal spring water that was coming out of the ground, the hot springs. They felt better after they drank it," said Hill. "They felt better after they bathed in it."
Hot Springs became a destination for bathing, known across the world. And while there was certainly some pampering, most visitors were coming with a prescription. "Most people were coming here as their last resort, not because it was a resort," said Hill. "They were coming here because their doctors had tried everything else and it didn't work for whatever the ailment was, whether it was arthritis or whatever."
A regimen of hot springs baths was used to treat everything from polio to syphilis. Treatments were coupled with exercise and regular walks, and, eventually, electrotherapy.
By the 1920s, notables from Al Capone to Rudolph Valentino were all heading to Hot Springs to "take the waters." Baseball teams came for some literal "spring training." In 1946, the town was serving up one million baths a year.
But by the 1960s, Hot Springs had cooled down. The first bathhouse of Bathhouse Row to close, in 1962, was the Fordyce, the most opulent building and most expensive to operate.
Scientific advancement meant that a "hot bath" was no longer the preferred way to treat disease. One by one, the houses closed down. The Fordyce is now a visitor center; the Lamar, a gift shop.
The Buckstaff is the ONLY bathhouse in the park to never shut its doors. Patrons can still experience a series of baths and treatments much as visitors did 100 years ago. Sure, the water probably doesn't have any magical healing properties, but according to owner Michael Branch, it can still work wonders.
"Nowadays most people use it for stress relief," said Henry. "Most people don't realize how much stress they have in their lives, until they slow down."
And at the old Superior bathhouse, they specialize in a DIFFERENT kind of stress relief, served on tap. Rose Schweikhart applied through the Park Service to repurpose the Superior Bathhouse as a brewery.
"When I learned I was moving to Hot Springs, I said, well, why is nobody brewing with the hot spring water? It seemed so cool!" said Schweikhart.
The only brewery in a National Park, the Superior served pale ales, an Irish red ale, and a Chaudfontaine noir. "When you brew beer, the first thing you do is heat up water. So we have water that's 90 percent of the way heated," Schweikhart said.
She leases the old bathhouse from the park, and is just the latest in a long line of entrepreneurs drawn to this "Valley of the Vapors."
"National parks are not just about preserving scenery and old buildings," said Ranger Hill. "It's preserving the human story that happened in all these places, too."
It's a story that's still being written, here, in the great indoors.

Also visited "On The Trail":

For more info:
Thanks for reading CBS NEWS.
Create your free account or log in
for more features.