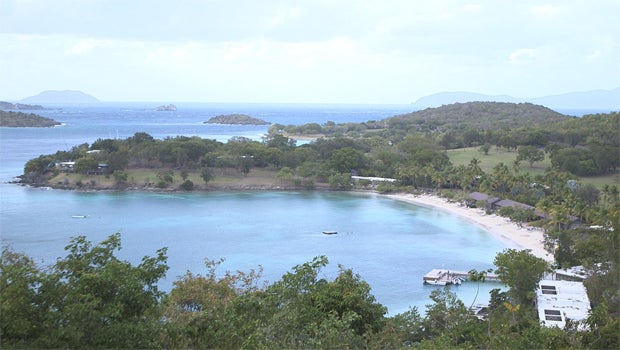 ​On The Trail: The Virgin Island that remained virgin
While it may be true, as John Donne wrote, that "No Man is an island," the same can't be said for the National Park our Conor Knighton visits while ON THE TRAIL:
The rooms at Caneel Bay don't have televisions or telephones. But that's about as close to "roughing it" as it gets at this hotel, a luxury resort situated inside Virgin Islands National Park.
Guests enjoy access to pristine beaches, tropical cocktails and sunset cruises. At night, there's fine dining under coral chandeliers, or out under the stars.
And, if you're wondering, how did a NATIONAL PARK end up with a resort that feels like the kind of place a Rockefeller would stay? Well, it's because Caneel Bay is actually the kind of place a Rockefeller would BUILD.
In 1952, Laurance Rockefeller landed on a stretch of St. John, the smallest of the three main U.S. Virgin Islands. He thought this was one of the most beautiful places he'd ever seen. So he bought it -- a lot of it, at least. (It's good to be a Rockefeller.)
Laurance was the grandson of John D. Rockefeller, founder of Standard Oil. His father, John D. Rockefeller Jr., used some of the family fortune to purchase land to expand Grand Teton National Park and create Acadia National Park, where Knighton began his year-long journey.
And so, Laurance -- while developing a luxury resort in the middle of paradise -- began to get a similar idea.
"He thought there should be a partnership between commerce and conservation," said Ranger Corrine Fenner. "And he built the resort with the idea that visitors can have the luxury of sleeping in a bed, but can still kind of experience the benefits of being in a natural setting."
The first 5,000 acres were a gift from Rockefeller. With assistance from local developer Frank Stick, Rockefeller bought up nearly half the island. At a picnic on December 1, 1956, he handed over the land to the federal government, with one condition: that he would still be allowed to run Caneel Bay.
"For Caneel Bay, it's definitely important to be sitting within the National Park. Otherwise you become a resort with a beach," said Nikolay Hotze, the general manager of Caneel, where the setting remains the selling point.
Rockefeller designed the hotel as one of the country's first eco-resorts -- the lighting is low, the buildings are unobtrusive. And the water is protected, so when you go snorkeling, you will see the water is full of sea turtles.
And while the land is owned by the Department of the Interior, Caneel operates under an exclusive lease, passed on to its current owners. But not much has changed since Rockefeller was in charge -- except, perhaps, for the prices.
"In off-season you can come and stay at Caneel Bay from $390, $400 on," said Hotze. "The high end is $1,800 in-season per night in Cottage Seven -- Laurance Rockefeller's old residence."
The rooms of Cottage Seven were Rockefeller's preferred accommodations. More recently, they've played host to stars like Brad Pitt and Angelina Jolie.
In a way, it was this hotel that kept the island from becoming a bunch of hotels.
Sitting on the edge of St. John, you can look across and see St. Thomas. And the difference is STRIKING. On nearby St. Thomas, development runs wild. But thanks to this chance visit by a New York billionaire, today nearly two-thirds of St. John is a National Park.
It's the Virgin Island that remained virgin -- a paradise protected.

For more info:

Did you miss Conor Knighton's live Facebook chat answering viewer questions? You can watch it here!

Also visited "On The Trail":
Thanks for reading CBS NEWS.
Create your free account or log in
for more features.