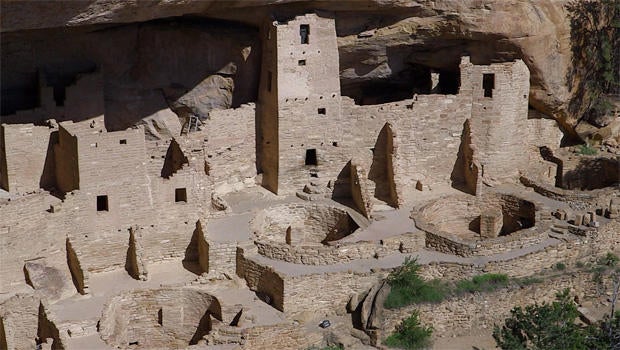 On The Trail: Parks that inspire art
Can a National Park showcase human accomplishment along with natural beauty? Conor Knighton is here to tell us it CAN:
For 50 weeks out of the year, Susan Madden works in an office, as an administrative assistant in Salt Lake City.
But for two weeks this year, she was able to work in the hills of southwest Colorado, as an artist-in-residence at Mesa Verde National Park.
"Since I was 20 I've wanted to be an artist full-time, and it doesn't work financially," Madden said. "So I have a day job. And then I do what my heart loves in my spare time."
Whenever Madden has a spare moment -- and a spare piece of fabric -- she's quilting. But you're not likely to find her work draped across a bed; it's meant to be hung on a wall.
"I first started learning traditional quilting, then I started to wonder if I could use fabric the way I used paint," she said.
Madden is a "landscape quilter," and the National Parks have frequently provided inspiration, such as her quilts depicting Canyonlands National Park (below) and Arches National Park.
With each new quilt, there's a quest to find just the right piece of cloth to represent a blue sky or a pink sunset.
Knighton asked, "When you're looking at these, are the gears already starting to turn, where you're seeing these as pieces of fabric?"
"Of course. I see everything as a piece of fabric," she replied.
"And so you're lookin' at that [and thinking], 'I got just the perfect …'"
"I've got the perfect fabric for that!"
Fabrics are Susan's palate, and for a two-week trip to Colorado, she packed a lot of "paint." "I actually hurt my back bringing it all in from the car," she said.
As an artist-in-residence, Madden was given free housing. It's a rare chance to live and work in a park where people lived and worked hundreds of years ago. The park's cliff dwellings, according to Ranger David Franks, were built in the 13th century.
These spectacular cliff dwellings, created by the ancient Pueblo people, prompted Teddy Roosevelt to designate Mesa Verde as the first national park to "preserve the works of man." Today, Rangers like Franks are still marveling at these structures.
"It's beautiful here," he said. "It's humbling. It's amazing. There's a lot of mystery."
The ancestral Puebloans left this area in the early 1300s, leaving behind these communities for archeologists to puzzle over.
They even left behind some art.
Madden has already started working on quilts inspired by the dwellings. She's part of a long tradition of artists who have been moved by these public lands.
"Back in the 1800s, it was painters that came out West here and drew these incredible landscapes," Franks said. "That caught the interest of people back on the Eastern part of our country: 'Hey, you might wanna go see this, you might wanna save these.'"
Today, several parks have artist-in-residence programs. Whether it's painting or photography or fabric, there's something about these places that makes people want to create.
That's the common thread.

For more info:

Also visited "On The Trail":
Thanks for reading CBS NEWS.
Create your free account or log in
for more features.