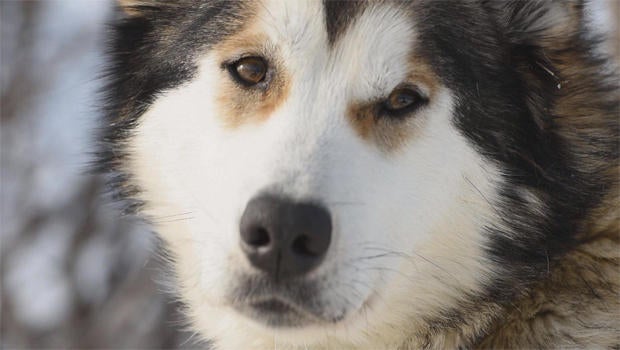 On The Trail: The dogs of Denali National Park
A Siberian Husky may just grow up to become a sled dog someday -- the same line of work pursued by the dogs Conor Knighton found at Denali National Park in Alaska:
Meet Cupcake.
If you're anything like Knighton, you're going to need a minute here. It's okay. Take a deep breath, and say "Awwwwwww…"
And more puppies! "I want ALL the puppies!" Knighton said.
These adorable little guys and girls -- five of them, total -- were born in July at Denali National Park. Cupcake, Happy, Party, Piñata and Hundo were named in honor of the 100th anniversary of the Park Service. Denali (formerly Mt. McKinley) turns 100 next year, and these pups are just the latest additions to a legacy of Alaskan sled dogs as old as the park itself.
Denali's first superintendent was a veteran dog musher named Harry Karstens, who used a team of sled dogs to patrol the backcountry, looking for poachers. As the park grew, it needed a supply of well-trained dogs. Karstens established the first, and only, working kennel in a National Park.
"We always joke that they're the happiest government employees you'll ever meet,'" laughed Jennifer Raffaeli, the current kennels manager at Denali. "But it's really, really true!"
Raffaeli looks after this stable of "Canine Rangers." And while a dog team may seem like a throwback to another era, they're very much in use today.
"The really amazing thing about dog teams in Alaska is that sometimes they still prove to be the most reliable and effective means of transportation in really challenging winter conditions," Raffaeli said. "You know, if you're out at -50° below, and you try and start up a snow machine, it may or may not start. At -50° below, I go out and say, 'Good morning.' These guys all jump up and they're ready to go."
In the frigid winter months, these dogs each run well over 1,000 miles, shuttling supplies and creating trails. They come with a built-in GPS.
"Navigationally, do they help you at all?" Knighton asked.
"Oh, incredibly so. These dogs have brains and hearts and memories better than most rangers," Raffaeli said.
Perhaps most importantly, they do all of this quietly. In 1980, two million acres of Denali were designated as federally-protected wilderness. That means no forms of mechanized transport are allowed.
These dogs were bred to sled. During summer presentations they show off their skills around the kennel track. "As soon as people see the dogs want to run and pull a sled, that's the highlight of every program for them," Raffaeli said.
All summer long, the canine rangers get to meet their adoring public. Volunteer dog walkers help make sure they stay in shape, and the staff takes small groups out to play.
Eventually, after nine years or so of service, it's time for retirement. The park matches the dogs with active owners like the Winter family.
"We still go for our two-mile runs," said Sharon Winter. "That's pretty much a part of her routine."
Aurora ran more than 7,000 miles at Denali. In her retirement she's adopted a few new routines.
For those who can't bring an actual sled dog home with them, the park has a popular puppy cam. Twenty-four hours a day, visitors can log on and see what the new gang is up to. Each one has his or her own fans.
Knighton demonstrated his partiality to Piñata. "You're a dog whisperer. You got him pretty comfortable there!" laughed Raffaeli.
But you know what they say: Kids grow up so fast. Before long, these dogs will join their relatives out on the trail, carrying gear, and carrying on a tradition more than a century old.

For more info:

Also visited "On The Trail":
Thanks for reading CBS NEWS.
Create your free account or log in
for more features.