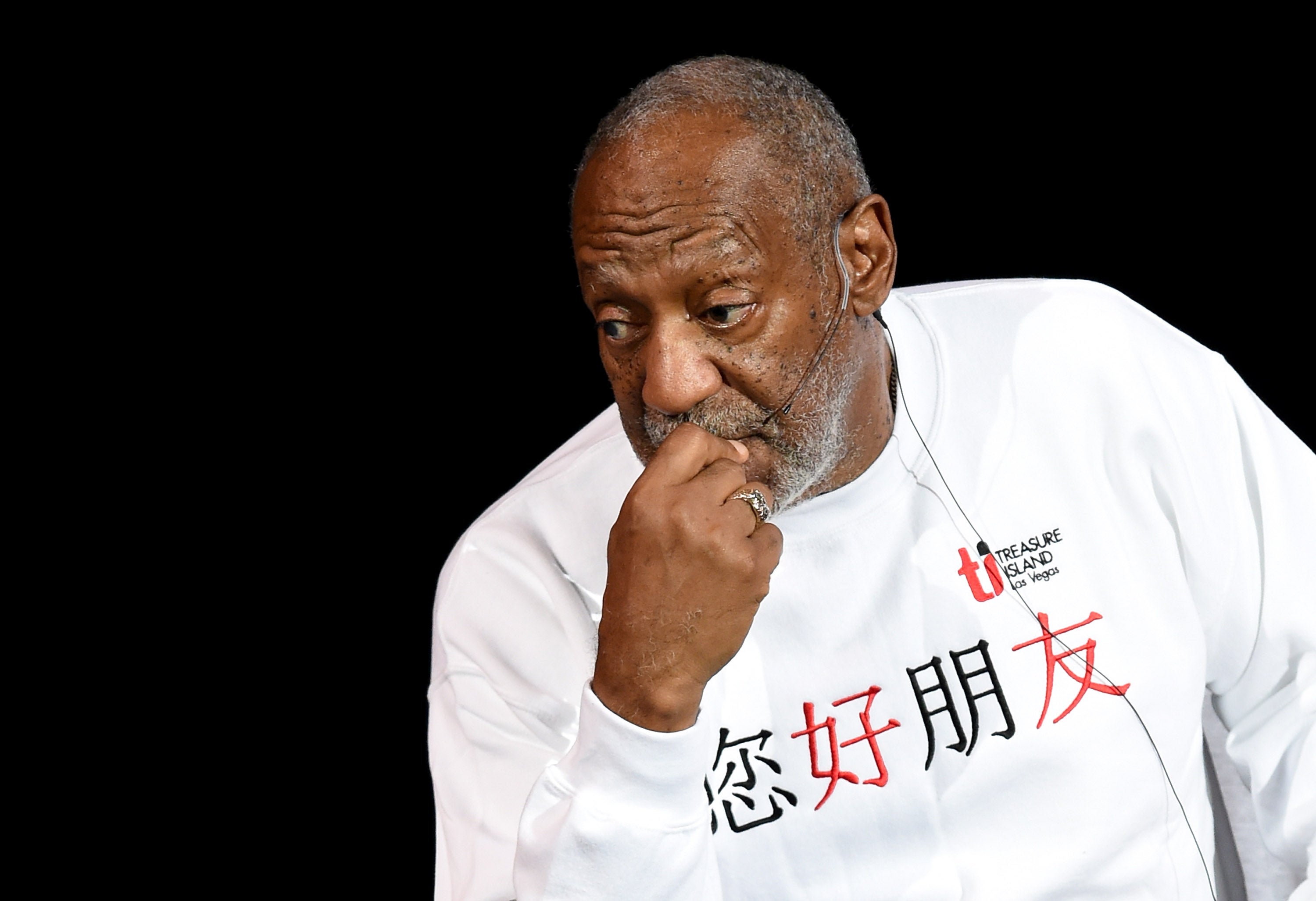 Bill Cosby timeline: From past allegations to the unfolding frenzy
Over the past several months, Bill Cosby's reputation has shifted from sweater-wearing, lovable and legendary stand-up comedian to something much darker.
After comic Hannibal Buress brought to light past rape accusations against the former star of "The Cosby Show," a media frenzy began. What exact incidents was Hannibal referring to, and what's transpired since?
Here's a timeline to give you a better idea:
January 2005: Andrea Constand, a former staffer for Temple University's basketball team (Cosby's alma mater), comes forward, claiming Cosby drugged and assaulted her a year before at his house in suburban Philadelphia. She says the actor served as her mentor and gained her trust before the eventual attack.
Constand reports the incident, but declines to press criminal charges due to a lack of evidence.
February 2005: California lawyer Tamara Green alleges that in the 1970s, Cosby gave her pills to weaken her motor skills and then assaulted her.
"I thought, you know, after all these years, it's the same M.O.," Green told "Today Show" host Matt Lauer. "I decided that if there were only two us, one a long time ago and one right now, then that's two too many."
Cosby denies both allegations.
November 2006: Constand, the first accuser, files a civil suit against Cosby but it's settled outside of court. Thirteen other women come forward with similar allegations, all prepared to serve as Jane Doe witnesses in Constand's case, but they never get the chance.
December 2006: Two of those women are Barbara Bowman, an aspiring actress from Denver, and model Beth Ferrier. Both say Cosby served as a mentor to them, and detail their experiences in People magazine.
October 2014: Fast forward eight years, when at a Philadelphia stand-up show, Hannibal Buress calls Cosby a rapist on stage.
"You're a rapist," Buress says in the 2-minute long video. "If you didn't know about it, trust me. You leave here and Google 'Bill Cosby rape.' It's not funny. That sh** has more results than Hannibal Buress."
Cosby's allegations were already mildly well-known, but the video went viral, and suddenly, word of the comic's troubled past hit the mainstream.
Buress told Howard Stern he'd performed the same bit on and off for six months, but the fact that it was captured on video was perhaps what enabled it to go viral.
Nov. 10, 2014: The Cosby allegations spread like wildfire, and leave it to his PR to fan the flames. Cosby's media team rolls out a campaign to meme the comedian. Perhaps a strategy to get people back on his side, it backfires.
The responses result in images of Cosby paired with such captions as "My two favorite things: Jell-O Pudding and Rape" and "Stare directly at the sweater. You are now getting very sleepy."
Nov. 13, 2014: Barbara Bowman -- one of the Jane Does from earlier -- gets 2 million views with her Washington Post article, "Bill Cosby Raped Me, Why Did it Take 30 Years for People To Believe My Story."
Nov. 15, 2014: During an NPR interview about his recent donation of African American art at the Smithsonian Museum in Washington D.C., Cosby was asked about the rape allegations. He shook his head and kept completely silent.

Nov. 16, 2014: Cosby's lawyer issues a blanket denial statement on the performer's website, saying, "Over the last several weeks, decade-old, discredited allegations against Mr. Cosby have resurfaced. The fact that they are being repeated does not make them true."
The post has since been taken down.
His attorney releases a new statement saying that Cosby's denials do not refer to accuser Constand. The statement, issued by lawyers for Cosby and Constand, said the differences were "resolved to the mutual satisfaction" of both parties.
Nov. 16, 2014: Cosby cancels appearances on "The Late Show with David Letterman" and "The Queen Latifah Show," which was "postponed at his request." He does keep a date to perform stand-up in Eerie, Pennsylvania, not mentioning the controversy.
Nov. 17, 2014: Joan Tarshis becomes the fifth woman to come forward publicly with allegations against Cosby. She claims when she was a 19-year-old writer, Cosby invited her to help him come up with material for his comedy act.
"His M.O. is the same," she said. "He works with people, he gets you into a position where you think you're going to work with him, and then he drugs you and rapes you."
Nov. 18, 2014: Former supermodel Janice Dickinson says Cosby raped her 32 years ago. Dickinson detailed the alleged assault in an exclusive interview with "Entertainment Tonight" host Kevin Frazier.
"The last thing I remember was Bill Cosby in a patchwork robe, dropping his robe and getting on top of me," she said.
Dickinson is the sixth woman to come forward with allegations against Cosby, and the second to do so this week.
Nov. 18, 2014: Netflix has postponed the launch of Bill Cosby's new stand-up special. The streaming site was set to debut "Bill Cosby 77" -- referring to his age -- the day after Thanksgiving.
In a statement to "CBS This Morning," Cosby's publicist said he was in agreement with the Netflix decision.
Nov. 19, 2014: AP releases the first video footage of Cosby responding to rape allegations. During their interview from Nov. 6, Cosby is asked about previous allegations, to which he responds, "We don't answer that. And I'll tell you why. I think you were told... and I don't want to compromise your integrity, but we don't, I don't talk about it."
As the interview was winding down, he asked the interviewer to promise the footage wouldn't air.
"Of what value will it have? And I would appreciate it if it was scuttled," Cosby told the reporter. "I think if you want to consider yourself to be serious, that it will not appear anywhere."
Nov. 19, 2014: NBC pulls the plug on their in-the-works sitcom starring Cosby, saying the show "is no longer under development." The series would have seen Cosby starring in a role similar to that of "The Cosby Show."
Nov. 20, 2014: TV Land will no longer be showing "The Cosby Show" re-runs. A representative for the network said episodes will stop airing immediately for an indefinite time. "The Cosby Show" was also to have been part of a Thanksgiving sitcom marathon.
Nov. 20, 2014: Therese Serignese, a 57-year-old nurse Boca Raton, Florida, says Cosby drugged and raped her in 1976 when she was 19 following a show in Las Vegas.
Nov. 20, 2014: Louisa Moritz, an actress-turned-lawyer, reveals she's planning a civil suit against the comedian. She claims he sexually forced himself upon her in 1971 while backstage at "The Tonight Show Starring Johnny Carson."
Nov. 21, 2014: Two more women come forward with accusations against Bill Cosby.
Renita Chaney Hill, 47, and Kristina Ruehli, now 75, both claim the comedian got them alone and then drugged them decades ago.
Hill told CBS Philadelphia she met Cosby in the 1980s when she was 15 and appeared on his "Picture Pages" educational TV segments.
Ruehli spoke out in an interview with Philadelphia magazine, saying that she met Cosby in 1965 when she was a 22-year-old working as a secretary at a talent agency in Beverly Hills, California.
Nov. 21, 2014: Additional Cosby shows are canceled as more women come forward.
Officials at the Treasure Island hotel-casino on the Las Vegas strip said they've mutually agreed with the comedian to pull the plug on his Nov. 28 performance.
The moves come after the Diamond Desert casino in Tucson, Arizona, on Thursday scrapped his Feb. 15 gig.
Nov. 23, 2014: Former NBC Entertainment employee Frank Scotti says he worked as Cosby's right-hand-man during "The Cosby Show" era, sending thousands of dollars to multiple women, and regularly bringing young models into Cosby's dressing room.
"I felt like a pimp,'' Scotti, 90, told NBC's Today show Monday. "He's not the person I thought he was."
Nov. 24, 2014: Model Jewel Allison accuses Cosby of drugging and assaulting her in the '80s. She recalls accepting a dinner invitation to Cosby's home, where, as she told the New York Daily News, she believes she was drugged.
"There's no such thing as Cliff Huxtable," she says. "There's just a man named Bill Cosby. He's a very sick sociopath."
Nov. 24, 2014: Actress Michelle Hurd, who has appeared in "Gossip Girl" and "Law & Order: SVU," recently took to Facebook to describe her experience with the comedian, writing, "Bill Cosby was VERY inappropriate with me."
Though she says she was never drugged or attacked by the comedian, Hurd writes that was subjected to, "weird acting exercises were he would move his hands up and down my body, (can't believe I fell for that)."
Nov. 24: 2014: Two more venues indefinitely postpone their Bill Cosby tour dates. They are the Capitol Theatre in Yakima, Washington, and Foxwoods Resort Casino in Connecticut.
Nov. 24, 2014: Mark Whitaker, author of the recent Cosby biography, apologizes for not including the actor's sexual assault allegations in his book. "I was wrong to not deal with the sexual assault charges against Cosby and pursue them more aggressively," he tweeted.
Dec. 1, 2014: Cosby resigns as a trustee of Temple University.
"I have always been proud of my association with Temple University. I have always wanted to do what would be in the best interests of the university and its students," the comedian said in a statement. "As a result, I have tendered my resignation from the Temple University Board of Trustees."
The Philadelphia-based comedian was on the board of his alma mater since 1982.
Dec. 2, 2014: Cosby is sued by a Judy Huth, a Southern California woman who claims the comedian molested her in a bedroom of the Playboy Mansion around 1974 when she was 15 years old.
This marks the first time a woman has claimed she was underage when she was abused by the comedian, and it is the first lawsuit he has faced claiming sexual abuse since 2005.
Dec. 3, 2014: Three women who claim they were victimized by Cosby come forward at a Wednesday afternoon press conference called by attorney Gloria Allred.
The women sob as they detail their allegations against the comedian, including one woman who says she was 17 at the time the alleged abuse occurred.
Two of the women, Helen Hayes and another who identified herself only as Chelan, have never spoken publicly before. The third, Beth Ferrier, was one of the several "Jane Does" prepared to testify in the 2005 civil lawsuit. She claims Cosby drugged her coffee during a meeting in Denver and she woke up hours later in the backseat of her car with her clothes disheveled.
Dec. 4, 2014: The Navy revokes Cosby's title of honorary chief petty officer, saying allegations of sexual abuse made against the comedian are serious and conflict with the Navy's core values.
Cosby enlisted in the Navy in 1956 and served four years as a hospital corpsman before being honorably discharged in 1960 as a 3rd Class Petty Officer. The honorary title was presented to Cosby in 2011.
Dec. 5, 2014: Los Angeles police open an investigation into Judy Huth's claims that Bill Cosby molested her when she was 15 years old.
Huth, who is suing Cosby for sexual battery, met with LAPD detectives for 90 minutes. Officer Jane Kim said the department opened its investigation after the meeting.
Dec. 8, 2014: The Des Moines Civic Center in Iowa says a Bill Cosby performance scheduled for next year is postponed indefinitely. The venue notified ticketholders that they will receive a refund for the planned March 7 concert.
Dec. 11, 2014: Model Beverly Johnson adds her name to a growing list of women accusing the once-beloved comedian of drugging or sexually assaulting them in the 1970s and '80s.
In a piece for Vanity Fair, Johnson, 62, details an encounter she says she had with Cosby while auditioning for a small part on "The Cosby Show" in the 1980s.
Johnson -- Vogue's first black cover model -- alleges that Cosby tried to drug her at his home, insisting she have a cappuccino from the espresso machine at his personal bar.
Dec. 15, 2014: Bill Cosby's wife, Camille, defends her husband in a statement Monday.
"There appears to be no vetting of my husband's accusers before stories are published or aired. An accusation is published, and immediately goes viral," she wrote.

"We all followed the story of the article in the "Rolling Stone" concerning allegations of rape at the University of Virginia. The story was heart-breaking, but ultimately appears to be proved to be untrue. Many in the media were quick to link that story to stories about my husband - until that story unwound."
"None of us will ever want to be in the position of attacking a victim. But the question should be asked - who is the victim?"
Dec. 15, 2014: Spelman College suspends its endowed professorship with Bill Cosby amid allegations by more than two dozen women that the comedian and actor sexually assaulted them.
Spelman says in a statement that the program was established in the name of Cosby and his wife, Camille, to bring positive attention and scholars to the campus.
Dec. 23, 2014: Katherine McKee, Sammy Davis Jr.'s one-time girlfriend, tells The New York Daily News that Cosby raped her in a Michigan hotel room when she was on the road with Davis in the '70s.
McKee, an actress and former Las Vegas showgirl, appeared on "The Bill Cosby Show" in 1971 prior to the alleged attack and "Sanford and Son" in 1972. McKee said she knew Cosby for about eight years before the alleged incident occurred.
Jan. 26, 2015: Cindra Ladd claims Bill Cosby drugged and then raped her back in 1969 when she was 21 and he was 32, already married to his wife Camille. The former film industry executive says Cosby gave her a capsule after meeting her in New York in 1969 when she was 21, in an op-ed for the Huffington Post. She said when she asked what was in the capsule, Cosby replied: "Trust me," and she spent the rest of the night in a "blur."
Feb. 6, 2015: Cosby releases a statement ahead of his show in Boston on Feb. 8: "Dear Fans: GOD has Blessed me with a wonderful gift to share with all of you. For 53 years I have continued to master this gift, which heals the soul and warms hearts. Laughter! I thank you, the theatre staff (Wilbur Theatre), the event organizers and the Boston Community for your continued support and coming to experience family, fun entertainment. Hey, Hey, Hey -- I'm Far From Finished."
Feb 19, 2015: Eddie Murphy reportedly refused to portray Cosby in a bit for the 40th anniversary "Saturday Night Live" special last weekend. This is according to fellow "SNL" alum Norm McDonald, who tweeted that he had asked Murphy to play Cosby during a "Celebrity Jeopardy" sketch, but said Murphy wouldn't do it.
Cosby told CBS News through his spokesperson, "I am very appreciative of Eddie and I applaud his actions."
March 10, 2015: Jennifer Thompson told The Associated Press that as an aspiring actress/model in the late '80s, she fended off unwanted sexual advances from Cosby. She also said the comic gave her $700 after she performed a sex act on him.
March 13, 2015: Former model Lise-Lotte Lublin tells Nevada lawmakers to remove the state's statute of limitations on sexual assault, saying that in 1989 she passed out in the Las Vegas Hilton after the comedian gave her two alcoholic drinks.
July 6, 2015: The Associated Press obtains documents that indicate Cosby admitted in 2005 -- under oath -- that he got quaaludes with the intent of giving them to young women he wanted to have sex with.
July 7, 2015: The Bounce television network pulls reruns of Bill Cosby's 1990s CBS sitcom from the air.
July 7, 2015: Walt Disney World officials remove a bronze statue of Bill Cosby from the Hollywood Studios theme park.
July 9, 2015: A group supporting sexual assault victims petitions President Barack Obama to revoke Bill Cosby's Presidential Medal of Freedom.
---
Whether or not the frenzy will die down is still to be determined, but we'll keep this post updated as the story continues to unfold.
Thanks for reading CBS NEWS.
Create your free account or log in
for more features.