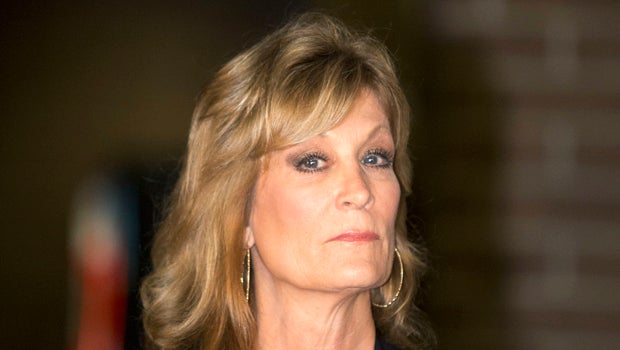 ​LAPD interviews woman suing Bill Cosby for sexual battery
LOS ANGELES -- Los Angeles police opened an investigation on Friday into a woman's claims that Bill Cosby molested her when she was 15 years old, a department spokeswoman said.
The investigation was opened after Judy Huth, who is suing Cosby for sexual battery, met with LAPD detectives for 90 minutes. Officer Jane Kim said the department opened its investigation after the meeting.
Huth's civil suit claims Cosby forced her to perform a sex act on him in a bedroom of the Playboy Mansion around 1974 when she was underage.
Attorney Gloria Allred said Judy Huth met with two special victim unit detectives Friday, three days after her lawsuit was filed.
Huth did not take questions during a news conference, but Allred said she was hoping detectives would open an investigation into Cosby's alleged action. Allred is not representing Huth in her lawsuit but held a press conference Wednesday with three other women who claim Cosby assaulted them.
Police did not give any additional details about the investigation. Police Chief Charlie Beck on Thursday urged potential victims of sex abuse by Cosby to speak with detectives, regardless of whether their claims were outside the statute of limitations.
Cosby's attorney, Martin Singer, accused Huth and another lawyer of extortion and said she attempted to sell her story to a tabloid a decade earlier.
Singer's filing stated the other attorney, Marc Strecker, first demanded $100,000 for Huth to remain silent, then raised the demand to $250,000 as more women came forward accusing Cosby of sexual misconduct.
Cosby has been accused by more than 15 women in recent weeks of sexual misconduct, ranging from incidents of groping to incidents of drugging and raping. He has never been charged with a crime, and his attorneys have denied many of the allegations.
Work crews on Friday were forced to clean up Cosby's star on the Hollywood Walk of Fame after someone wrote "Rapist" on it three times.
The Hollywood Chamber of Commerce, which manages the stars embedded in several sidewalks in Hollywood, wrote in a statement that the stars were intended to celebrate the positive contributions of its inductees.
"When people are unhappy with one of our honorees, we would hope that they would project their anger in more positive ways then to vandalize a California state landmark," the chamber wrote in a statement.
Cosby received his star in 1977. It's placed near the busy intersection of Hollywood Boulevard and North Highland Avenue.
Also on Friday, a woman who claims Cosby drugged and sexually assaulted her in 1979 told her story in interviews with CNN and The Associated Press and said she wanted to help stop the comedian from abusing others.
P.J. Masten said in an interview with CNN that she woke up naked and bruised in a bed with Cosby in Chicago after he gave her an alcoholic drink and that she believes she was raped.
Masten was a surprise witness against Albert in his 1997 assault and battery trial, testifying that he bit her and tried to force her to perform oral sex in a Dallas hotel room in 1994 while he was wearing women's panties and a garter. Masten said she escaped by pulling off Albert's toupee.
Albert was originally charged with assault and sodomy after a longtime lover claimed that he bit and attacked her in a hotel room. He pleaded guilty to the lesser charges a day after Masten testified.
Thanks for reading CBS NEWS.
Create your free account or log in
for more features.