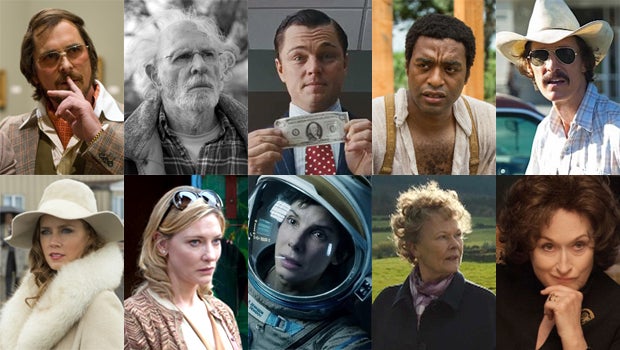 Oscars 2014: "Gravity," "American Hustle" lead race with 10 nominations each
"Gravity," director Alfonso Cuaron's 3-D spectacle of an astronaut stranded in outer space and her struggle to return to Earth, and "American Hustle," a glitzy period comedy of con artists and the FBI inspired by the 1970s Abscam sting operation, lead this year's Academy Awards race, with 10 nominations each.
In addition, this year's other Best Picture nominees include:
"Captain Phillips,"
a gripping dramatization of the 2009 hijacking by Somali pirates of the cargo ship Maersk Alabama;
"Dallas Buyers Club,"
the true story of a homophobic AIDS patient who built an underground business dealing with non-FDA approved anti-AIDS drugs; and Spike Jonze's
"Her,"
a quirky futuristic romance in which a lonely man rebounds from divorce to fall in love with the voice of his computer's operating system.
Also: "Nebraska," Alexander Payne's dramedy of an elderly man (Bruce Dern) on a journey to claim sweepstakes winnings he believes he's won; "Philomena," the true story of a woman searching for the child taken from her at birth; "12 Years a Slave," the brutal true-life tale of a free black man sold into slavery in the pre-Civil War South; and "The Wolf of Wall Street," Martin Scorsese's black comedy about a stockbroker whose corrupt practices and profligate lifestyle led to a spectacular fall.
In addition to Cuaron and "Hustle" director David O. Russell, the nominees for Best Director are Steve McQueen, "12 Years a Slave"; Payne for "Nebraska"; and Scorsese for "The Wolf of Wall Street."
It's the eighth directing nomination for Scorsese (he won for "The Departed"), and the third for Russell and Payne. (Russell was nominated before for "The Fighter" and "Silver Linings Playbook," and Payne for "Sideways" and "The Descendants.")
"Gravity" was also the leader in below-the line categories, with nominations for cinematography, visual effects, production design, editing, sound editing and sound mixing.
In one of the most competitive years ever for the Best Actor category, the nominees are
Christian Bale
as a con man in "American Hustle";
Bruce Dern
, as an elderly man convinced he has won a sweepstakes and stubbornly marches off to collect it, in "Nebraska";
Leonardo DiCaprio
as a hedonistic stockbroker in "The Wolf of Wall Street";
Chiwetel Ejiofor
as a free black man kidnapped and sold into bondage in "12 Years a Slave"; and
Matthew McConaughey
as a homophobic AIDS patient who becomes an underground seller of non-FDA-approved AIDS drugs in "Dallas Buyers Club."
This is the fifth acting nomination for DiCaprio, and the second for Dern, who was a Best Supporting Actor nominee for "Coming Home." Bale won Best Supporting Actor for "The Fighter." Ejiofor and McConaughey are both first-time nominees.
Among the terrific performances this year that couldn't squeeze into the top five were Robert Redford in "All Is Lost"; two-time Oscar winner Tom Hanks in "Captain Phillips"; Oscar Isaac in "Inside Llewyn Davis"; and Joaquin Phoenix in "Her."
Best Actress
Two Golden Globe-winners -- Cate Blanchett, as a down-on-her-heels socialite crawling back to her working-class roots in "Blue Jasmine"; and Sandra Bullock as an astronaut stranded high above Earth after orbiting debris destroys the space shuttle in "Gravity" -- were nominated for Best Actress, along with Amy Adams as a con artist in "American Hustle"; Judi Dench as a woman seeking the child taken from her at childbirth in "Philomena"; and Meryl Streep as the matriarch of a particularly dysfunctional Oklahoma family, in "August: Osage County."
This marks the 18th citation for three-time-winner Streep, who holds the record for most acting Oscar nominations. Dench (a Best Supporting Actress winner for "Shakespeare in Love") received her seventh nomination. Blanchett, a six-time nominee, previously won a Best Supporting Actress Oscar for her portrayal of Katharine Hepburn in Scorsese's "The Aviator." Bullock won Best Actress for "The Blind Side." This is the fifth acting nomination for Adams.
Best Supporting Actor
Best Supporting Actor nominees include Barkhad Abdi as Muse, leader of a band of Somali pirates, in "Captain Phillips"; Michael Fassbender, as Edwin Epps, a brutal slave owner, in "12 Years a Slave"; Bradley Cooper as an FBI agent in "American Hustle"; Jonah Hill as a crack-smoking stock broker in "The Wolf of Wall Street"; and Jared Leto as a transgender AIDS patient in "Dallas Buyers Club."
Best Supporting Actress
British actress Sally Hawkins, playing the working-class sister of a socialite in "Blue Jasmine," was nominated for Best Supporting Actress, along with Jennifer Lawrence as the ditsy wife of a con man in "American Hustle"; Lupita Nyong'o as Patsy, a slave who becomes an obsession of her master, in "12 Years a Slave"; Julia Roberts as a woman in a brutal relationship with her mother in "August: Osage County"; and June Squibb as Bruce Dern's long-suffering, tart-tongued wife in "Nebraska."
Best Screenplay
Richard Linklater, Julie Delpy and Ethan Hawke shared a Best Adapted Screenplay nomination for "Before Midnight," the third film of their two-decade-long romance begun with "Before Sunrise." Also nominated: "Captain Phillips," "Philomena," "12 Years a Slave," and "The Wolf of Wall Street."
For Best Original screenplay Woody Allen received his 16th screenwriting nomination for "Blue Jasmine." Also nominated: "American Hustle," "Dallas Buyers Club," "Her" and "Nebraska."
Best Animated Feature
Nominees in the animation category range in styles from the computer-generated to the hand-drawn: "The Croods," a prehistoric comedy; "Despicable Me 2," a sequel featuring a supposedly reformed supervillain and his minions; "Ernest & Celestine," about the unlikely friendship between a bear and a mouse, a Grand Jury Prize-winner at the Seattle International Film Festival.; "Frozen," the Disney musical confection and a big box office hit; and "The Wind Rises," the final feature of Japanese master Hayao Miyazaki (who won the Oscar for "Spirited Away").
19 films submitted for Best Animated Feature Oscar
Music
Arcade Fire, U2, Pharrell, and Karen O. of the Yeah Yeah Yeahs are on Oscar's playlist this year.
Best Original Song nominees include U2's "Ordinary Love" (from "Mandela: Long Walk to Freedom"); "Let It Go" (from "Frozen"); Pharrell Williams' "Happy" (from "Despicable Me 2"); the theme from "Alone Yet Not Alone"; and Karen O and Spike Jonze's "The Moon Song" (from "Her").
For Best Original Score, John Williams received his 49th career Oscar nomination -- the most of any living person -- for the World War II drama, "The Book Thief." He's joined by Steven Price for "Gravity"; Arcade Fire's William Butler and Owen Pallett for "Her"; Alexandre Desplat for "Philomena"; and Thomas Newman for "Saving Mr. Banks."
Best Documentary Feature
For non-fiction features, the Academy selected as finalists films about war, revolution, art and music:
"The Act of Killing," Joshua Oppenheimer and Signe Byrge Sorensen's powerful look at the bloody past of the Indonesian military, featuring former death squad leaders reenacting their real-life crimes; "Dirty Wars," Richard Rowley and investigative reporter Jeremy Scahill's examination of covert warfare and the secretive Joint Special Operations Command; and "The Square," Jehane Noujaim and Karim Amer's vivid document of Egyptian activists in the heat of the Arab Spring.
Also: "20 Feet From Stardom," a joyous portrait of backup singers; and Zachary Heinzerling and Lydia Dean Pilcher's "Cutie and the Boxer," about the stormy relationship between a Japanese painter and his wife-assistant.
Missing from this year's nominees: "Blackfish," the controversial film about Sea World and the treatment of captive killer whales; "Stores We Tell," Sarah Polley's gripping exploration of her family history; and "The Armstrong Lie," Alex Gibney's expose of cyclist Lance Armstrong.
Best Foreign Language Film
With Cannes Festival winner and critics' favorite "Blue Is the Warmest Color" ineligible for an Oscar this year, the field was wide open for Best Foreign Language Film.
The nominees include "The Broken Circle Breakdown" (Belgium), a romantic tale of a Belgian musician and tattoo artist joined by tragedy and a shared love for bluegrass music; "The Missing Picture" (Cambodia), Rithy Panh's testament to his family, and millions of others, lost to the Khmer Rouge; "The Hunt" (Denmark), about an upstanding schoolteacher (Mads Mikkelson) whose reputation and life are jeopardized by a slanderous accusation of pedophilia; "The Great Beauty" (Italy), Paolo Sorrentino's visual portrait of the Eternal City and "la dolce vita"; and "Omar" (Palestinian Territories), about childhood friends on the West Bank whose trust is torn by betrayal and murder.
Oscar shortlist for foreign films announced
Tech nominations
Emmanuel "Chivo" Lubezki, nominated in the past for his work with directors Cuaron, Tim Burton and Terrence Malick, is up for the 3-D epic "Gravity." He'll be up against Philippe Le Sourd for "The Grandmaster," Bruno Delbonnel for "Inside Llewyn Davis," Phedon Papamichael for the black-and-white "Nebraska," and Roger Deakins, who received his 11th career nod for the thriller "Prisoners."
Cinematographers' guild nominates 7 for best of 2013
Competing against "Gravity" for Best Visual Effects are "The Hobbit: The Desolation of Smaug," "Iron Man 3," "The Lone Ranger," and "Star Trek Into Darkness."
Shortlist for visual effects Oscar announced
Alfonso Cuaron received one of his three nominations today as co-editor of "Gravity." Also up: "American Hustle," "Captain Phillips," "Dallas Buyers Club," and "12 Years a Slave."
Costume designers, who typically reward period pieces, nominated five slices of fashion history, from the 19th century dramas "The Invisible Woman" and "12 Years a Slave," to the opulent (the martial arts saga "The Grandmaster"), the ostentatious (the Jazz Age fashion of "The Great Gatsby"), and the outrageous (the disco-era "American Hustle").
And in one of the more unexpected bits of news this morning, the gross-out comedy "Jackass Presents: Bad Grandpa" stands a chance at becoming an Academy Award-winning film, thanks to a nomination for Best Makeup and Hairstyling.
The nominations were announced Thursday morning in Los Angeles by Academy president Cheryl Boone Isaacs and actor Chris Hemsworth.
The Academy Awards will be presented on Sunday, March 2, 2014, at the Dolby Theatre at Hollywood & Highland Center in Los Angeles, broadcast on ABC.
Thanks for reading CBS NEWS.
Create your free account or log in
for more features.