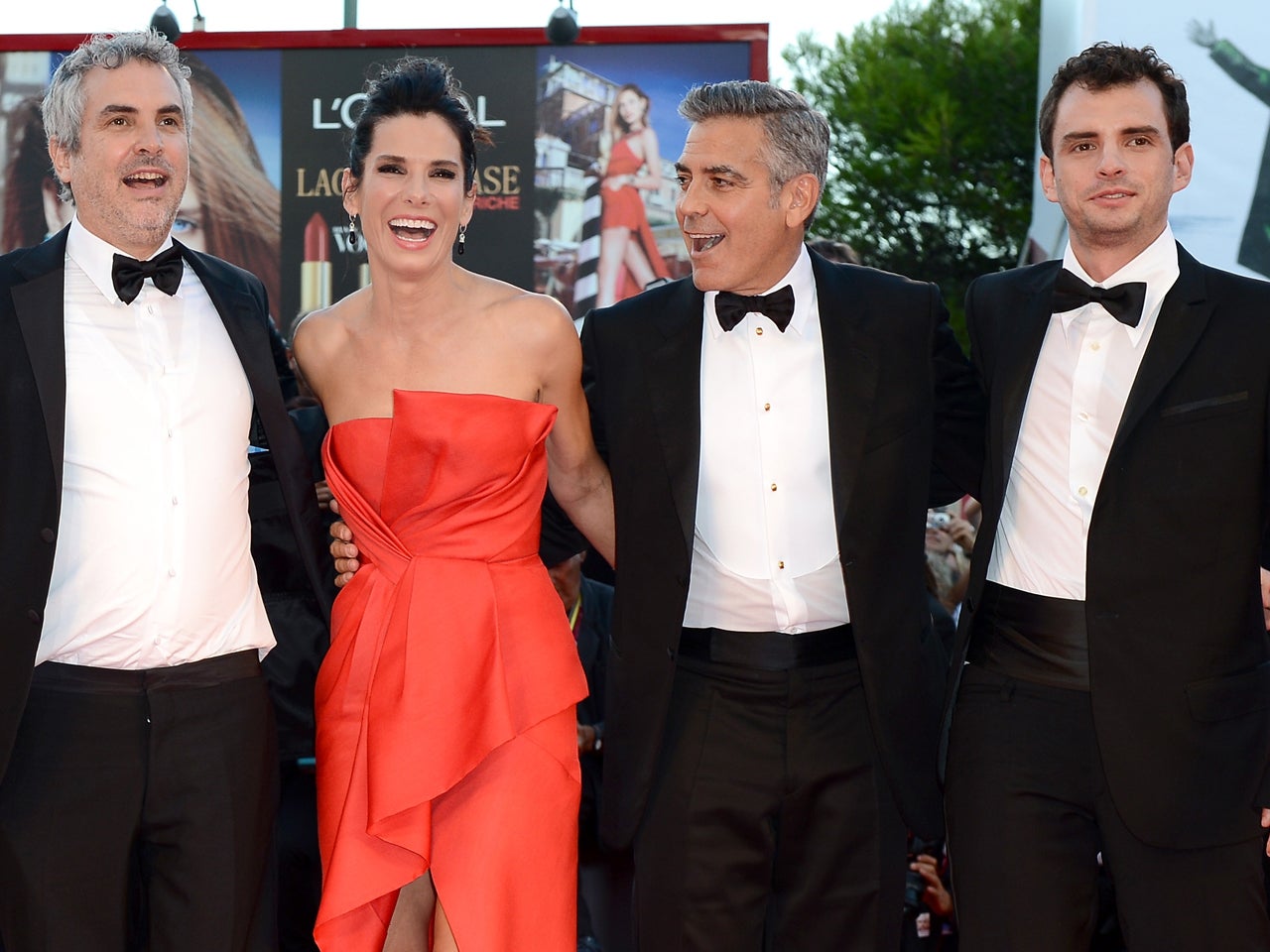 Sandra Bullock calls "Gravity" her "best life decision"
LOS ANGELES Sandra Bullock says making the lost-in-space movie "Gravity" with director Alfonso Cuaron was "the best life decision I think I ever made."
Cuaron coaxed Bullock into playing an astronaut coping with disaster at the International Space Station after she had intentionally taken a break from Hollywood following her Oscar-winning performance in "The Blind Side," subsequent divorce and then adoption of son Louis.
"What I got out of it personally outweighed everything else," Bullock said in an interview. "I'm glad I got to meet the human being -- Alfonso -- that led me to say, 'OK, let me investigate if I can even do this.'"
Bullock's priority had been spending time with her son, who is now 3, and Cuaron assured her that she wouldn't miss anything while shooting the film, which also features George Clooney and lands in theatres on Friday.
"'It has to be a great time for my son. I can't miss him. If I miss him, I will be of no use to you,'" Bullock recalled telling Cuaron and producers. "'You know, he's just learning how to walk. So guess what's going to happen? I have to go! He's taking steps!' But they made it so (nice for Louis). It was a family film. Everyone had kids. So everyone knew the value of that. So they said, 'If we make it amazing for him right where you are, will you be OK?' And I said, 'yeah.'"
Now that "Gravity" has debuted to positive reviews and enthusiastic responses at the Venice and Toronto film festivals, it's likely to gobble up even more time as Bullock again hits the awards circuit. (Critics say she's a lock for a best actress Oscar nomination, given how much the movie rests on her shoulders.) She's OK with that -- to a point.
"Guess what's more important than being here right now? I know it's you, but it happens to be the school run this morning," she told a reporter, laughing. "Because we have picture day on Friday. So as long as I can do those things that to me are very important and make me happy, I can be here all day, but I have my ins and outs. ... And that's the way it was filming. I was like, I will be here 100 percent as long as I know that little dude is perfectly content."
For much of the "Gravity" shoot, Bullock was hooked up to innovative rigs to simulate weightlessness -- sometimes in complete darkness -- on a soundstage in London. She was mostly the only actor on set, making it even more difficult to convey the emotions of her character, medical engineer Ryan Stone.
"I would feel sorry for her all the time," said Cuaron, who co-wrote the script with his son Jonas and spent four years developing the film using new technology for weightless effects.
But the 49-year-old actress talks about the process, in which she had to carefully move her body to match lighting and cameras, as if it were therapy.
"You're frustrated because you can't accomplish something. There's no control. I was always out of my element," she said. "I learned so much on a daily basis. And I just went wow, isn't that funny how being miserable every day physically and then emotionally because of work then turns -- makes you open to whatever is coming your way."
"Gravity" will be trailed into theatres by two other nearly solo survival stories. Robert Redford is lost in the Indian Ocean after his boat capsizes in "All Is Lost" and Mia Wasikowska treks across the Australian wilderness in "Tracks." They follow the success earlier this year of the lifeboat adventure "Life of Pi."
Asked about the trend, Bullock said the films question the value of today's constant connectivity. Her answer also hints at her own state of mind during her very public 2010 divorce from reality TV star Jesse James.
"As connected as we are with technology, it's also removed us from having to have human connection, made it more convenient to not be intimate," Bullock said. "And then when adversity hits, what do we do? We isolate. And in a world that's so alive, we find ourselves more alone than ever. How is that? So that's probably why all of these things are springing up. When you have adversity and you have pain, you never feel more alone than you do at that moment. And you can be surrounded by hundreds of thousands of people."
Thanks for reading CBS NEWS.
Create your free account or log in
for more features.