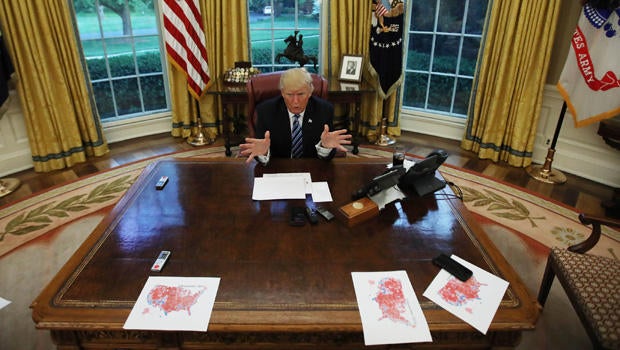 Dissecting Donald Trump's first 100 days
So, after his first 100 days in office, how's President Trump doing? Chief White House correspondent Major Garrett has been keeping track:
"I, Donald John Trump, do solemnly swear ..."
It began with an inaugural address more sour than soaring:
"This American carnage stops right here and stops right now."
What followed: a fractious tenure that occasionally strayed from the facts, and put the White House at odds with Congress, the courts, and at times itself.
As when the president's spokesman Sean Spicer remarked, "This was the largest audience to ever witness an inauguration. Period."
Trump's inauguration brought protests to the streets -- and venom from the president's Twitter account. "Professional protesters," he said, were "very unfair."
The president spawned more protests with an executive order that tried to ban travel from seven Muslim-majority countries. But federal courts blocked it.
The order illuminated White House divisions: advisers like Steve Bannon pushing Mr. Trump in a nationalist direction, while son-in-law Jared Kushner and chief of staff Reince Priebus urging cautious conservatism.
The president fired National Security Adviser Michael Flynn after just 24 days on the job. Flynn lied to Vice President Mike Pence about contacts with Russia's Ambassador to the U.S.
The suspected nexus between Russia and Mr. Trump's campaign has stalked the president from Day One.
"I have nothing to do with Russia," he said in February. "To be the best of my knowledge, no person that I deal with does."
Later, Flynn sought immunity from prosecution.
The president wrote (again, on Twitter), "Mike Flynn should ask for immunity in that this is a witch hunt."
When asked if his intention was to tell the Justice Department to grant immunity to Flynn, the president refused to answer.
But presidential silence wasn't typical, especially when the president, frustrated by inaction in the Republican-controlled Congress, turned to executive action.
"Great thing for the American worker, what we just did," he said, signing an executive order to withdraw the United States from the Trans-Pacific Partnership.
"My administration is putting an end to the war on coal," he remarked, signing an order to roll back Obama-era water pollution regulations overseeing coal mine waste.
Another theme: Payback for the Obama years, nowhere more visible than the Supreme Court. The president added a justice after Senate Republicans last year denied President Obama's nominee a hearing. This audacious political gamble may be among Mr. Trump's most lasting legacies.
"And I got it done in the first hundred days, that's even nice," he said. "You think that's easy?"
A president who told the country during the campaign foreign policy was "easy" confronted nuclear challenges in North Korea; continued Russian aggression in Ukraine; and one horror, a sarin gas attack on civilians in Syria. "That crosses many, many lines, beyond a red line," he said.
The president ordered a Tomahawk missile strike on the Syrian air base from which the chemical attack was launched, marking a break from his "America first" isolationist philosophy.
"It is in this vital, national security interest of the United States to prevent and deter the spread and use of deadly chemical weapons," he said.
That announcement came at the winter White House, Mar-a-Lago, where the president has spent many of his weekends, at sizable taxpayer expense.
Which brings us to some of the the unfulfilled promises made by Candidate Trump, like the promise to build a wall on the U.S.-Mexico border. President Trump has not asked Mexico for a penny for his proposed border wall; and when he asked Republicans in Congress, they declined.
As for repealing Obamacare, Mr. Trump ordered a House vote, but the bill collapsed, leaving him to wait for another day.
The president took office with record-low approval ratings and has finished his first 100 days in the same place. Through the chaos, the infighting and the setbacks, Mr. Trump's supporters remain enthusiastic, even as they -- and the rest of America -- await what comes next.
Thanks for reading CBS NEWS.
Create your free account or log in
for more features.