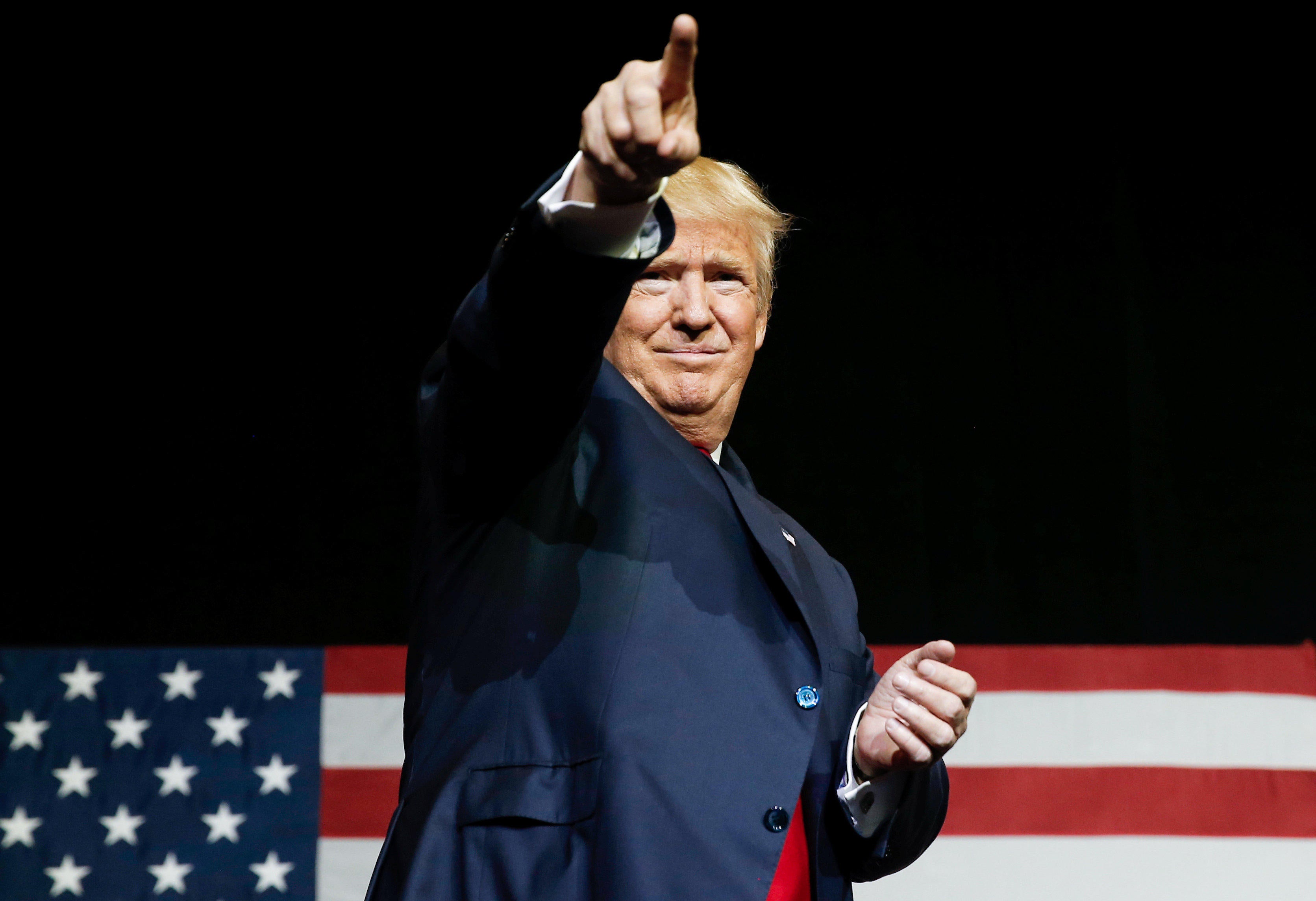 The women accusing Donald Trump of sexual misconduct
Donald Trump's past behavior toward women is receiving more attention after a 2005 video of his lewd conversation with Billy Bush surfaced last Friday. In the video he could be heard talking about how he would "grab [women] by the p****."
He also told Bush, "You know I'm automatically attracted to beautiful — I just start kissing them. It's like a magnet. Just kiss. I don't even wait." He added, "And when you're a star, they let you do it," Trump says. "You can do anything."
Asked during the second presidential debate, "[A]re you saying that what you said on that bus 11 years ago, that you did not actually kiss women without consent or grope women without consent," Trump responded, "No, I have not."
Soon after, a recording of another interview emerged, this time, with shock jock Howard Stern, in which he talked about using his position of power in the pageants to peek at women while they were undressed.
"I'll go backstage before a show and everyone's getting dressed and ready and everything else. And you know, no men are anywhere. And I'm allowed to go in because I'm the owner of the pageant. And therefore, I'm inspecting it. You know I'm inspecting it. I want to make sure everything is good," Trump told Stern in 2005. "You know they're standing there with no clothes. Is everybody OK? And you see these incredible looking women. And so I sort of get away with things like that."
Those comments prompted several women to come forward -- either to talk about what it was like to have Trump walk backstage before a beauty pageant, or to refute his claim that he had never kissed or groped without consent. Here are the women who have accused Trump of sexual misconduct -- Trump denied assaulting anyone, saying at a rally in West Palm Beach Thursday, Oct. 13, "These vicious claims about me of inappropriate conduct with women are totally and absolutely false."
---
Karena Virginia
A yoga instructor and life coach, Karena Virginia became the tenth woman to accuse GOP presidential nominee Donald Trump of sexual misconduct since the 2005 Trump tape emerged.
Appearing in New York on Oct. 20, with feminist attorney Gloria Allred, Virginia said that in 1998, in Flushing Meadows following the U.S. Open, Trump approached her while she was waiting for a car to arrive to take her home. She recognized Trump but had never met him. Trump, who was within earshot, was accompanied by a group of men, and Virginia said she heard him evaluating her appearance. "Hey, look at this one," he allegedly said. "We haven't seen her before -- look at those legs." Then, Virginia said Trump walked up to her, grabbed her by the arm and touched her breast. She flinched, and said Trump responded by demanding, "Don't you know who I am? Don't you know who I am?"
"I felt intimidated, and I felt powerless," Virginia said. "I felt ashamed that I was wearing a short dress and high heels."
Trump has denied the accounts of all of his accusers so far, and further, has blamed opponent Hillary Clinton for planting them. "I think she got these people to step forward." Trump said of Clinton and his accusers during Wednesday night's presiddebate. "It was lies and it was fiction," he said.
Allred, however, denied that the Clinton campaign was behind the accusations of either Virginia or of Summer Zervos, a former NBC "Apprentice" who was also accompanied by Allred when she made her accusation of Trump public. "I have had no contact with them (the Clinton campaign) in advance of this," she said.
Similarly, when Zervos wanted to make her statement, Allred said she did not inform the Clinton campaign. Allred is a Clinton supporter, however, and told reporters that she was a delegate at the Democratic National Convention.
---
Tasha Dixon
The 2001 Miss Arizona, Tasha Dixon says she has first-hand experience with Trump's walking into pageant dressing rooms unannounced. Dixon told CBS News' Los Angeles affiliate that the GOP nominee had entered dressing rooms while her fellow contestants were "half naked."
"Our first introduction to him was when we were at the dress rehearsal and half naked changing into our bikinis," Dixon said in an interview with KCAL 9. "He just came strolling right in. There was no second to put a robe on or any sort of clothing or anything. Some girls were topless. Other girls were naked."
Dixon, who told CBS2/KCAL9 that she "veer[s] more on the conservative side" because she hailed from the traditionally red state of Arizona, went on to say that she and her fellow competitors were put in awkward situations when "the owner [would] come waltzing in when we were naked or half naked in a very physically vulnerable position."
And then, Dixon said, women would "have the pressure of the people that worked for him telling us to go fawn all over him, go walk up to him, talk to him, get his attention."
Trump campaign spokesperson Jessica Ditto said the story was baseless.
"These accusations have no merit and have already been disproven by many other individuals who were present," Ditto wrote in a statement. "When you see questionable attacks like this magically put out there in the final month of a presidential campaign, you have to ask yourself what the political motivations really are and why the media is pushing it."
---
Jessica Leeds
Leeds is one of two women who talked to the New York Times' Michael Barbaro and Megan Twohey for a story that posted on Oct. 12. Leeds, now 74 years old, said that in the 1980s, when she sat beside Trump in the first-class cabin of a commercial flight, he grabbed her breasts and reached up her skirt.
"He was like an octopus. His hands were everywhere," Leeds told the New York Times. "It was an assault."
At the time, Leeds was a 38-year-old divorcee who worked for a paper company. She was traveling in coach, but a flight attendant invited her to take an empty first-class seat. When Leeds sat down next to Trump, she said he introduced himself and shook her hand. Then, after the dinner trays were cleared, according to the Times, "Mr. Trump raised the armrest, moved toward her and began to grope her." Leeds says she "recoiled" and quickly returned to her seat in the coach section.
She didn't complain to the staff, though she said she was "angry and shook up." She had fended off advances from men before and "accepted it for years," because, as she told the Times, "We were taught it was our fault."
Trump has called the Times story "a total fabrication," and he called Twohey "a disgusting human being" when she interviewed him for the article. His campaign has threatened to sue the New York Times over the story.
---
Rachel Crooks
In the same New York Times article as Jessica Leeds' story is another account that also dates back to 2005. Rachel Crooks was a 22-year-old receptionist at a company in the Trump Tower who said she introduced herself to Trump when she ran into him in an elevator.
He "began kissing her cheeks," then proceeded to kiss her "directly on the mouth," Crooks said in the story.
"It was so inappropriate," Ms. Crooks told the Times. "I was so upset that he thought I was so insignificant that he could do that."
Crooks immediately phoned her sister after the incident and told her boyfriend that evening. Reporters Michael Barbaro and Megan Twohey said they spoke with both of them, as well as others she had told.
---
Natasha Stoynoff
Stoynoff gave a first-person account of an interview she did with Donald and Melania Trump at their home in Mar-a-Lago in 2005 when Melania Trump was pregnant and the two were celebrating their first wedding anniversary. Stoynoff says that when Melania Trump left the room to change her clothes, her husband took her on a tour of the mansion. He then led her into one room, Stoynoff says, shut the door, and "I turned around, and within seconds he was pushing me against the wall and forcing his tongue down my throat."
The Republican presidential candidate says the account is untrue.
Melania Trump on Thursday demanded a retraction and apology and threatened to sue People over the story about Trump.
---
Mindy McGillivray
A Palm Beach woman, Mindy McGillivray told the Palm Beach Post that Trump groped her at Mar-a-Lago in 2003, though she never reported the incident. She was there with a photographer friend and his father who were taking photos at a Ray Charles concert at Mar-a-Lago.
Charles had performed and was preparing to leave, McGillivray told the Palm Beach Post, and "All of a sudden I felt a grab, a little nudge. I think it's Ken's camera bag, that was my first instinct. I turn around and there's Donald. He sort of looked away quickly. I quickly turned back, facing Ray Charles, and I'm stunned.''
The Palm Beach Post asked her whether it was possible that Trump or someone else had just bumped into her, she said no. "This was a pretty good nudge. More of a grab,'' she told the newspaper. "It was pretty close to the center of my butt. I was startled. I jumped.''
---
Kristin Anderson
Kristin Anderson says Trump put his hand up her skirt in the early 1990s at a Manhattan nightclub. According to Anderson, she had never met Trump before.
Anderson, who was then an aspiring model and is now a photographer, says that the video of Trump discussing women with Billy Bush in 2005 is what inspired her to come forward. "When I heard the tape of the bus where he is describing how he is a star and he can just pretty much do whatever he wants and they let him and, you know, he can 'grab them by the p****y ... I was just like 'wow, wow, that explains it," she told The Washington Post in an interview that was published on Friday. "That explains what happened to me."
The Trump campaign has labeled Anderson's story a "complete fabrication" and that it is "illogical and nonsensical" to think Trump could have done it without being noticed or recognized in the nightclub.
---
Summer Zervos

Zervos, a former contestant on "The Apprentice," says that she was repeatedly harassed by Trump in 2007. She came forward during a press conference will celebrity attorney Gloria Allred on Friday afternoon.
According to Zervos, she approached Trump to talk about the possibility of working for him shortly after she was fired from the show while she was in New York. "When I arrived, he kissed me on the lips. I was surprised, but felt that perhaps that was just his form of greeting," Zervos said, reading from a prepared statement. Trump complimented her, according to Zervos, and promised to offer her a contract.
Zervos then met with Trump in Los Angeles, where she said Trump again attempted to kiss her, groped her, and "thrusted his genitals" against her. She rebuffed him, leading Trump to then steer the conversation to financial matters.
Trump, says Zervos, eventually offered her a job via the general manager of his Palo Verdes golf course -- but offered her only half the money she had asked for. She then called Trump and accused him of punishing her for not sleeping with him, and was then Trump told her he could not afford to hire her.
---
Cathy Heller
Heller, 63, told the Guardian that she was subjected to Trump's aggression nearly two decades ago in 1997. At the time, Heller, her husband, her three children and her in-laws were attending a Mother's Day brunch at Mar-a-Lago, Trump's Palm Beach estate.
Trump reportedly went around the room and greeted the members of his club when he stopped at Heller's table and introduced himself. When Heller held out her hand for a handshake, Trump "took my hand, and grabbed me, and went for the lips."
She said she leaned back to avoid the move and nearly lost her balance.
"And he said, 'Oh, come on.' He was strong. And he grabbed me and went for my mouth and went for my lips," she said, adding that when she turned her head, Trump kissed her on the side of her mouth. "He kept me there for a little too long," she added. "And then he just walked away."
The Guardian spoke to several people who confirmed Heller had repeated that story to them before the recent deluge of sexual assault allegations.
In a statement Saturday, Trump's senior communications adviser, Jason Miller, denied the incident ever took place and attacked the media reporting it.
"The media has gone too far in making this false accusation. There is no way that something like this would have happened in a public place on Mother's Day at Mr. Trump's resort," Miller said. "It would have been the talk of Palm Beach for the past two decades. The reality is this: for the media to wheel out a politically motivated Democratic activist with a legal dispute against this same resort owned by Mr. Trump does a disservice to the public, and anyone covering this story should be embarrassed for elevating this bogus claim."
---
Temple Taggart McDowell
The 1997 Miss Utah told the New York Times that Trump kissed her "directly on the lips," and she though, "Oh my gosh. Gross." She recalled that he was married to Marla Maples and she thought there were "a few other girls that he kissed on the mouth," which she felt was "inappropriate."
Taggart -- whose married name is McDowell -- told NBC News that Trump later offered to help her sign with elite modeling agencies. When she visited him at Trump Tower, she said he kissed her on the lips again, this time in the presence of pageant chaperones. His embrace allegedly made the chaperone uncomfortable, and McDowell said that the chaperone advised her not to be alone with Trump in any of the rooms.
Trump denied the account and told NBC "I don't even know who she is...she claims this took place in a public area. I never kissed her. I emphatically deny this ridiculous claim."
Thanks for reading CBS NEWS.
Create your free account or log in
for more features.