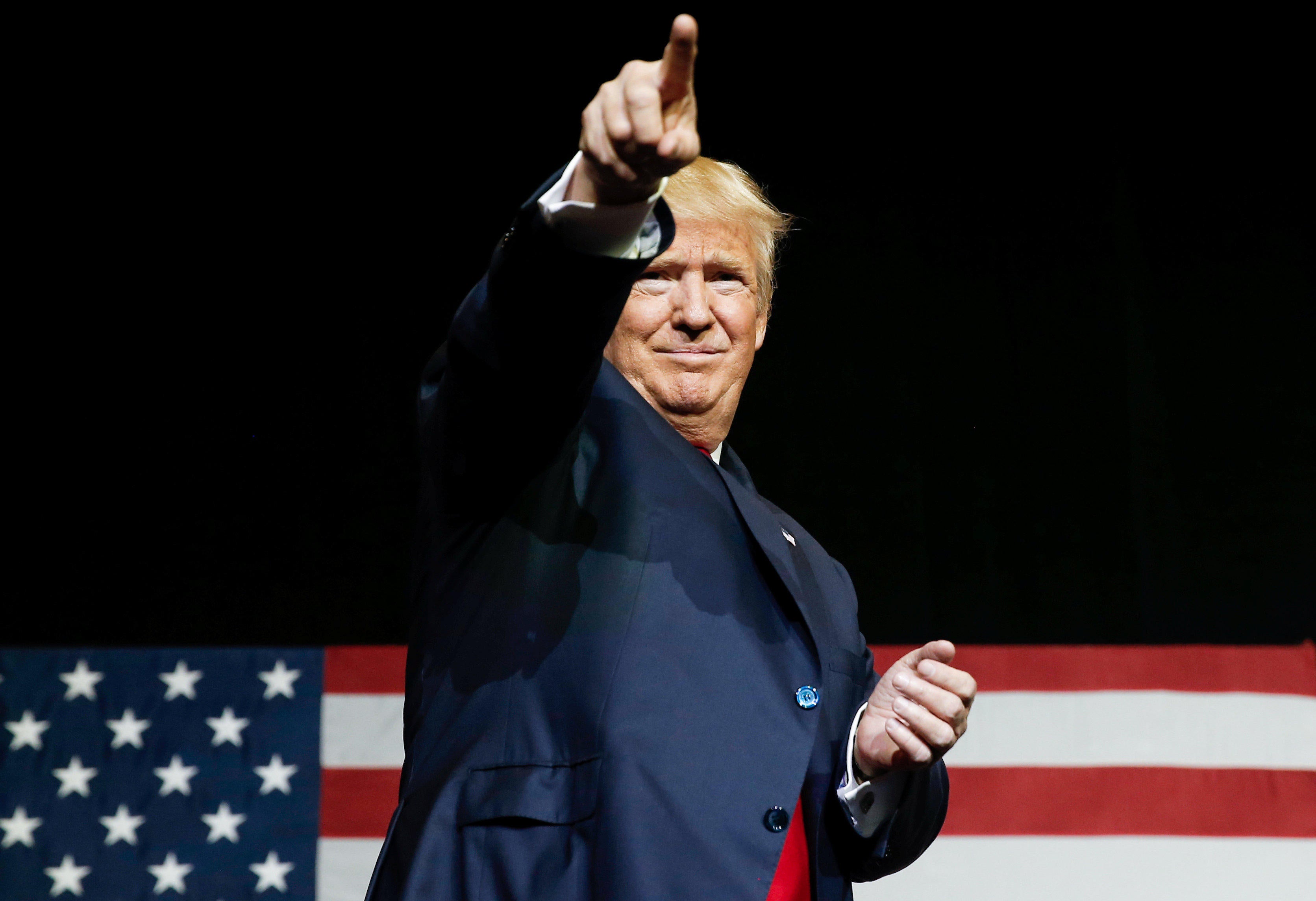 Donald Trump says latest allegations are "pure fiction," "outright lies"
The day after he was hit with more than half a dozen different allegations of sexual assault and inappropriate remarks, a defiant Donald Trump took the stage in Florida Thursday and vowed that the coverage is all "slander" cooked up by Hillary Clinton and her allies.
"These claims are all fabricated, they're pure fiction, and they're outright lies," Trump told a rally in West Palm Beach, Fla. "These events never ever happened … you take a look at these people, you study these people, and you'll understand also. The claims are preposterous, ludicrous, and defy truth, common sense and logic."
Trump added that his team has "substantial evidence to dispute these lies" that will be "made public in an appropriate way and at an appropriate time very soon."
On Wednesday night, the New York Times reported the stories of two women who alleged that Trump had touched them inappropriately. That story came along with a flood of other stories of women coming forward and saying Trump had acted inappropriately with them, including from People Magazine, the Palm Beach Post and others. Trump's campaign responded by saying the candidate will sue the newspaper.
Trump insisted the stories, which included a video first reported by CBS News of Trump looking at a 10-year-old girl and saying, "I am going to be dating her in 10 years," were published this week to distract from the WikiLeaks release of Clinton campaign chairman John Podesta's emails.
"It's not a coincidence that these attacks come at the exact same moment and altogether at the same time as WikiLeaks releases documents exposing the massive international corruption of the Clinton machine including 2,000 more emails just this morning," he said. "These vicious claims about me of inappropriate conduct with women are totally and absolutely false. And the Clintons know it, and they know it very well."
"Let me state this as clearly as I can: these attacks are orchestrated by the Clintons and their media allies," he continued. "The only thing Hillary Clinton has going for her is the press. Without the press, she is absolutely zero."
In response to the story from a People Magazine reporter, who said Trump forcibly kissed her while she was interviewing him at his Mar-a-Lago estate in Florida for a story on his and Melania's first wedding anniversary, Trump said the reporter is lying because she didn't report the incident at the time.
"The [anniversary] story was beautiful, it was beautiful, it was lovely. But last night, we hear that after 12 years, this took place 12 years ago, this story. A new claim that I made inappropriate advances during the interview to this writer," he said. "And I ask very simple question, why wasn't it part of the story that appeared 20 or 12 years ago? Why wasn't it a part of the story? Why didn't they make it part of the story?"
In a statement, People editor-in-chief Jess Cagle stood by the reporter's account: "We are grateful to Natasha Stoynoff for telling her story. Ms. Stoynoff is a remarkable, ethical, honest and patriotic woman, and she has shared her story of being physically attacked by Donald Trump in 2005 because she felt it was her duty to make the public aware. To assign any other motive is a disgusting, pathetic attempt to victimize her again. We stand steadfastly by her, and are proud to publish her clear, credible account of what happened."
Trump also went after the New York Times as a news organization, saying it is "fighting desperately" for "financial survival."
"This is part of a concerted effort led by the New York Times and others," he said. "Now the New York Times is fighting desperately for its relevance and its financial survival, and it probably won't be around in a few years based on its financial outlook. Which wouldn't be a bad thing, if you wanna know the truth."
The Times responded to Trump's threat of a lawsuit with a letter from its legal counsel defending the story. "The essence of a libel claim is, of course, the protection of one's reputation. Mr. Trump has bragged about the non-consensual sexual touching of women," the letter said. "Nothing in our article has had the slightest effect on the reputation that Mr. Trump, through his own words and actions, has already created for himself."
Thanks for reading CBS NEWS.
Create your free account or log in
for more features.