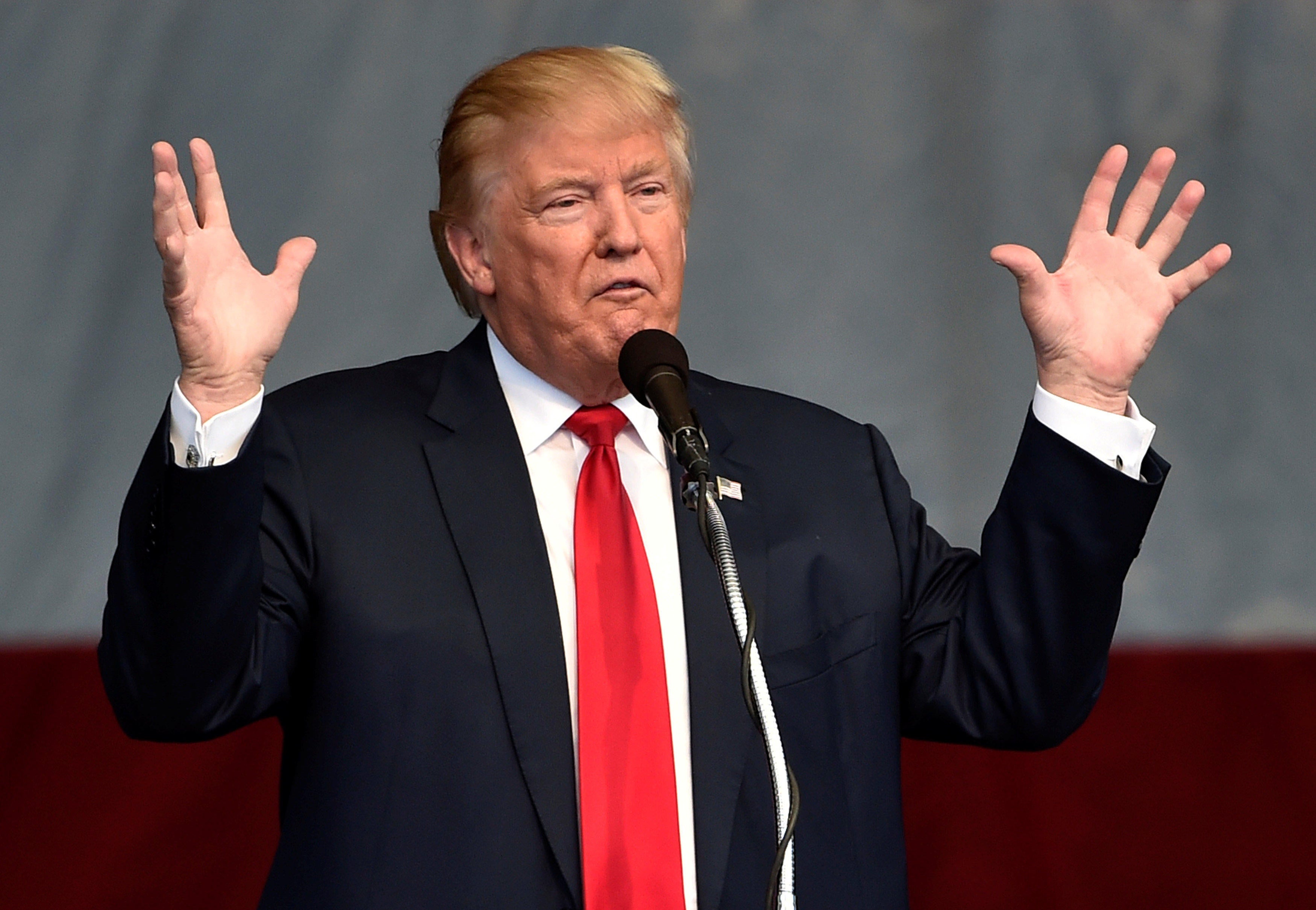 "I never said I'm a perfect person," Trump says about lewd comments
WARNING -- the article below contains graphic sexual language
Donald Trump issued a late-night statement apologizing about the conversation he had in 2005 where he was caught boasting about grabbing, kissing, and trying to have sex with women.
"I never said I'm a perfect person," Trump said in a Facebook video released after midnight Saturday. "Nor pretended to be someone that I'm not. I've said and done things I regret and the words released today on this more than a decade old video are one of them. Anyone who knows me knows these words don't reflect who I am. I said it. I was wrong and I apologize."
Trump continued to attack both Bill and Hillary Clinton in his statement, saying Bill Clinton "actually abused women" and Hillary Clinton "bullied women."
Trump signed off by saying "see you at the debate on Sunday."
Two people close to the Trump campaign had similar reactions to the video released by the Washington Post. They're minimally hopeful Trump can weather yet another self-inflicted wound but conceded themagnitude and severity of his comments.
What emerged Friday, both agreed, was both different and worse, and by Friday evening, neither had a sense of what a viable path forward would look like, CBS News Arden Farhi reported.
Trump himself acknowledged the tumult in a tweet Saturday morning, saying it had been "an interesting 24 hours."
Earlier Friday, Trump had been dismissive.
"This was locker room banter, a private conversation that took place many years ago," Trump said shortly after the Washington Post published video of the conversation. "Bill Clinton has said far worse to me on the golf course - not even close. I apologize if anyone was offended."
The video, obtained by the Washington Post, showed Trump talking with Billy Bush, then of "Access Hollywood," on a bus with the name of the entertainment television program scrawled across its side. The bus was rolling into a studio lot, where Trump was set to film cameos on the set of the "Days of Our Lives" soap opera program.
The two were caught on a hot microphone discussing in lewd terms how Trump had attempted to "move on" an actress, who later made an appearance in the video.
"I moved on her and I failed. I'll admit it," Trump said on the bus.
"Whoa," said another voice, presumably belonging to Bush, now the co-host of NBC News' "Today Show."
"And I moved on her very heavily," Trump continues. "In fact, I took her out furniture shopping. She wanted to get some furniture. I said, 'I'll show you where they have some nice furniture.'"
"I did try and f*** her. She was married," he adds.
Then Trump says: "I moved on her like a b****, but I couldn't get there. And she was married...Then all of a sudden I see her, she's now got the big phony t*** and everything. She's totally changed her look."
As the bus rolled into the studio lot, Bush and Trump appear to see Arianne Zucker in a purple dress.
"Your girl's hot as s***, in the purple," Bush says of Zucker.
Trump can be heard exclaiming, "Whoa! Whoa!"
Then the businessman says this: "I've gotta use some tic tacs, just in case I start kissing her. You know I'm automatically attracted to beautiful -- I just start kissing them."
"It's like a magnet. Just kiss. I don't even wait," Trump says.
"And when you're a star they let you do it," he says. "You can do anything."
"Grab them by the p****," Trump says. "You can do anything."
When the two exit the bus, Zucker comes face-to-face with them, giving them both pecks on the cheek.
"We're ready, let's go," Trump tells Zucker. "Make me a soap star."
"How about a little hug for the Donald?" Bush interjects. "He just got off the bus."
"Would you like a little hug, darling?" Zucker says.
"Absolutely," Trump says. When they hug, Trump adds: "Melania said this was okay."
Soon after the story broke, Hillary Clinton's campaign tweeted a response to the Post story Friday, calling it "horrific."
The Clinton campaign had already released an ad stringing together the "Access Hollywood" comments and urged women to vote.
In response, Republican National Committee chairman Reince Priebus issued in a statement to Politico that said "no woman should ever be described in these terms or talked about in this manner. Ever."
The woman in the video, Arianne Zucker, declined to comment Friday night, except to tell Tom Wait of CBS Los Angeles that "it's not about me."
In a statement Friday, Bush says he's "embarrassed and ashamed" by the 2005 conversation he had with Trump in which Trump made lewd comments about women.
Bush says he was younger and less mature when the incident occurred, adding that he "acted foolishly in playing along." He says he is sorry.
Bush recently joined NBC News' "Today." His statement was released by the network.
Corey Lewandowski, Trump's former campaigner who now works for CNN, said on CNN, "Is this defensible? I don't think so."
"But we're not choosing a Sunday school teacher here," Lewandowski said.
CBS News' Reena Flores, Sopan Deb, Hannah Fraser-Chanpong, Arden Farhi, Catherine Reynolds, and Walt Cronkite contributed to this report.
Thanks for reading CBS NEWS.
Create your free account or log in
for more features.