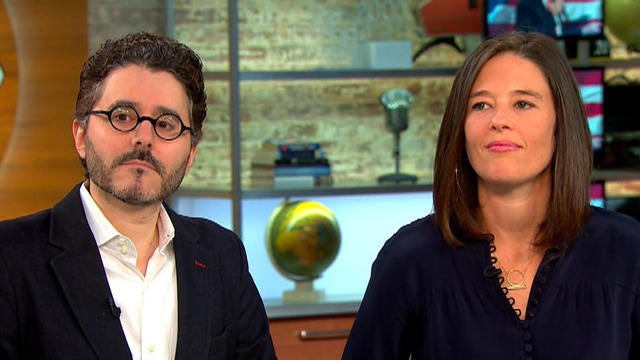 NYT reporters defend report on Trump's unwanted sexual advances
Donald Trump's campaign is pushing back strongly against a New York Times report it calls "fiction," in which two women claim the GOP nominee made unwanted sexual advances toward them years ago.
The candidate denied the claims personally when reporter Megan Twohey spoke with him on the phone Tuesday night to give him a chance to respond to the allegations.
"So we would never just go ahead and publish these accounts without talking to the presidential candidate himself," Twohey, one of the co-authors of the article, told "CBS This Morning" Thursday. "He insisted that all of allegations were a fabrication and that the New York Times was making them up and he got increasingly agitated as I continued my questions and started to yell at me he told me that I was a disgusting human being."
The New York Times article, written by Twohey and political reporter Michael Barbaro, features two women's accounts. One of them is 74-year-old Jessica Leeds, who sat beside Trump in the first-class cabin of a commercial flight when she a traveling businesswoman at a paper company in the 1980s. Leeds said Trump grabbed her breasts and reached up her skirt.
"He was like an octopus. His hands were everywhere," Leeds told the New York Times.
The "CBS This Morning" co-hosts asked how the reporters had verified Leeds' story, as it's only come to public light three decades after it happened. They said they spoke to at least four people with whom Leeds had shared her story, beginning about a year and a half ago, including her son and nephew — all of whom spoke with the paper on record.
The article also includes another account that dates back to 2005. Rachel Crooks was then a 22-year-old receptionist at a company in the Trump Tower. She said she introduced herself when she ran into him in an elevator, and he "began kissing her cheeks," then proceeded to kiss her "directly on the mouth."
"It was so inappropriate," Ms. Crooks told the Times. "I was so upset that he thought I was so insignificant that he could do that."
Crooks immediately phoned her sister after the incident and told her boyfriend about it that night. The reporters said they spoke with both of them, as well as others she had told.
The reporters also interviewed the women more than once to make sure the details lined up with every account.
"There are no anonymous quotes in this story. These are people who are putting their names and their reputations by the claims that were described in this story. I think that's important," Barbaro said.
Both women said they decided to go public after hearing Trump's response to the 2005 leaked video of his lewd remarks about how he could "grab" women without consent. He dismissed the recorded conversation as "just talk," and during the second presidential debate he denied that he had actually touched anyone.
"They were watching the debate. Jessica Leeds was watching the debate and she and her friend turned to each other… and the next day, she wrote an email to the New York Times," Barbaro said.
The reporters also noted an "important disclosure" in their report, that both Leeds and Crooks are Clinton supporters.
In May, the New York Times published an article featuring dozens of women's personal or professional account of encounters with the GOP nominee over the past 40 years. One of the women, Rowanne Brewer Lane – then a 26-year-old model who met Trump at a pool party in 1990 and subsequently dated him – told CBS News' Elaine Quijano that the paper had distorted her words.
"I was really, really unhappy with the way they did this," Brewer Lane said. "I don't think it is fair to Trump; I don't think it is fair to me. It's not right."
Twohey defended the piece on "CBS This Morning" Thursday, saying, "We included the voices of many women and, you know, Rowanne Brewer did not like the story in the end, but we have not received any request for a correction or retraction from Rowanne."
"Or from Donald Trump," Barbaro added.
Overnight, Trump's lawyer demanded the paper retract its latest story and issue an apology, saying: "Failure to do so will leave my client with no option but to pursue all available actions and remedies."
The Times refused, and released a letter from its attorneys defending the story.
"The women quoted in our story spoke out on an issue of national importance – indeed, an issue that Mr. Trump himself discussed with the whole nation watching during Sunday night's presidential debate," the Times' assistant general counsel, David McCraw, wrote. "It would have been a disservice not just to our readers but to democracy itself to silence their voices."
Thanks for reading CBS NEWS.
Create your free account or log in
for more features.