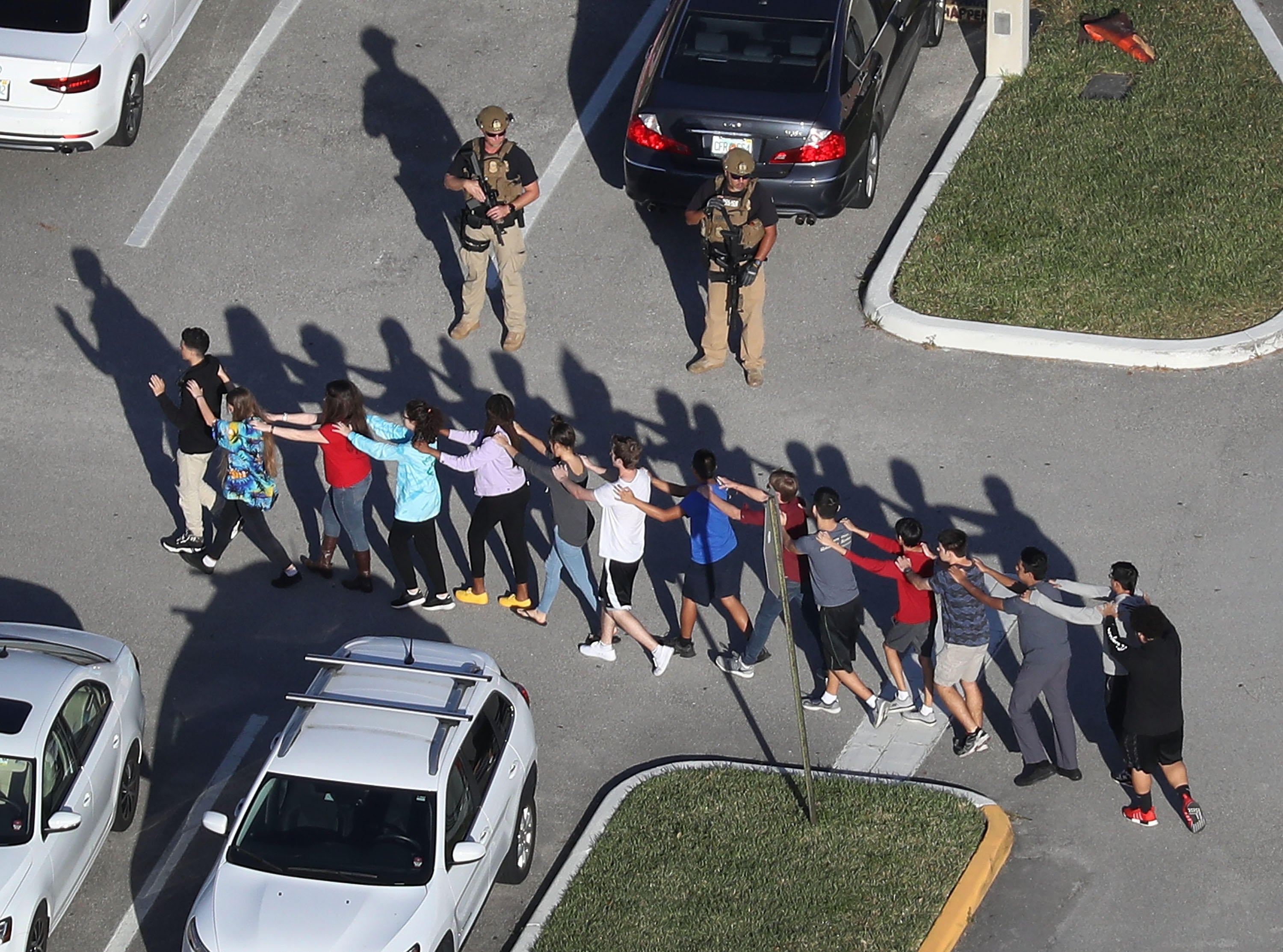 Florida school shooting ranks among America's deadliest
The school shooting at Marjory Stoneman Douglas High School in Parkland, Florida, now ranks among the most deadly mass shootings in American history. With at least 17 dead, the Valentine's Day shooting is worse than the Virginia Tech and Columbine shootings.
Two of the deadliest mass shootings in modern U.S. history happened just 35 days apart in 2017. The Las Vegas shooting at the Route 91 music festival near the Mandalay Bay Resort & Casino on Oct. 1 left 58 people dead and hundreds wounded. Then five weeks later, on Nov. 5, at least 26 people were killed by a gunman at a church in Sutherland Springs, Texas.
News of shooting incidents at everyday places like offices, schools and shopping malls seem to have become numbingly common, and a 2014 FBI study found that the number of mass shootings has increased in recent years.
Here is a look at the some of the worst mass shootings this country has seen.
Las Vegas, Nevada - Route 91 Festival - 58 dead
October 1, 2017: A shooting at a music festival on the Las Vegas Strip killed 58 people and wounded more than 500 others. The gunman, Stephen Paddock, 64, of Mesquite, Nevada, opened fire on thousands of people gathered at an outdoor music festival from a hotel room window on the Las Vegas strip.
Paddock was found dead when police entered the hotel room on the 32nd floor of the Mandalay Bay Hotel and Casino across Las Vegas Boulevard from the Route 91 Harvest country music festival.
"We believe it's a solo actor. A lone wolf," Sheriff Joseph Lombardo said.
Police said more than 20 firearms were found in Paddock's hotel room, including some modified to fire like fully automatic weapons. At least 18 more firearms, thousands of rounds of ammunition and some explosives were found at his home in Mesquite.
Orlando, Florida - Pulse nightclub - 49 dead
June 12, 2016: A gunman armed with an assault-type rifle and a handgun opened fire inside a crowded gay nightclub in Orlando in a rampage and hostage standoff that lasted three hours before he was killed in a gunfight with SWAT officers, police said. The gunman was identified as 29-year-old Omar Mateen. Mateen pledged allegiance to the Islamic State of Iraq and Syria (ISIS) during the attack. His wife, Noor Salman, is facing charges of aiding and abetting and obstruction in federal court; she has pleaded not guilty to helping her husband.
Blacksburg, Virginia - Virginia Tech - 32 dead
April 16, 2007: Seung-Hui Cho, 23, killed 32 people in two shooting scenes at a dorm and then in a classroom building on the Virginia Tech campus in Blacksburg, Virginia. He then killed himself.
Newtown, Connecticut - Sandy Hook Elementary School - 27 dead
Dec. 14, 2012: Adam Lanza, 20, opened fire at Sandy Hook Elementary School, killing 20 children and six staff members before killing himself. His mother, Nancy Lanza, was also found shot to death at their home.
Sutherland Springs, Texas - First Baptist Church - 26 dead
Nov. 5, 2017: Police say Devin Patrick Kelley opened fire with a military-style rifle, killing 26 and wounding at least 20 at a Sunday church service, in the deadliest mass shooting in Texas history. Authorities say Kelley apparently shot and killed himself in his car after a chase.
Killeen, Texas - Luby's Cafeteria - 23 dead
Oct. 16, 1991: Twenty-three people were killed and 20 more wounded when George Hennard opened fire at Luby's Cafeteria. He then killed himself.
San Ysidro, California - McDonald's - 21 dead
July 18, 1984: James Oliver Huberty, an out-of-work security guard, killed 21 people in a McDonald's restaurant in San Ysidro, California. A police sharpshooter killed Huberty.
Parkland, Florida - Marjory Stoneman Douglas High School - 17 dead
Feb. 14, 2018: 19-year-old Nikolas Cruz reportedly pulled the fire alarm in this Florida high school and used an AR-15 semi-automatic rifle to cause maximum loss of life in the chaos that ensued. At least 17 people were killed. Cruz was captured alive.
Austin, Texas - University of Texas - 16 dead
Aug. 1, 1966: Charles Whitman killed his wife and mother, then opened fire from the clock tower at the University of Texas at Austin, killing 16 people and wounding about 30 others before he was shot and killed by police.
San Bernardino, California - 14 dead
Dec. 12, 2015: Syed Farook and his wife Tafsheen Malik opened fire on a meeting and holiday lunch for Farook's colleagues in San Bernardino, killing 14 in a terrorist attack inspired by ISIS. They died in a shootout with police hours later.
Edmond, Oklahoma - 14 dead
Aug. 20, 1986: Pat Sherrill, 44, a postal worker who was about to be fired, shot and killed 14 people at a post office in Edmond, Oklahoma, then killed himself.
Fort Hood, Texas - 13 dead
Nov. 5, 2009: Thirteen soldiers and civilians were killed and more than two dozen wounded when a gunman walked into the Soldier Readiness Processing Center at Fort Hood, Texas, and opened fire. The gunman, Maj. Nidal Hasan, an Army psychiatrist, was convicted on 13 counts of premeditated murder and sentenced to death.
Littleton, Colorado - Columbine High School - 13 dead
April 20, 1999: Students Eric Harris, 18, and Dylan Klebold, 17, opened fire at Columbine High School in Littleton, Colorado, killing 12 classmates and a teacher and wounding 26 others before killing themselves in the school's library.
Binghamton, New York - 13 dead
April 3, 2009: A gunman identified as 41-year-old Jiverly Wong opened fire in a community center where immigrants were taking a citizenship exam in Binghamton, in upstate New York, killing 13 people before committing suicide.
Seattle, Washington - 13 dead
Feb. 18, 1983: Three gunmen opened fire at the Mah Wee gambling and social club in Seattle's Chinatown neighborhood, killing 13. The suspects escaped but were captured, tried and convicted.
Wilkes-Barre, Pennsylvania - 13 dead
Sept. 25, 1982: Former prison guard George Banks shot and killed 13 people, including 4 of his own children. He was sentenced to death but remains behind bars amid questions about his mental competency.
Camden, New Jersey - 13 dead
Sept. 6, 1949: In one of the first modern mass shooting incidents in U.S. history, Howard Unruh shot and killed 13 people as he walked down the streets in Camden, New Jersey. He was found to have paranoid schizophrenia and spent the rest of his life in a mental hospital, dying in 2009.
Thousand Oaks, California - 12 dead
Nov. 7, 2018: The Borderline Bar & Grill, a popular country western bar, was packed with young people for a college night event when a gunman opened fire. Twelve people were killed, including a police deputy hit by friendly fire. Police said the suspect, former Marine Ian David Long, then shot and killed himself.
Aurora, Colorado - Movie theater - 12 dead
July 20, 2012: A dozen people were killed when a gunman burst in and opened fire during a midnight screening of the Batman movie "The Dark Knight Rises." James Holmes, 24, pleaded not guilty by reason of insanity. He was convicted and sentenced to life in prison.
Washington, D.C. - Navy Yard - 12 dead
Sept. 16, 2013: Former contractor Aaron Alexis shot and killed 12 people and wounded eight at the Washington Navy Yard before dying in a shootout with police. He was reported to have had a history of mental illness.
Thanks for reading CBS NEWS.
Create your free account or log in
for more features.