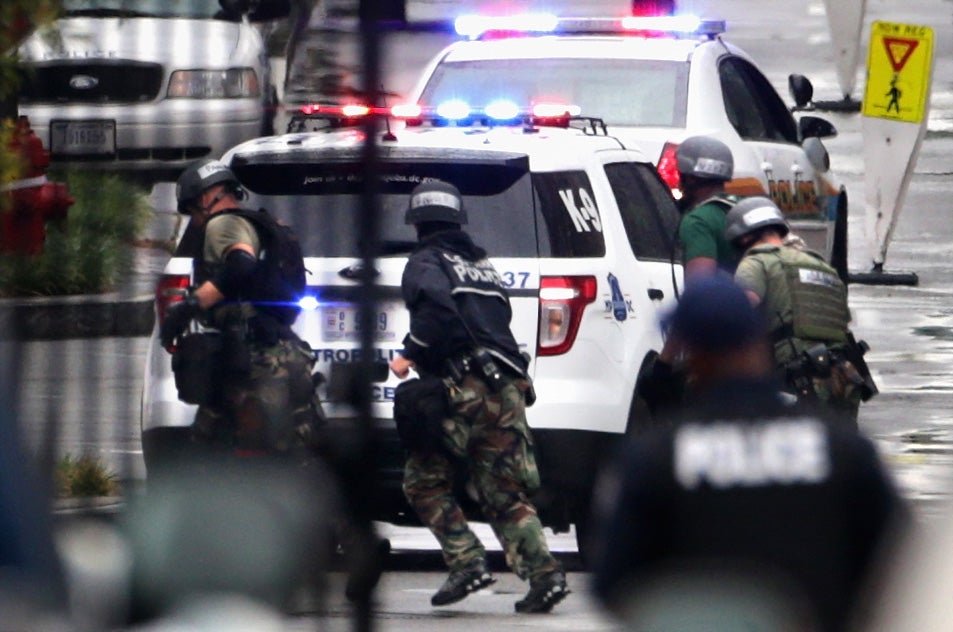 The Washington Navy Yard shooting, as it happened
As investigators look into the history of Aaron Alexis, the man believed to be responsible for the Washington Navy Yard shooting that killed 12 and wounded eight, a portrait of a disturbed man with a history of mental health issues has emerged.
Alexis appears to not have left a manifesto or suicide note behind, so investigators are relying on what they find in his personal history to explain why such a tragedy occurred.
Another lingering issue is how Alexis was able to pull off a massacre in the heart of America's capital, inside one of the command buildings of its Navy.
Below is an account of the event, compiled by CBSNews.com from news reports, investigators, and eyewitness statements.
---
Aaron Alexis moved to the Washington, D.C. area about three weeks before Monday's massacre. He was working for the Florida-based IT consulting firm The Experts, doing part-time work at the Washington Navy Yard as a subcontractor, helping the military update computer systems. He had been going to school and doing IT work on and off since leaving the fulltime Navy Reserves in 2011 after a four-year stint. His last post in the Navy was in Fort Worth, where he repaired aircraft.
In Washington, D.C., he shared a room with other contractors at a hotel just a few blocks from the shooting scene, reports CBS News correspondent Bob Orr. Investigators say the roommates were not involved in the attack.
On Saturday, two days before the massacre, Alexis visited Sharpshooters Small Arms Range in Lorton, Virginia, which is about 15 miles from the Navy Yard. An attorney for the gun range told the Associated Press he rented a rifle, bought bullets, and took target practice. He later bought a shotgun and 24 shells.
The gun range's attorney said the store ran a federal background check on Alexis and it came back clear.
On the morning of the shooting, investigators say Aaron Alexis drove to the Navy Yard base and walked directly to building 197, the Naval Sea Systems Command headquarters. He had worked there every day in the previous week.
Surveillance cameras captured Alexis using his security card to open a door.
The Experts' CEO, Thomas Hoshko, told the Associated Press that Alexis had "no personal issues," and he confirmed that Alexis had been granted a "secret" clearance by the Defense Security Service five years ago.
Alexis's clearance -- lower than "top secret" -- doesn't need to be renewed for 10 years. Still, the company said it hired outside vendors twice to check Alexis' criminal history. Alexis' background check "came back clear," Hoshko said.
When Alexis opened the door using his security card, he was carrying a bag, which investigators believe contained the disassembled shotgun he would later use to launch his attack, reports CBS News correspondent John Miller. It is still not clear whether this was the same shotgun he bought two days earlier in Virginia.
After getting inside the building, Alexis headed to a bathroom, where he put the shotgun back together. He then employed some of the very same tactics he learned in his military training.
Police say it appears Alexis headed straight to the fourth floor that overlooks an atrium that was filled with employees having breakfast or coffee. The first call to 911 happened around 8:15 a.m. Investigators believe he chose the spot because it offered a position of tactical advantage, allowing him to shoot down into the atrium or across to other walkways.
Alexis stayed there, firing away, until he was confronted by responding police and security officers. D.C. Police Chief Cathy L. Lanier said it took about seven minutes for the first officers to arrive on the scene.
A D.C. police officer was among the first to exchange shots with him and was wounded.
NCIS agents also confronted Alexis and fired. Alexis took to the stairwells, moving from level to level of the atrium, continuing to shoot. Alexis shot a security officer and took his weapon.
Once he left the atrium, teams of police searched, with no contact. For a long time -- some estimate as much as 15 to 20 minutes -- police searched until a team made up of a D.C. police officer and a U.S. Park Police officer suddenly came face to face with Alexis in an upper floor hallway. They opened fire, killing him.
Thanks for reading CBS NEWS.
Create your free account or log in
for more features.