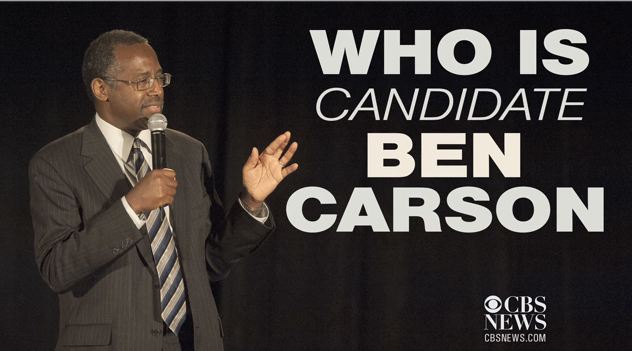 Five things to know about Ben Carson
It's rare for a person with no political or military experience to gain much traction in a run for the presidency of the United States. Rarer still - even unprecedented - for a black neurosurgeon to become an American political star, but nothing about Ben Carson's quick rise to prominence in the GOP has followed a typical path.
The 63-year-old Carson announced Sunday that he's trading a comfortable retirement in Florida for coffee shops and auditoriums in Iowa and New Hampshire. The Republican field is getting so crowded that he's entering the race on the same day as former businesswoman Carly Fiorina, and will join a group of declared candidates that includes Republican Sens. Ted Cruz of Texas, Rand Paul of Kentucky and Marco Rubio of Florida.
What he lacks in political experience he makes up for with a powerful personal story appealing to the Republican base, and a willingness to take shots at President Obama that are, even he will admit, are not politically correct.
Plus, he doesn't think his lack of political experience is a problem.
"The real pedigree we need to help heal this country is someone who believes in our Constitution and is willing to put it on the top shelf," he said at his announcement event in Detroit Monday.
Here are five things to know about Ben Carson:
1. He is a renowned neurosurgeon: Though he was initially interested in psychiatry, Carson realized in medical school that he had the interests and abilities that aligned with the skills he would need as a neurosurgeon. After medical school at the University of Michigan, he went to Johns Hopkins Hospital to do his residency and at 33 became the director of pediatric neurosurgery, the youngest physician to ever run a major division at the hospital. He was also the first African-American to hold such a position.
What first thrust Carson into the spotlight was his role as the primary surgeon on the first team to successfully separate a pair of conjoined twins who were connected at the head in 1997. Other attempts at such an operation had almost always killed one or both twins.
It was that accomplishment in part that led former President George W. Bush to award him with the Presidential Medal of Freedom in 2008. In a press release announcing the honor, Johns Hopkins Children's Center noted that Carson was told "while performing a delicate seven-hour surgery."
2. He's also a successful author and philanthropist: Carson has authored a total of six books and a handful of them have done relatively well. His 1996 memoir, Gifted Hands, was made into a 2009 TV movie starring Cuba Gooding, Jr.
In August, another Carson book, One Nation - which outlines his political philosophy - outsold Hard Choices, the memoir authored by Hillary Clinton, last August when it sold 224,990 copies to Clinton's 222,822. It made the New York Times bestseller list.
Carson and his wife, Candy, have also been active philanthropists. In 1994, they established the Carson Scholars Fund to provide college scholarships to students who show academic excellence and perform community service. The organization has awarded more than 6,700 scholarships since 1996, the first year the scholarship was offered, and give out more than 500 awards each year.
Carson has often spoken about the importance of education and how it affected his own journey from a poor Detroit neighborhood.
3. He grew up poor in Detroit, the son of a single mother: The anchor of Carson's biography is that he was raised by a single mother with a third-grade education . But she placed a high premium on education and demanded that her two sons read two books each week from the Detroit Public Library and submit written reports on them instead of watching TV - even though she couldn't always understand what they wrote.
"The most important thing she did for myself and my brother: not accept excuses. And I think that led to both of our success," Carson said at a dinner for an Iowa Christian organization last fall.
He has been open about the fact that he was not always a model student, and struggled with anger issues as a child. As a teenager, he tried to stab a friend during an argument over which radio station to listen to, but the knife hit hid friend's belt buckle and snapped instead.
He writes in Gifted Hands about how he prayed after the incident and it changed his life. After that, he went on to Yale University and University of Michigan for medical school.
His path made him a role model within the black community and Gifted Hands became recommended reading for young men.
"I can't even count how many times I saw Ben Carson when I was a kid," writer Ta-Nehisi Coates, who grew up in inner-city Baltimore in the 1980s and 1990s, said in a recent Carson profile in GQ magazine. "Any time anyone wanted to bring out any sort of inspirational figure for young black kids, especially young black boys, in Baltimore, you turned to Ben Carson."
4. He skyrocketed to fame by condemning Obamacare at the National Prayer Breakfast: Carson spoke at the 1997 National Prayer Breakfast without incident but it was his remarks at that same breakfast in 2013 that propelled him to conservative stardom when he laid into the president who was sitting just a few feet away. He was harshly critical of both the Affordable Care Act and the president's fiscal policies.
The speech was so popular it prompted the conservative Wall Street Journal editorial page to write a piece entitled, "Ben Carson for President."
It turned out to be the launching point for plenty of criticism of the law. Later that year, Carson called it "the worst thing" in America since slavery.
"Obamacare is really, I think the worst thing that has happened in this nation since slavery," he said. "And it is in a way, it is slavery in a way because it is making all of us subservient to the government. And it was never about healthcare, it was about control."
5. He's a popular figure among conservative activists: His up-close-and-personal criticism of the president won Carson plaudits among the GOP base and he has been a consistent and popular speaker on the circuit of Republican confabs and cattle calls. He was popular enough that a "National Draft Ben Carson for President" political action committee brought in $13.5 million dollars (by comparison, the "Ready for Hillary" PAC netted $12.9 million).
Interestingly, he isn't a lifelong Republican. Carson has described himself as a "rabid" Democrat when he started at Yale because of what he had always heard about Republicans as a child in Detroit. He began to change his views when he started listening to Ronald Reagan - but it wasn't necessarily enough to keep him loyal to the Republican Party (he claims to have been turned off by unfaithful Republicans impeaching former President Bill Clinton for the Monica Lewinsky affair in the 1990s). At the time of the National Prayer Breakfast speech in 2013, he was actually registered as an independent.
"I happen to be an independent -- registered as an independent -- but anything I talk about or advocate, I would challenge anybody to show me where it's not logical," he told WJZ, CBS News' Baltimore affiliate, after the speech. "If Democrats happen to agree with what I'm talking about, great. If Republicans happen to be the ones who agree with what I'm talking about, great."
He clearly found a home in the GOP, however, switched his registration to Republican late last year.
He's no second-tier contender among the GOP hopefuls: A recent CBS News poll found that 34 percent of Republicans said they would consider voting for Carson for the nomination, tying him for fourth place with former Texas Gov. Rick Perry (those who would be more widely considered include former Florida Gov. Jeb Bush, former Arkansas Gov. Mike Huckabee and Rubio). Just 10 percent of Republicans said they wouldn't consider voting for him, and more than half - 56 percent - said they still didn't know enough about him.
That puts him in better standing than more prominent fellow Republicans including Wisconsin Gov. Scott Walker (30 percent would consider voting for him), Paul (30 percent) and former Pennsylvania Sen. Rick Santorum (28 percent).
Thanks for reading CBS NEWS.
Create your free account or log in
for more features.