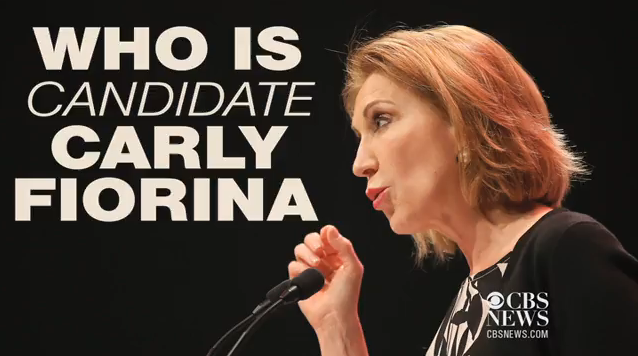 Five things to know about Carly Fiorina
Former Hewlett-Packard CEO Carly Fiorina formally kicked off her 2016 presidential bid Monday, which makes her the first and likely only woman competing for the GOP nomination.
She also appeared on "Good Morning America" to make the announcement.
Fiorina, 60, was born in Texas, lived in London as an adolescent, and graduated from high school in North Carolina. She received her undergraduate degree from Stanford University, and she holds masters degrees from the University of Maryland and the Massachusetts Institute of Technology.
She's never held elected office before, but she has been politically active in the last few election cycles. Before that, she built a long track record in the technology industry, spending time at AT&T and Lucent before taking the helm at Hewlett Packard.
Here are five things you need to know about Carly Fiorina:
1. She's the only woman in a crowded Republican field: The 2016 Republican primary could field as many as a dozen candidates, but Fiorina stands out as the only woman in the bunch.
It's a distinction she appears to relish.
At a Christian Science Monitor breakfast earlier this month, a reporter prefaced his question to Fiorina by remarking, "I never met a presidential candidate with pink nail polish on."
"Well, there's always a first," she replied with a twinkle in her eye.
When the reporter asked her what sorts of issues are particularly important to women voters, Fiorina disputed the premise of the question.
"I find it personally insulting as a woman that the Democratic Party talks about women's issues," she said. "Every issue's a women's issue. Women care about the economy. They care about jobs. They care about health care. They care about immigration, national security, education, every issue is a woman's issue. There's no doubt."
2. She's not a politician, but she's no political novice: Fiorina likes to tout the fact that she's not a professional politician. "People who have been in politics all their lives are somewhat disconnected from the rest of us," she said at the Christian Science Monitor breakfast.
It's worth remembering, though, that the only reason Fiorina is not stuck with the "politician" label is because she lost her 2010 California Senate race to incumbent Barbara Boxer.
Fiorina nabbed 42 percent of the vote in that race, while Boxer won with 52 percent. California's strong Democratic tilt made the race an uphill climb for Fiorina. Her campaign spent over $22 million during the election, including more than $6 million of her own money, but Boxer's campaign spent over $29 million.
Still, nobody accused Fiorina's bid of lacking creativity: A bizarre "demon sheep" ad that her campaign produced is remembered as one of the cycle's best pieces of viral video. The spot suggested that her primary opponent, Tom Campbell, was a "wolf in sheep's clothing" when it came to fiscal conservatism - portrayed in the ad as a sheep with demonic red eyes.
Apart from her own campaign, she's also served as an advisor to several GOP candidates. She was one of Sen. John McCain's economic advisers in 2008 (though she was banned from public appearances after she said McCain couldn't run a major corporation.) In 2012, she was both the California co-chair of Republican nominee Mitt Romney's campaign and the vice chair of the National Republican Senatorial Committee, the Senate GOP's campaign arm.
3. She's broken one "glass ceiling" before: Fiorina is trying to make history as the first female U.S. president, but she's already a trailblazing figure in one regard: When she was appointed CEO of Hewlett Packard in 1999, she became the first woman to run a Fortune 100 company.
Fortune had already dubbed Fiorina the most powerful women in business in 1998, while she was a division president at AT&T spinoff Lucent. She held the number one slot in the Fortune list until 2003, when she was dethroned by eBay's Meg Whitman (who, coincidentally, also tried and failed to win a statewide office in California in 2010 - and became the CEO of HP in 2011.)
Fiorina has touted her business record as one of her strengths, saying it endowed her with the management chops needed to run a large enterprise (like, say, the U.S. government).
Before she was appointed CEO, according to Bloomberg Businessweek, Fiorina put the hard sell on one of HP's board members during a meeting at a Chicago airport. "You can't tell me there's a better person for the job," she said.
4. Her tenure at HP was far from a success story: While Fiorina arrived at HP with no small amount of fanfare, her departure was about as ugly as they come in the high-stakes world of the tech industry.
Fiorina was pushed out of her position by the company's board of directors after she helped engineer a merger with Compaq that was widely regarded as a mistake. She presided over sizable layoffs, the company's stock price plunged roughly 50 percent during her tenure, and she was named one of the worst CEOs in the country by multiple publications after her departure.
In an open letter on RedState.com during the 2010 California Senate race, Arianna Packard, the granddaughter of HP's founder, warned voters against supporting her.
"I know a little bit about Carly Fiorina, having watched her almost destroy the company my grandfather founded," she wrote.
For all the ignominiousness of Fiorina's departure, she didn't leave empty-handed - her severance package was a reported $21 million.
For her own part, Fiorina has offered a positive spin on her time at HP, arguing she positioned the company for future success.
"Together with the great people of that great company, we would double its revenues to $90 billion, triple its rate of innovation to 11 patents a day, and go from a laggard to a leader in every product category and every market segment in which we competed," she said in February at the Conservative Political Action Conference.
And despite HP's struggles under her tenure, she seems ready to deploy the argument that her experience in the business world will make her a great fit for the White House.
"I believe the private sector demonstrably does many thing better. Not all things--but many things," she said at the Monitor breakfast.
5. She's selling a book: Most analysts believe Fiorina has an exceedingly slim chance of becoming president in 2016. But people launch presidential campaigns for a variety of reasons these days, and the desire to actually become president isn't always foremost on that list.
Fiorina's latest book, "Rising to the Challenge: My Leadership Journey" is scheduled to come out on Tuesday, just a day after she officially announces her campaign.
"Fiorina shares the lessons she's learned from both her difficulties and triumphs," the book's description explains. "Drawing on her experience as a pioneering business and nonprofit leader, a politically active citizen, and a parent, she diagnoses the largest problem facing our country today: untapped potential. Too often, American men and women are held back by systems that prevent them from working and flourishing. Too many people lose hope for themselves."
Fiorina previously wrote a memoir, "Tough Choices," that came out in 2007 and made its way onto the New York Times bestsellers list. She'll soon see whether her latest tome can replicate that feat with a little added visibility from the presidential campaign trail.
Thanks for reading CBS NEWS.
Create your free account or log in
for more features.