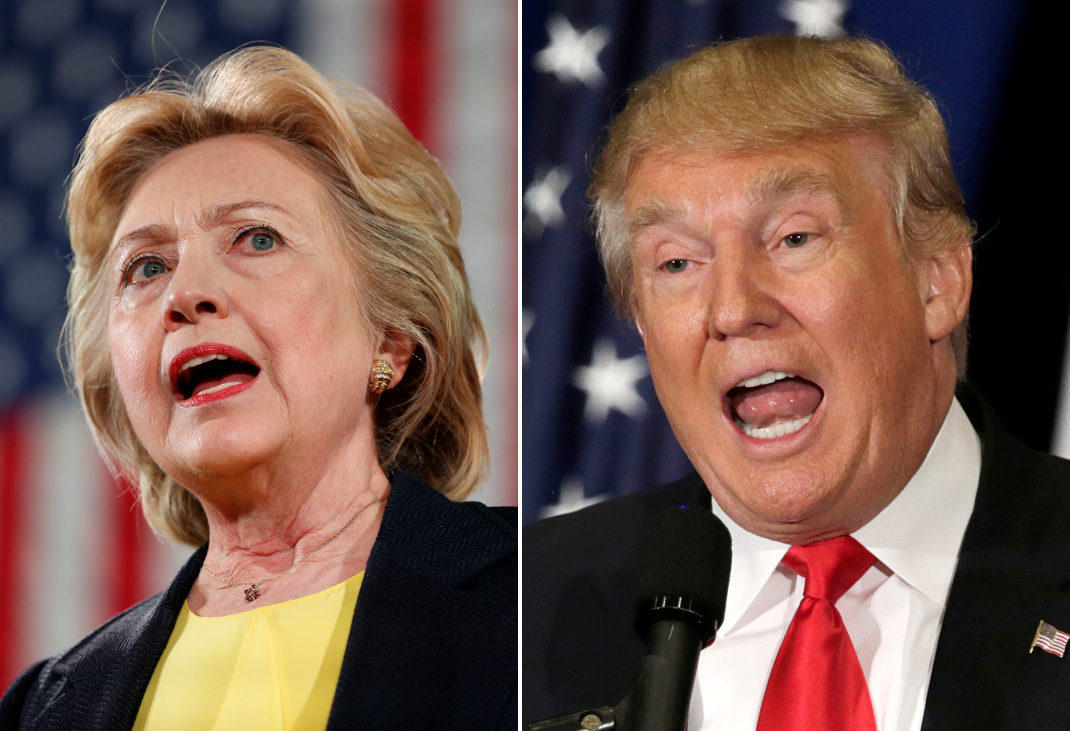 2016 by the numbers: Hillary Clinton dwarfs Donald Trump in TV ad spending
Hillary Clinton's campaign announced this week that it has reserved $80 million in television advertising for the fall campaign – another sign of Team Clinton's significant financial advantage over Team Trump.
The $80 million includes $3 million for the remainder of August, and $77 million for September and October. The campaign also announced $15 million in radio advertising during the same period. The ads will target voters in Florida, Pennsylvania, New Hampshire, Iowa, Nevada, Ohio, North Carolina, and the Omaha market in Nebraska. (Nebraska splits its electoral votes by congressional district, and despite the state's overall red hue, Clinton is competitive in one district.)
Notably, the ad buy will not target Virginia and Colorado – states in which Clinton had previously aired general election ads but now enjoys a significant polling advantage​.
"Our campaign is going to use every tool in our tool box from a massive grassroots campaign, state-of-the-art digital outreach and a significant advertising campaign to make sure every voter knows the stakes in this election and the danger Donald Trump represents," a senior Clinton campaign official said.
Thus far, Clinton's team announced, they've spent approximately $70 million on television ads in the general election. And according to Advertising Analytics and NBC News​, outside groups supporting her candidacy have spent just over $45 million on the race.
Trump, by contrast, hadn't spent a dime on television advertising for the general election through the end of July. Last week, his campaign announced its first ad buy of the general election​, reserving $4.8 million dollars over 10 days in Florida, Ohio, North Carolina, and Pennsylvania. Outside groups supporting Trump (chiefly the National Rifle Association) have spent about $14.4 million, according to Advertising Analytics. That's more than Trump's actual campaign has spent, but it's still not enough to seriously contest Clinton's dominance on the airwaves.
And the disparity in television advertising may actually be wider than it initially seems. By reserving ads now for September and October, Clinton's team was able to lock in lower rates for airtime (think of a 30-second commercial slot like a plane ticket: it's usually cheaper if you book it earlier.) Trump's team, however, has not booked any advertising in the states it is targeting beyond the end of August, according to Politico.
Trump's campaign has emphasized the GOP nominee's ability to earn free media, arguing his dominance of press coverage will help counterbalance any edge Clinton's team is able to secure through paid media. And by some measures, Trump has garnered an impressive sum of earned media: $2 billion during the GOP primary campaign, according to the New York Times​ (an amount that dwarfed anything spent by his rivals on paid media).
Still, it's not always the case that any publicity is good publicity. Paid media tends to only help, or at least not hurt, a presidential campaign – but earned media can cut both ways. It's impossible to tell how much of that $2 billion helped burnish Trump's image, and how much helped undermine it. But it's a safe bet, given the controversy that has surrounded his candidacy since day one, that the media coverage wasn't always helpful to him.
--
Meanwhile, some new polls this week show Hillary Clinton retaining an advantage nationally and in key swing states. An NBC News/SurveyMonkey​ poll released Tuesday found Clinton up by eight points, 50 to 42 percent – a result that was virtually unchanged from her nine-point advantage a week before, and one that suggests her post-convention bounce may not be fading as much as some expected.
Another national survey released Tuesday by Reuters/Ipsos​ found Clinton with an even bigger lead of 12 points, earning 45 percent to Trump's 33 percent. A third survey​, released Wednesday by the Los Angeles Times and the University of Southern California, found a tighter race: Clinton at 45 percent and Trump at 43 percent.
In North Carolina, according to a Monmouth University survey​ released Wednesday, Clinton is holding onto a narrow two-point lead over Trump, 44 to 42 percent. And in Ohio, a Monmouth survey​ released Monday found Clinton on top, 43 to 39 percent. (A CBS News Battleground Tracker survey​ released Sunday also found Clinton ahead of Trump in Ohio, 46 to 40 percent. That survey also found the race tied in Iowa, with both candidates at 40 percent.)
In Missouri, which typically tilts Republican in presidential years, the race is a toss-up, according to a Monmouth poll​ released Tuesday showing Trump ahead by only one point, 44 to 43 percent.
Thanks for reading CBS NEWS.
Create your free account or log in
for more features.