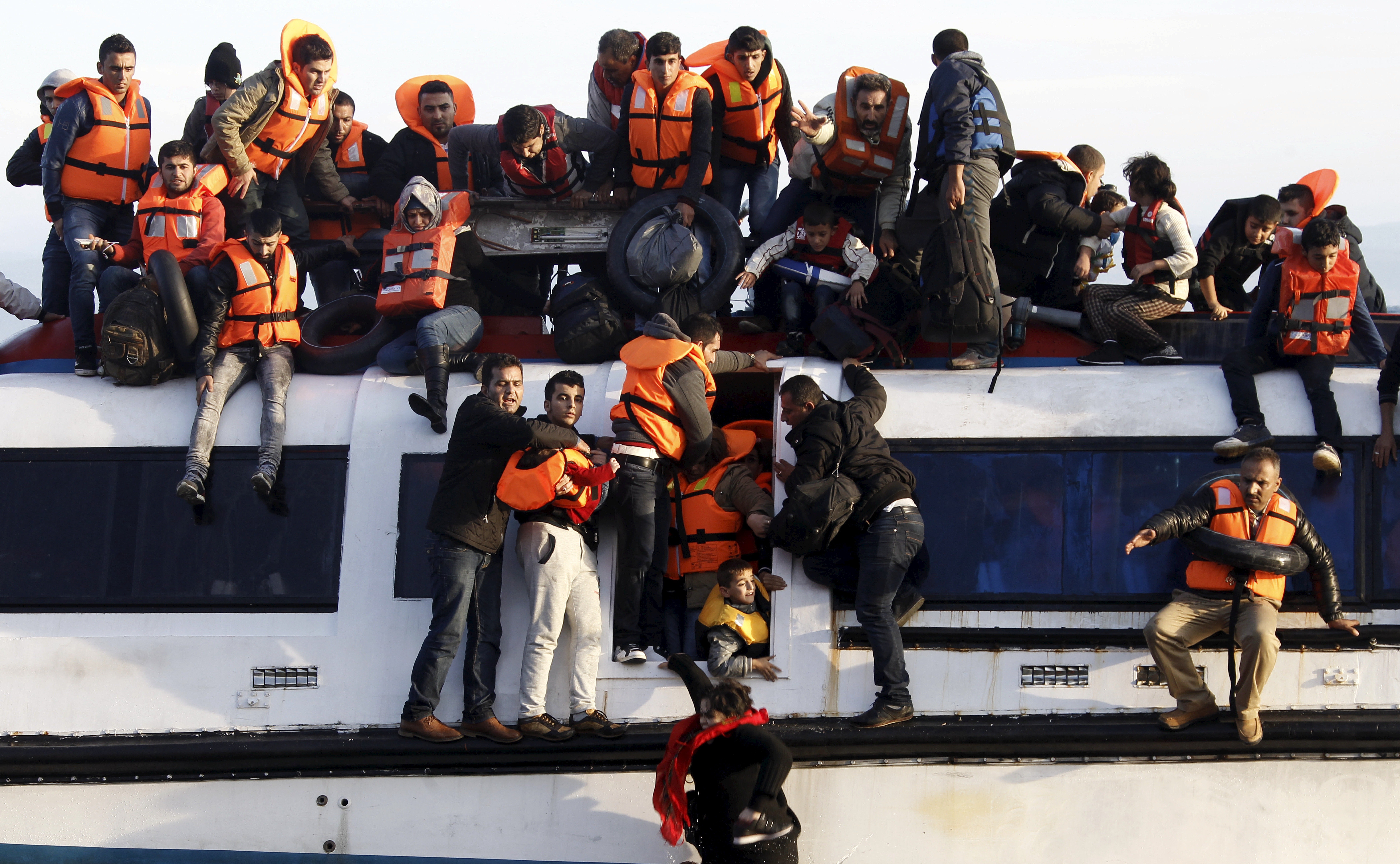 Where 2016 candidates stand on Syrian refugees after Paris attacks
Prior to the terror attacks in Paris last week, many of the 2016 presidential candidates said the U.S. should take in Syrian refugees fleeing from the Islamic State of Iraq and Syria (ISIS).
But with the revelation that one of the attackers may have entered Europe with the wave of migrants coming from Syria, nearly all Republicans have reversed course and say the risk of a terrorist getting into the country is too high. Here is where the 2016 candidates stand on refugees after the Paris attacks:
Republicans
Donald Trump said at a rally in Knoxville, Tenn., he would deport Syrian migrants who are allowed into the U.S., and questioned whether those with ties to ISIS would be using the migration crisis as a "Trojan Horse" to get into Europe and the United States to carry out attacks. Earlier in the day, Trump went so far as to say the United States should consider shutting down mosques in the wake of the Paris attacks. He previously said the U.S. should "possibly" take in refugees.
"Well, I would hate it do it, but it's something that you're going to have to strongly consider because some of the ideas and some of the hatred, the absolute hatred, is coming from these areas and you know, in New York City as an example," Trump said on MSNBC's "Morning Joe."
Ben Carson called on GOP leaders in Congress to move legislation that would block federal funding for the plan to resettle refugees from Syria in the U.S. At a press conference in Henderson, Nev., Carson said President Obama is wrong to say the U.S. has a responsibility to accept these refugees.
"We should do everything in our power to help these men, women and children who have been forced to flee their country, but until we can sort out the bad guys, we must not be foolish," Carson said.
Marco Rubio said even though the U.S. serves as a beacon of hope for people fleeing oppression, the government has to provide for national security and nothing can supersede that. At an event in Washington, D.C., Rubio said, "I'm increasingly convinced because you cannot accurately do a background check on even 10,000 people." He previously said he would be "open" to accepting refugees if there was a way to ensure they were not being infiltrated by terrorists.
Ted Cruz said, "President Obama and Hillary Clinton's proposal to bring tens of thousands of Syrian Muslim refugees to America I think is absolute lunacy," during an event in Charleston Monday. "Who in their right mind would want to bring over tens of thousands of Syrian refugees when we cannot determine, the administration cannot determine who is, and who isn't a terrorist?" he added. He said refugees should be resettled in majority Muslim countries.
Jeb Bush argued in an interview on "CBS This Morning" that the United States should focus on creating safe havens for refugees in Syria rather than bringing them to the United States. But he said there is a "special important need" to protect Christians in Syria.
"But for us who? Who would take care of the number of Christians that right now are completely displaced?" he said.
John Kasich, one of the governors running for president, wrote a letter to President Obama saying that the U.S. should not accept any Syrian refugees until the background check process has been strengthened and that it should not allow in any refugees who have no personal information in federal databases or official papers. He also requested that the federal government "take no further action in resettling Syrian refugees in Ohio."
Carly Fiorina also said she is not in favor of accepting refugees because they cannot be adequately vetted. Following a town hall in Plymouth, N.H., Fiorina told reporters she stands with state governors who say they will not accept refugees into their states. She said if the U.S. could adequately vet the migrants it would be a different situation.
Chris Christie took a hardline approach on the issue, telling radio host Hugh Hewitt that because he does not trust the Obama administration to effectively vet the refugees, not even orphans under the age of five should be permitted to enter the U.S.
Rand Paul said Monday that he's introducing a bill to call for an immediate moratorium on visas for refugees, and that the bill will seek to suspend all types of visas for countries that have "significant jihadist movements." That includes visas to immigrate, visit or study.
In early September, Paul said, "We are a welcoming nation, and we have accepted a lot of refugees, and I think we will continue to do so. But we also can't accept the whole world, so there are some limits."
Mike Huckabee said Monday House Speaker Paul Ryan "needs to make it clear that if the President won't stand to protect America from wholesale open borders, then Republicans will. If Ryan will not lead and reject the importation of those fleeing the Middle East without assurances that we can separate refugees from terrorists, then Speaker Ryan needs to step down today and let someone else lead."
Democrats
Hillary Clinton reaffirmed during the Democratic debate Saturday that she believes the U.S. should increase the number of Syrian refugees it will accept from 10,000 to 65,000.
"I said we should go to 65 [thousand] but only if we have as carefully screening and vetting process as we can imagine whatever resources it takes," she said. "Because I do not want us to-- in any way-- inadvertently allow people who wish us harm to come into our country."
Bernie Sanders said during the debate, "I believe that the United States has the moral responsibility with Europe, with Gulf countries like Saudi Arabia to make sure that when people leave countries like Afghanistan and Syria with nothing more than the clothing on their back that of course we reach out. Now what the magic number is, I don't know. Because we don't know the extent of the problem. But I certainly think that the United States should take its full responsibility in helping those."
Martin O'Malley was the first Democratic candidate to call on the U.S. to accept 65,000 Syrian refugees and he stood by that position at the debate.
"Accommodating 65,000 refugees in our country, people of 320 million is akin to making room for six and a half more people in a baseball stadium with 32,000," he said.
Thanks for reading CBS NEWS.
Create your free account or log in
for more features.