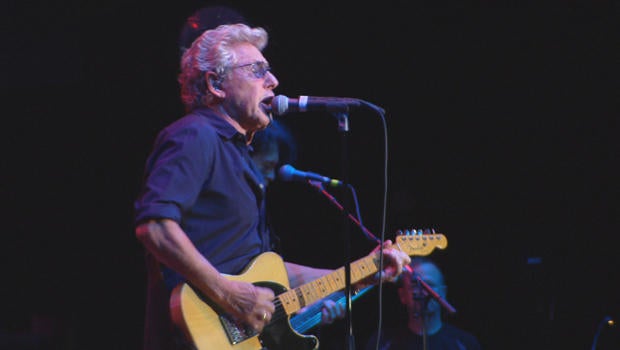 This week on "Sunday Morning" (November 11)
HEADLINES: Deadly wildfires decimate California communities (Video)
Wildfires are still burning across Northern and Southern California, forcing tens of thousands from their homes. The death toll now stands at 25. Jamie Yuccas reports from the Pacific Ocean enclave of Malibu.
COVER STORY: Conversion therapy: A debunked practice aimed at "converting" homosexuals | Watch Video
An estimated 700,000 adults in the U.S. have received a controversial treatment known as Reparative or Conversion Therapy, under the belief that homosexuality is caused by nurture, not nature, and can be "cured."
Erin Moriarty talks with young men and women who had undergone the treatment (voluntarily or at the behest of their families) in order to adhere to their church's teachings; and with Alan Chambers, who was the charismatic director of Exodus International, which promised to convert those with "same-sex attraction."
For more info:
FOOD: A slice of Japan: Tokyo's pizza makers | Watch Video
If you're searching for the best Neopolitan pizza in the world, some of the tastiest can be found in Tokyo. Ben Tracy reports.
For more info:
TELEVISION: Ben Stiller on directing the prison-break drama "Escape at Dannemora" | Watch Video
Tony Dokoupil talks with the comic actor-director whose latest project is the Showtime miniseries "Escape at Dannemora," the too-weird-for-real-life story of a pair of convicted murderers who fled a prison in upstate New York in 2015 with the help of a female employee. The mini-series stars Benecio Del Toro, Paul Dano and Patricia Arquette.
For more info:
VETERANS DAY: A World War II veteran's memories of a shot fired | Watch Video
Clarence Smoyer, now 94, was a gunner with the U.S. Army's Third Armored Division who'd come ashore in Normandy three weeks after D-Day, criss-crossed France and Belgium, and in March of 1945 fought to capture the German city of Cologne. There, during a firefight with a German tank, a car rounded a corner and was hit. Katharina Esser, a young girl, was wounded and later died. For years, Smoyer has played that scene (which was caught on film by an Army photographer) over and over, wondering if his shot killed Katarina. Seth Doane traveled with Smoyer to Cologne to revisit the site of the World War II battle, to meet with Katarina's relatives as well as the German soldier who was on the other side of that firefight.
READ A BOOK EXCERPT: "Spearhead: The World War II Odyssey of an American Tank Gunner"
For more info:
HARTMAN: Reviving a squirrel with CPR (Video)
"Life is life," said 19-year-old Chris Felix, who was desperately trying to revive a young one who'd darted out in front of his car in Brooklyn Park, Minn. The subject of his attention was a squirrel. Steve Hartman talked with Felix and with two police officers who responded to the scene of a unique application of CPR.
BIOGRAPHY: The Who's Roger Daltrey: Music legend, teen cancer warrior | Watch Video
"You'll never make anything of your life, Daltrey": Those words by the school principal who expelled Roger Daltrey for misbehavior at age 15 resonated enough to fuel the young man to one of rock's most prestigious careers: Front man of The Who, star of "Tommy" and "Quadrophenia," fashion icon – and cancer warrior. He talks with Jim Axelrod about his new memoir, "Thanks a Lot Mr. Kibblewhite," and about his 30-year mission of aiding hospital wards to deal with teenage cancer patients.
BOOK EXCERPT: Roger Daltrey's "Thanks a Lot Mr. Kibblewhite" (with audio excerpt)
For more info:
REMEMBERING 1968: Richard M. Nixon's election victory | Watch Video
Richard Schlesinger look back at the hard-fought race for the presidency in the turbulent year of 1968, when President Johnson withdrew from seeking re-election, and Richard Nixon – following losses in runs for the White House and the California Governor's Mansion – won the Republican presidential nomination and, ultimately, the presidency. Richard Schlesinger talks with Nixon aide Dwight Chapin and speechwriter Pat Buchanan, and with then-Senator Walter Mondale, about the unpredictable contest between a law-and-order candidate hoping to shed his image as a "loser," and a sitting vice president breaking from his own administration to vow an end to the bombing of North Vietnam.
For more info:
STAGE: Kenneth Lonergan on "The Waverly Gallery" and its personal story of dementia | Watch Video
Serena Altschul interviews the Oscar-winning writer-director ("Manchester by the Sea") about the revival of his play, "The Waverly Gallery," on Broadway, starring Elaine May.
EXTENDED TRANSCRIPT: More from Serena Altschul's interview with Kenneth Lonergan
For more info:
NATURE: Autumn colors | Watch Extended Video
"Sunday Morning" takes us to Stinson Lake in the White Mountains of New Hampshire. Videographer: Carl Mrozek.

---
WEB EXCLUSIVES:
ALMANAC: Historic Route 66 | Watch Video
On November 11, 1926, officials green-lighted plans for the future highway, stretching 2,400 miles from Chicago to Los Angeles, nicknamed the "Mother Road." Jane Pauley reports.
FROM THE ARCHIVES: Bill Geist travels Route 66, the "Main Street of America" (Video)
It's a storied American highway that traversed 2,400 miles beginning in Chicago, and not ending until it had to, at the Pacific Ocean. Bill Geist gets his kicks on a stretch of the historic Route 66 in New Mexico, riding along with Tom Snyder, author of "The Route 66 Traveler's Guide and Roadside Companion," and talks with Tom LaMance, proprietor of Swap Meet 66 in Prewitt, N.M., in a story originally broadcast on "Sunday Morning" July 28, 1991.
For more info:
CALENDAR: Week of November 12 | Watch Video
"Sunday Morning" takes a look at some notable events of the week ahead. Jane Pauley reports.
---
The Emmy Award-winning "CBS Sunday Morning" is broadcast on CBS Sundays beginning at 9:00 a.m. ET. Executive producer is Rand Morrison.
DVR Alert! Find out when "Sunday Morning" airs in your city
Follow the program on Twitter (@CBSSunday), Facebook, Instagram (#CBSSundayMorning) and at cbssundaymorning.com. "Sunday Morning" also streams on CBSN beginning at 9:30 a.m. ET and at 1 p.m. ET, and is available on cbs.com, CBS All Access, and On Demand.
Full episodes of "Sunday Morning" are now available to watch on demand on CBSNews.com, CBS.com and CBS All Access, including via Apple TV, Android TV, Roku, Chromecast, Amazon FireTV/FireTV stick and Xbox. The show also streams on CBSN beginning at 9:30 a.m. ET and 1 p.m. ET.
You can also download the free "Sunday Morning" audio podcast at iTunes and at Play.it. Now you'll never miss the trumpet!
---
Thanks for reading CBS NEWS.
Create your free account or log in
for more features.