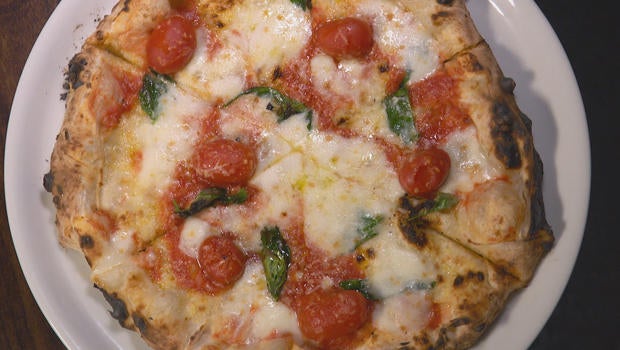 A slice of Japan: Tokyo's pizza makers
If you're searching for the best Neapolitan pizza in the world, you'd probably head to Naples, Italy. After all, it is the birthplace of the namesake pie known for its San Marzano tomatoes and mozzarella di bufala. But now some of the world's tastiest pizza is being made in Tokyo, Japan.
Tsubasa Tamaki is a pizza maker who has never set foot in Italy. "Of course, I would like to visit Italy," said Tamaki. "But in my mind, I want to focus on creating Japanese Neapolitan pizza."
"What makes your pizza Japanese-style?" asked correspondent Ben Tracy.
"Giving the pizza a salt punch is Japanese-style," he replied.
Tamaki throws the salt directly into the oven, where it bakes into the dough, enhancing the flavor. He also pushes his pizzas closer to the fire than the Italians do, in search of the perfect char.
His oven is heated to a searing 900°, resulting in pies that are too hot to handle if you're in a hurry.
But what really sets Tamaki's pizza apart is the handful of Japanese cedar chips he tosses in at the last minute, which smoke the oven and glaze the dough with a slight bitterness.
Tracy said, "I'm one of those guys who don't eat the crust; I eat the whole thing, then leave the crust. But when I came here and ate your pizza, I ate the whole crust. It's so good!"
"Arigato!" Tamaki laughed. "That's exactly the way I want it, for you to eat every last morsel."
Just 10 months after Tamaki opened the doors of Pizza Studio Tamaki (or PST) last year, the famed Michelin guide was already recommending his pizza. Perhaps more importantly, it's kid-tested and mother-approved.
"I never thought I would say this coming from close to New York, in New Jersey," said one woman. "I think pizza here in Tokyo is better than a lot of the places in the U.S."
"Them's fighting words," said Tracy.
"They are fighting words, you're right!"
Craig Mod is a writer who has been spreading the word about the new wave of Japanese pizza. "When I first found Tamaki, it was a total revelation," he said. "Friends would visit from New York and I'd say, 'I know you are in Tokyo, but trust me, let's go have a pizza.' And they'd go, 'C'mon, let's go get ramen, let's go get sushi.' We'd sit at the counter, Tamaki would serve us our pizza, and they would just be speechless."
Tracy asked, "Is there something culturally here – the exactness, the striving for perfection – that is making this work?"
"Japan has a history and a culture of valuing commitment as a way of defining success – not necessarily connecting success with making the most number of pizzas, but making the best pizzas as well as you can make them," Mod replied.
But if Tokyo has become an unlikely pizza mecca, it's thanks largely to a restaurant that opened more than two decades ago, called Seirinkan. Its owner, Susumu Kakinuma, studied pizza making in Naples and brought it home to Tokyo. To this day, he serves only the original "M & M"s: margherita and marinara.
"Learning was a pleasure," Kakinuma said. "Pizza is really like playing music. Mozzarella, tomato and basil form a melody." it's a metaphor he takes literally at the end of each day, banging on a drum set in the basement of his restaurant.
Kakinuma is considered the godfather of Tokyo's pizza culture, and has now trained many of the city's top pizza makers. He also inspired Tamaki, who worked at one of his restaurants before deciding he finally had the skills to open his Pizza Studio.
Tracy asked Tamaki, "Do you think the Japanese or the Italians are making better pizza?"
"I'm not sure I should answer this!" he laughed. "This is all I know: If Italian was tastier, I'd be making it."

For more info:

Story produced by Lucy Craft.
Thanks for reading CBS NEWS.
Create your free account or log in
for more features.