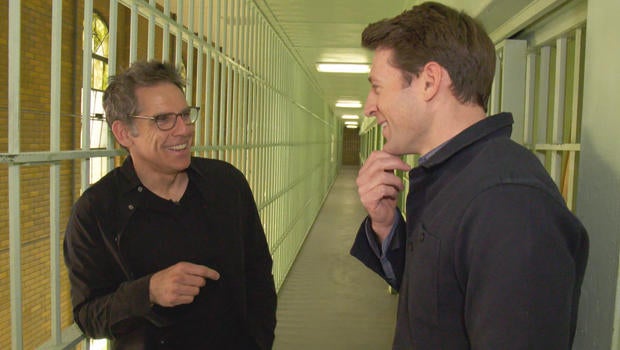 Ben Stiller on directing the prison-break drama "Escape at Dannemora"
In June 2015, a pair of convicted killers vanished from their cells inside a maximum security prison in upstate New York. It seemed only a matter of time before their brazen escape, and the 23-day manhunt that followed, got its Hollywood close-up. What might surprise you is just who's behind that close-up.
"I was out of the country shooting 'Zoolander 2' when it happened, so I wasn't as familiar with it," said Ben Stiller, one of the funniest actors on the planet, the star of three separate billion-dollar comedy franchises ("Night at the Museum," "Madagascar," and "Meet the Parents") – not to mention favorites like "There's Something About Mary," "Tropic Thunder," and those "Zoolander" movies.
"So, this is what's confusing: It's sort of like, 'There was a big prison break. We should make this into a great drama. Let's get the 'Zoolander' guy to take a look at it!'" said correspondent Tony Dokoupil.
"Yeah, some people might think that this could actually be funnier than 'Zoolander 2'!" Stiller laughed. "I don't blame them for that. Because I would probably think that, too, if I didn't know anything about what I was doing and they said, 'Oh, Ben Stiller's gonna do this?' 'cause they don't know what's going on in my head."
As it turns out, nothing was more serious than directing a real-life drama.
The result is "Escape at Dannemora," a seven-part miniseries, debuting next Sunday on Showtime (a division of CBS). It stars Benicio Del Toro as Richard Matt, serving 25 years-to-life for the kidnap-murder of his former employer; and Paul Dano as David Sweat, also sentenced to life for murdering a sheriff's deputy.
To watch a trailer for "Escape at Dannemora" click on the video player below:
Dokoupil asked, "How do you even get a hacksaw blade into prison?"
"Well, that's why you sleep with the woman who runs the tailor shop!" Stiller replied.
The key to their escape was help from a prison employee with a romantic appetite: Joyce Mitchell, played by Patricia Arquette. "I think she's bored and she's looking to feel something," she said.
"What does Ben do to help you bring out this character?" Dokoupil asked.
"I wasn't sure how he was going to be as a director. But he's really generous with actors and gives you a lot of support and listens to your ideas, and really lets you try them out in a really authentic way."

Although Stiller, at 52, has directed in the past, this marks the first time he's taken on directing exclusively. Asked how he felt about taking on the job, Stiller said, "It was a personal revelation, directing and not acting. 'Cause you know, who wants to direct me, right? I don't!"
Stiller says it was the nitty-gritty details of the story that hooked him, so much so that while filming on location last February, he made sure we saw the actual manhole cover where the two escapees emerged to freedom. "I just kept coming back to the facts. Like, what really happened? And if there were something that seemed kind of almost unbelievable but it was true, that was something I wanted to try to include so that people would have that reaction, and go: Come on, that can't be true!"
But Stiller couldn't get permission to film inside the prison, so he and the team built a full-scale replica of the cell block where Sweat and Matt hatched their plan.
First, they pounded through a wall. They then cut their way into a steel pipe, and shimmied 15 feet to cut a second hole, to freedom.
Stiller shimmied through the pipe as well. "Yeah, I mean, as a director, I felt like I had to!"
Perhaps that's because the son of comedy greats Jerry Stiller and Anne Meara didn't always dream of following the family into performing. "In my mind I was always thinking, I want to be a director. I want to be a director."
"So the whole got-a-Super-8-camera-at-age-8-or-9, that's true?" Dokoupil asked.
"Yeah, yeah. I mean, that was the only option back then!" he laughed. "Lots of fake blood. I remember making my sister throw up yogurt once in the elevator."
But after directing the 1996 movie "The Cable Guy," Hollywood executives had a message for Ben Stiller, the director: "The message being that, like, the phone not ringing!" Stiller laughed. "That being, there is no message. Checking your messages and there is no message. Yeah, 'Cable Guy' was not a hit!"
In fact, the opening of the New York Times review of "Cable Guy," which starred Jim Carrey as a devious cable technician, announced it as "the true disaster movie of the summer."
"Yeah, yeah, I remember reading that [opening paragraph]. I don't know if I read the rest of it!" Stiller laughed.
"I wouldn't have," Dokoupil offered.
Two years later, "There's Something About Mary" was a surprise hit, beginning actor Ben Stiller's career as a master of gross-out humor, humiliation and pain.
"Are there gags that you've looked at in the script and been like, 'I'm sorry. I'm just not doin' that'?" Dokoupil asked.
"Sure, yeah. Those are the ones you didn't see."
Still, broad comedy has always co-existed with the more serious roles Stiller says he's proud of, but he now admits humor may have to take a backseat. "I'm not really that interested in doing that kind of stuff," he said. "That's just where I'm at in my life now."
"Are we seeing a kind of semi-retirement from comedy?"
"Possibly," he laughed.
"Full-on retirement?"
"It always goes well for actors, when they announce their retirement, doesn't it?"
Even so, "Escape at Dannemora" does sound more and more like an escape for Ben Stiller, too. "That would be a great escape!" he laughed. "I would love it."
"You'd be happy with that?"
"Yeah, for sure. I love directing. I would be very happy to do this as long as I can do it, for sure."

For more info:

Story produced by Jay Kernis.
Thanks for reading CBS NEWS.
Create your free account or log in
for more features.