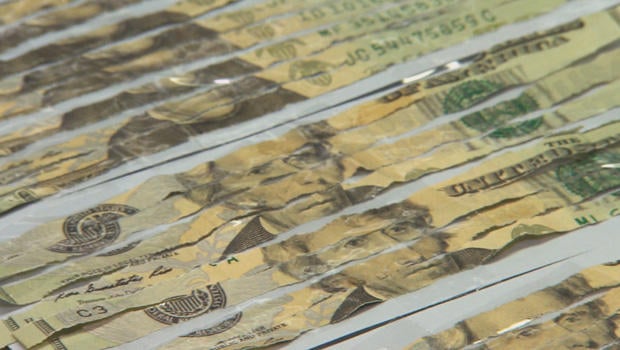 This week on "Sunday Morning" (July 29)
"THE MONEY ISSUE"
Guest host: Kai Ryssdal, host of "Marketplace" from American Public Media. (Some of the stories on this special broadcast were previously aired on April 15, 2018.)
COVER STORY: Universal basic income: Will it work? | Watch Video
Stockton, Calif., is launching a pilot program to test the benefits of a Basic Universal Income (BUI) -- giving $500 a month of free money (paid for with philanthropic funding) to residents to fight economic hardship. Lee Cowan reports.
For more info:

CURRENCY: How the Mutilated Currency Division rescues destroyed cash | Watch Video
Do you have money that has been damaged by fire, water, termites, or has literally been chewed up by Fido? There is an office at the U.S. Bureau of Engraving and Printing that will replace your damaged bills. Rita Braver shares some of the wild stories of currency that has gone through the wringer (or much, much worse).
For more info:
WORK: Co-working: Revamping the way we work | Watch Video
Freelancers, consultants and entrepreneurs no longer need to work out of their homes or garages. Instead, they can rent space at "co-working" firms, like WeWork, that provide a place to plug in as well as all the perks of a shared office space - like a gym membership, but for work. Tony Dokoupil examines the co-working industry, which has grown from as few as 70 people in 2007 to 1.5 million worldwide.
For more info:
ISLAND-HOPPING: Tourism in the Galápagos | Watch Video
Expedition cruising is a rapidly-growing sector of the tourism industry that brings visitors to ecologically pristine – and vulnerable – destinations. Conor Knighton reports.
For more info:
ART: "The Sweat of Their Face": An exhibition of workers | Watch Video
Portraits of Americans that one might see in a museum typically have been of the nation's elite, where a wealthy subject was able to hire an artist to paint a portrait. A new exhibition at the National Portrait Galley in Washington, "The Sweat of Their Face," reveals the faces of laborers in portraits of workers, immigrant labor, child laborers and custodians whose efforts continuing build our country. Michelle Miller reports.
For more info:
ART: Computer creativity: When AI turns its gaze to art | Watch Video
Artificial intelligence (or AI) is now creating paintings and music through the use of "machine learning." Can we humans tell the difference between artwork created by people and artwork created by machines mimicking human creativity? David Pogue is put to the test.
For more info:
SUCCESS STORY: The story of the My Pillow king | Watch Video
You've seen the infomercials for "My Pillow"; Mike Lindell has sold 41 million of the pillows he invented, and he did so against some pretty stiff odds, including overcoming a crack cocaine habit that became so bad, his dealers staged an intervention. Martha Teichner talks with Lindell about his unique success story, and how his business has helped other recovering addicts.
For more info:
INSTAGRAM: Animal influencers: How pets earn big bucks as Instagram stars | Watch Video
Richard Schlesinger finds out how pets that have become stars on Instagram have also won their owners some lucrative sponsorships.
For more info:
SUNDAY PROFILE: Salma Hayek Pinault on charity and activism | Watch Video
The actress-producer has helped propel humanitarian efforts with her philanthropic work, and helped propel the #MeToo movement with her personal stories. John Blackstone reports.
WEB EXTRA: Extended interview transcript with Selma Hayek Pinault
WEB EXTRA VIDEO: Salma Hayek Pinault on activism
Salma Hayek Pinault, an Oscar-nominated actress and producer, has also made a name for herself as an activist and fundraiser for social causes, from aiding child welfare and humanitarian relief for earthquake victims, to helping women who suffer from domestic violence. In this web exclusive, she offers John Blackstone an example of how she advocated for social causes, and why she sees herself as a "dreamer."
WEB EXTRA VIDEO: Salma Hayek Pinault on making "Frida"
The Oscar-nominated actress and producer of "Frida" talks with John Blackstone about the optimism she summoned to push through the 2002 Oscar-winning film about the Mexican painter, and how actress Ashley Judd responded to her request to appear in the film.
WEB EXTRA VIDEO: Salma Hayek Pinault on the success of the #MeToo movement
Oscar-nominated actress-producer Salma Hayek Pinault talks with John Blackstone about the changes she can already see in Hollywood manifesting from the #MeToo movement.
For more info:
THE GREAT BEYOND: Real estate to die for (Video)
As with most real estate, the key to cemetery plots is "Location! Location! Location!" Luke Burbank talks with Baron Chu, a broker of burial plots, and visits the Hollywood Forever Cemetery in Hollywood, Calif., where pricey plots are sold to starry-eyed customers seeking status and a view, from six feet under.
For more info:
ART: Documenting poverty: Photographing the forgotten | Watch Video
For the last four years photographer Matt Black has traveled the country, driving more than 100,000 miles, to photograph communities living in poverty -- people of all races, cultures and geographies whose lived experiences contradict the idea of America as a "Land of Milk and Honey." Michelle Miller reports.
For more info:
FORTUNE: Can money buy happiness? | Watch Video
A fancy car, a new wardrobe, an iPhone X - just a few of the things that money can buy. But can cash bring contentment? Susan Spencer talks with a man who chucked his six-figure salary as a globe-trotting investment banker to take a job as a Dallas fireman.
For more info:
NATURE: Bucks (Extended Video)
We leave you this morning with bucks - white-tailed deer near Ocala, Florida. Videographer: Mark Emery.

WEB EXCLUSIVES:
LENS: A gallery en route: Photographs of commuters | Watch Video
Day after day, Danish photographer Peter Funch could be found on the corner of 42nd Street and Vanderbilt Avenue in New York City, documenting the daily migration of commuters around Grand Central Station, capturing the poetry and elegance of daily rituals. Michelle Miller reports.

NATURE UP CLOSE: Anthropomorphism or evolution?
Humans may share more with animals than we think, including how we feel.
---
The Emmy Award-winning "CBS Sunday Morning" is broadcast on CBS Sundays beginning at 9:00 a.m. ET. Executive producer is Rand Morrison.
Follow the program on Twitter (@CBSSunday), Facebook, Instagram (#CBSSundayMorning) and at cbssundaymorning.com. "Sunday Morning" also streams on CBSN beginning at 9:30 a.m. ET and at 1 p.m. ET, and is available on cbs.com, CBS All Access, and On Demand. You can also download the free "Sunday Morning" audio podcast at iTunes and at Play.it. Now you'll never miss the trumpet!
Full episodes of "Sunday Morning" are now available to watch on demand on CBSNews.com, CBS.com and CBS All Access, including via Apple TV, Android TV, Roku, Chromecast, Amazon FireTV/FireTV stick and Xbox. The show also streams on CBSN beginning at 9:30 a.m. ET and 1 p.m. ET.
You can also download the free "Sunday Morning" audio podcast at iTunes and at Play.it. Now you'll never miss the trumpet!
---
Thanks for reading CBS NEWS.
Create your free account or log in
for more features.