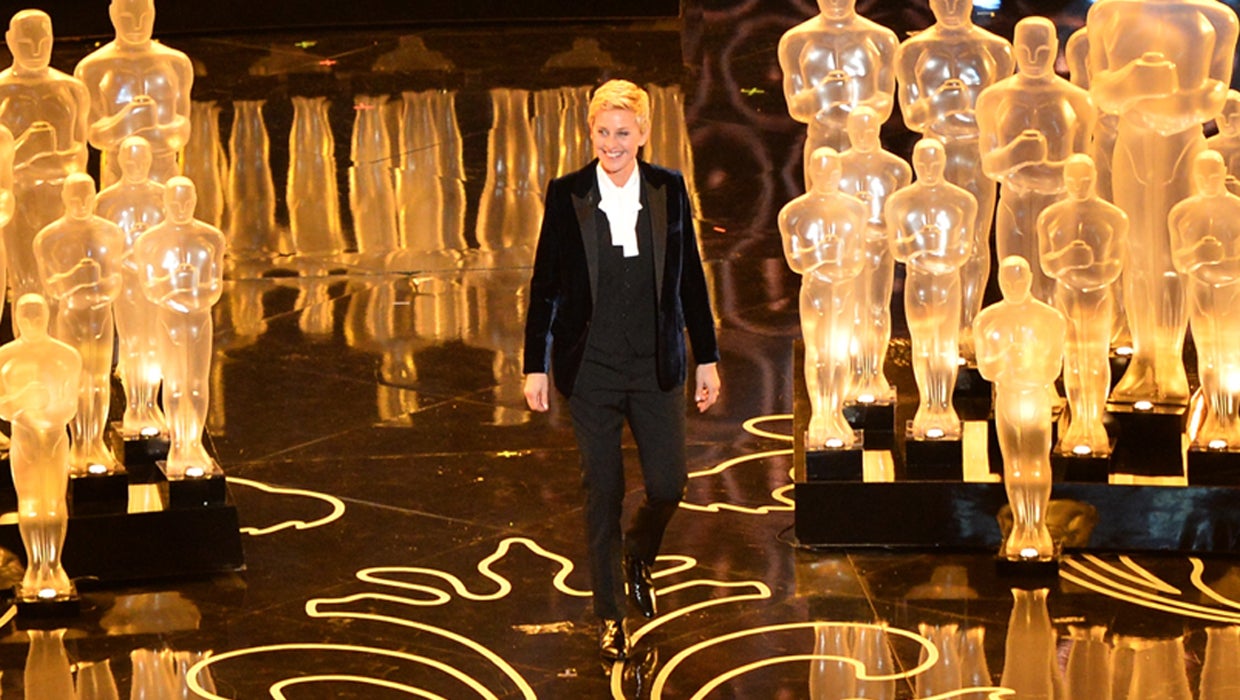 Ellen DeGeneres brings laughs to Oscars 2014
Seven years after she last hosted the Oscars, Ellen DeGeneres is back as emcee of Hollywood's biggest night.
The funny-lady kicked off the 86th Academy Awards at 8:30 p.m. ET on Sunday night, airing live from the Dolby Theatre in Hollywood, Calif.

DeGeneres didn't appear in any sort of pre-produced satirical skit (a la frequent Oscars host Billy Crystal) or launch into a choreographed dance routine (see last year's host Seth MacFarlane's "boobs" number) when she began the prestigious ceremony, instead simply giving shout-outs to many of the nominees.

But the host couldn't resist some lighthearted jabs aimed at Hollywood.

"For those of you watching around the world, it has been a tough couple of days for us here. It has been raining. We're fine. Thank you for your prayers," DeGeneres said as she opened the show, referencing the recent heavy rains which have plagued Los Angeles and the rest of Southern California over the last several days, following months of drought in the area. The downpour even forced Oscar organizers to scramble to try to water-proof the Academy Awards red carpet in preparation for the stars' arrivals.

DeGeneres called out Liza Minelli, telling the veteran performer that she made for a convincing drag queen.

"Good job, sir," the host quipped to the "Cabaret" actress.

Minelli attended the awards show for a special segment honoring the 75th anniversary of the release of "The Wizard of Oz," which starred her mother, Judy Garland. DeGeneres had a couple of costume changes throughout the night, and at one point changed into the Glenda the Good Witch garb (much to the delight of the audience) as a tribute.

DeGeneres gave a shout-out to"American Hustle" best supporting actress nominee Jennifer Lawrence, referencing her infamous trip last year while walking up to the Oscars stage.




"If you win tonight, I think we should bring you the Oscar," DeGeneres joked to Lawrence.

Another nominee also got a mention during the opening monologue.

"I'm not going to say who looks the most beautiful. But it's clear. It's Jared Leto," DeGeneres said of the actor.

"Ellen, I love you," was the first thing Leto later uttered when he accepted his best supporting actor Oscar for "Dallas Buyers Club."

DeGeneres closed out her opening by making a crack at the film heavily favored to win the top prize this year.

"Possibility number one: '12 Years a Slave' wins best picture," she said. "Possibility number two: You're all racists."

DeGeneres later tweeted this photo on her Twitter page:
Among the Oscars 2014 highlights, DeGeneres took "selfies" with the likes of "12 Years A Slave" stars Brad Pitt and Chiwetel Ejiofor, best actress nominee Julia Roberts and some of the cast members of "Hustle."
The host also ordered pizza and tried to give it out to audience members like "Wolf of Wall Street" best actor nominee Leonardo DiCaprio. Leto took a slice, as did awards presenter Harrison Ford.
There was only one snag to DeGeneres' pizza plans.
"I don't have any money," she told the audience when it was time to pay the delivery guy, turning to "Gravity" best actress nominee Sandra Bullock for a helping hand.
"Sandy, you have money. You've got a lot of money. You can tip him right?"
Tell us: What do you think of DeGeneres' hosting performance? Let us know in the poll above.
Check out our list of Oscars 2014 winners.
Thanks for reading CBS NEWS.
Create your free account or log in
for more features.