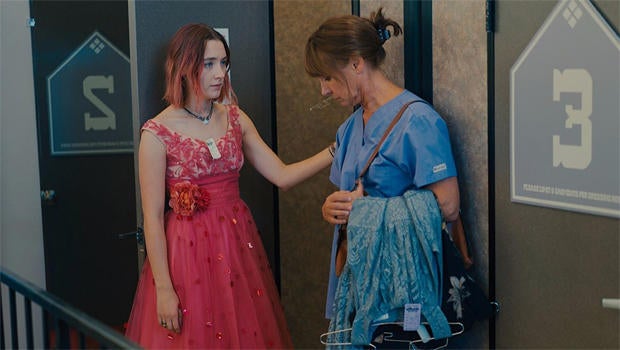 Review: Saoirse Ronan and Laurie Metcalf fly high in "Lady Bird"
It is remarkable that Saoirse Ronan, the Oscar-nominated actress who first came to attention playing a complicated teenager in the 2007 film "Atonement," is still playing complicated teenagers ten years later. Yet with her memorable performances in "Hanna," "The Lovely Bones," "The Grand Budapest Hotel" and "Brooklyn," there's no reason to think the 23-year-old can't pull it off.
In the new comedy "Lady Bird" (bowing Sunday at the New York Film Festival), Ronan plays Christine McPherson, who gives herself the name Lady Bird, if only to tick off her controlling mother, Marion (played both furiously and warmly by Laurie Metcalf). A senior at a Catholic girls' school in Sacramento, Lady Bird is eager to get to college, preferably one very far from California, despite less-than-stellar grades and meager family finances.
As she schemes to apply to schools on the East Coast that her parents couldn't possibly afford, Lady Bird and her pals are also distracted by the usual teenage problems, pretensions and moods, from falling for cute acting partners joining her school play, to breaking through girl cliques, to parental or nun disapproval.
What makes the film so much more winning than similar tales of teen angst is the depth of the writing by screenwriter-director Greta Gerwig. Best known as an actress ("Frances Ha," "Maggie's Plan," "Weiner-Dog"), she has also written several features and the TV series "China, IL." Her characters here face not just issues of romance, heartbreak, stressed friendships and sibling rivalry, but also class and wealth (as lived on both sides of the railroad tracks), job loss, and -- in the case of Lady Bird's impulsiveness, outsized ambitions and awkwardness -- putting square pegs in round holes.
Thanks to the writing and to the performances by Ronan and Metcalf, the mother-daughter clashes have much more resonance than one would expect, as we can empathize with both figures in the duel (and with the father, played by Tracy Letts, who manages to keep out of the line of fire). Ronan's age in fact aids her performance, by bringing a well-spring of emotion and nostalgia for Lady Bird's final year in high school that both underlines her vibrant youthfulness and callow impatience with other people, and magnifies her sensitivity and affection which seem far above her cinematic peers.
Metcalf's Marion is also remarkable, both for running the bases of parental concern but also injecting gravitas and humor in equal measure, seeing herself as playing the long game (as compared to her kids).
The quick editing of the film, which allows Lady Bird (and us) to flit from one emotion to another, shows Gerwig's perspicacity for getting inside the character's head, as when the scribbled name of a paramour is readily scratched out, to be replaced by the next object of affection. It's to her credit that Gerwig -- and the supporting cast, including Lucas Hedges ("Manchester By the Sea"), Timothée Chalamet ("Call Me By Your Name") and Beanie Feldstein -- helps make Lady Bird's story both specific (Sacramento in 2002, pre-smartphones) and untethered to any particular place and period. After all, true charm is timeless.
"Lady Bird" (distributed by A24) screens at the New York Film Festival on Sunday and Monday, before opening in theaters November 3. 93 mins. The film is not rated, but includes situations featuring a Catholic schoolgirl that no nun would condone.
To watch a trailer for "Lady Bird" click on the video player below.

For more info:

More New York Film Festival reviews:
Thanks for reading CBS NEWS.
Create your free account or log in
for more features.