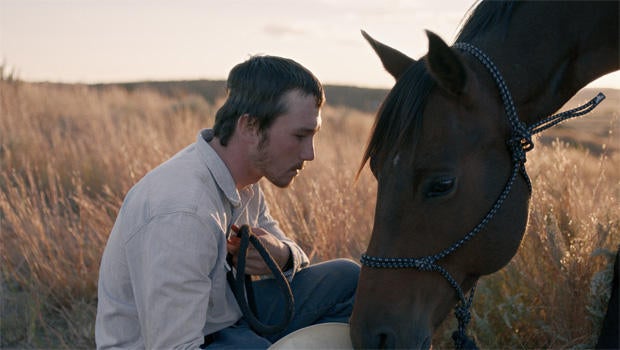 Review: "The Rider," a somber and haunting new western
It would be hard to match the authenticity of the new western "The Rider," about a young rodeo rider recovering from a near-fatal accident, given that the movie so expertly captures the life of its protagonist, who plays a version of himself with uncommon ease.
In 2015 director Chloé Zhao ("Songs My Brothers Taught Me") met rodeo rider Brady Jandreau, a Lakota cowboy, on the Pine Ridge Reservation in South Dakota, and became fascinated with his life, imagining it as a film.
When Brady was thrown off his horse at a competition the following year, crushing his skull and putting him into a coma, his dreams of rodeo stardom seemed to have come to an end. But not being able to ride -- doctors said he would risk his life doing so -- was a death sentence of another order for Brady. He felt as useless as a horse with a broken leg. (And we know what they do to horses with broken legs.)
His struggle to find a new purpose while still fulfilling the mythic life of a cowboy, and of accessing the unique bond with horses that he exhibited from an early age, became the heart of Zhao's film, in which Brady and his family play fictional versions of themselves.
Co-starring with Brady are his father, Tim, playing his own father; his sister, Lilly, who has Asperger's Syndrome; and Lane Scott, one of Brady's best friends, who was left a paraplegic after a bull-riding accident.
"The Rider," which won the Art Cinema Award at this year's Cannes Film Festival (and bowed yesterday at the New York Film Festival), has the dual qualities of being both highly intimate and panoramic -- making the lone figure on the prairie as riveting as the South Dakota landscape he inhabits. You certainly can't fault the cinematography by Joshua James Richards, nor Zhao's deft directorial touch.
Brady's performance may be hard to critique, being a version of himself, but there isn't a false note in sight. And when he communes with a horse, we see a magic beyond acting.
To watch a clip from "The Rider" click on the video player below.
"The Rider" screens at the New York Film Festival on Saturday. A release date for the film, to be distributed by Sony Pictures Classics, has not yet been announced. 104 mins. The film is not yet rated.

For more info:

More New York Film Festival reviews:
Thanks for reading CBS NEWS.
Create your free account or log in
for more features.