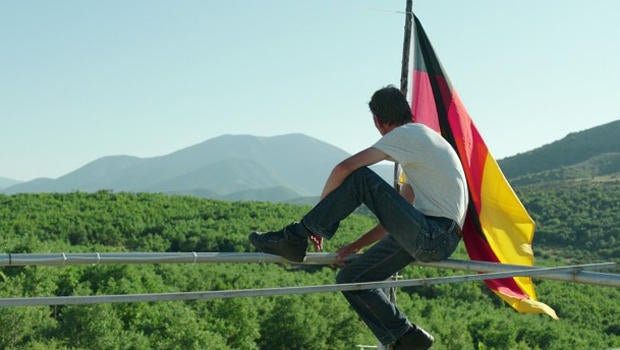 Review: Film genre gets a European makeover in "Western"
It has the classic template of an American western as directed by Howard Hawks or Anthony Mann: a loner finds himself in the middle of a feud between two camps, each of which are trying to eek out a living in an isolated landscape, where human emotions and nature's cruelties point to a conflict's dark resolution.
But "Western" (making its U.S. premiere Saturday at the New York Film Festival) is a contemporary tale set in Eastern Europe, in which a German work crew, building a dam in rural Bulgaria, is at odds with the inhabitants of the small village who ostensibly will prosper from the dam's construction.
Problems with communication are only one impediment to the two groups getting along; the "invasion" of German workers stirs long-held resentments and mistrust, as does its intrusion among the local black marketeers.
The central figure in the story is a German laborer, Meinhard (Meinhard Neumann). As reticent as Gary Cooper, he appears to spend more time observing those around him than applying his labors. Holding himself at arm's length from the more raucous Germans who behave like louts with local women, Meinhard strikes up a friendship with a villager whose horse he liberally borrows. The bond of horse and rider is yet another throwback to an iconic film image.
Just as water is the reason for the workers' presence, it also proves divisive. The source of drinking water -- a rare commodity, shared between neighboring towns for years -- is diverted by the Germans, upending the sense of equanimity and balance (and mirroring the unease which exists, on a much larger scale, between nations on the European continent these days). While Meinhard satisfies the position of go-between, he also finds himself thrust into a dangerous position by corrupt locals who see him as an easy target.
Director Valeska Grisebach (who was a script consultant on last year's German comedy "Toni Erdmann") focuses on the brusque masculinity in both camps with her unerring eye. (Women, a rarer presence on screen, inhabit an uncomfortable DMZ between the two groups.) Cast with predominantly non-professional actors, the film feels natural and lived-in, with an undercurrent as desperate as a small town struggling to survive.
Despite the brewing resentments, the tensions in "Western" stay relatively low-key. Violence erupts almost by accident; blood is shed but quickly dispelled, becoming an excuse to share drinks. And a sign of nationalism -- a German flag, stolen from the workers' camp -- becomes a prize to be recaptured. Because in the clash of cultures, pride may be the biggest impediment to peace.
"Western" (distributed by Cinema Guild) screens Saturday and Sunday at the New York Film Festival. No U.S. release date is announced. In German and Bulgarian. Not rated. 119 mins.
To watch a trailer for "Western" click on the video player below.

For more info:

More New York Film Festival reviews:
Thanks for reading CBS NEWS.
Create your free account or log in
for more features.