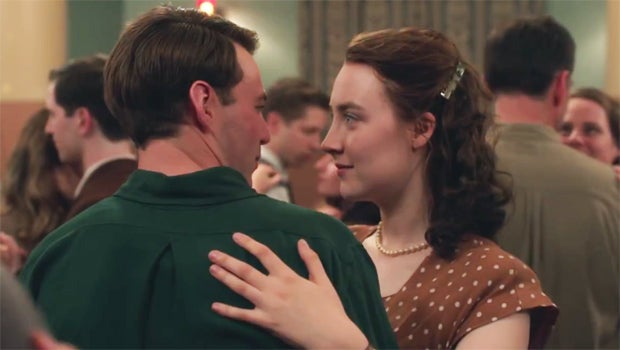 NYFF review: An immigrant finds romance in "Brooklyn"
"Home is home," says one character matter-of-factly to a recent immigrant to America, in the new romantic drama, "Brooklyn." Would that the distinction were as clear to Eilis Lacey (Saoirse Ronan), a young woman who is lifted from an unpromising existence in 1950s Ireland to a sponsored position in New York City.
Residing in a boarding house in Brooklyn, she finds almost as many Irish on this side of the pond, but little to cure her homesickness for her sister and widowed mother -- until, that is, she meets Tony (Emory Cohen), a thoughtful, working-class Italian who sweeps her off her feet at a church dance. Suddenly the smart-but-sensible Irish lass who'd never twirled spaghetti on a fork or seen a baseball game becomes intimately knowledgeable of such Brooklyn staples.

When a tragedy pulls Eilis back to Ireland, she finds her family and friends reaching out to keep her there. Among the attractions for staying: a sensitive rugby player (Domhnall Gleeson).
Based on the novel by Colm Tóibín and adapted by Nick Hornby ("About a Boy," "An Education"), "Brooklyn" is a refreshingly sweet tale of a woman having to make difficult choices in her life, knowing that there is no going back from those decisions. The story is helped by the fact that most every character is decent, and behaves not out of malice or self-interest but from the simple act of getting on with life. There is enough drama in life, the film posits, without having to resort to melodrama.
Though the story has its share of dramatic pitfalls for Eilis, director John Crowley ("Intermission," "Closed Circuit") keeps the sentimentality to a minimum. (At a press conference he preferred the term "emotional." OK, we'll buy that.) Shot in Ireland, New York and Montreal, "Brooklyn" has superior period design and is unashamedly old-fashioned in its style, with only a whiff of sexuality reminding us that this wasn't filmed in the 1950s.
Ronan, who was introduced in the film "Atonement" and has since grown up in roles in "The Lovely Bones," "Hanna," "Byzantium" and "The Grand Budapest Hotel," here plays her very first Irish character. It's a woman who doesn't quite know what to expect, but is eager not to simply live for someone else, or to adhere to someone else's expectations. As Eilis and Tony stare out at the Long Island fields that will one day give rise to a new community, she exudes an optimism that this New World holds untold opportunity and promise.
Cohen, who appeared in "The Place Beyond the Pines," "The Gambler." and the TV series "Smash," is a natural, with a lip curl like Brando's and an easy-going manner that is as fetching as Ronan's.
The film also benefits from an exceptionally strong supporting cast, including Julie Walters as the biting owner of Eilis' boarding house; Emily Bett Rickard, Eve Macklin, Nora-Jane Noone and Jenn Murray as fellow residents, each on the lookout for an eligible man; and Jim Broadbent as the Brooklyn priest who helps shelter Eilis from the hardships of her transition to a home away from home.
"Brooklyn," a Fox Searchlight release, opens November 4. Rated PG-13 (for brief strong language and sexuality). 112 mins.
To watch a trailer click on the video player below.
For more info:

More NYFF53 reviews:
Thanks for reading CBS NEWS.
Create your free account or log in
for more features.