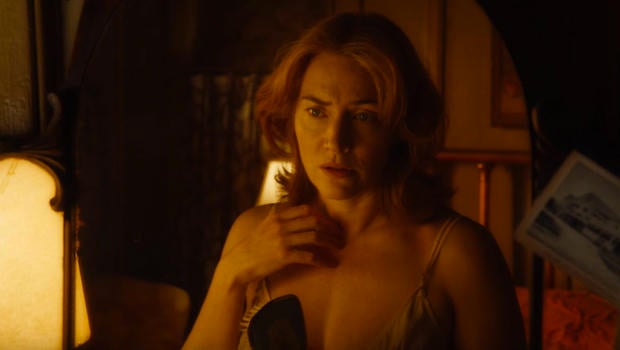 Review: Kate Winslet glows in Woody Allen's "Wonder Wheel"
Woody Allen's "Wonder Wheel," a romantic comedy-drama starring Kate Winslet as an adulterous woman in 1950s Coney Island, is the director's best film in years.
The movie, which had its world premiere Saturday at the New York Film Festival, has many of the familiar nostalgic trappings of a period Allen film, including starry-eyed characters with artistic aspirations who become embroiled with romantic misunderstandings.
But what the story hinges on is a moral dilemma that arises for Ginny (Winslet), a waitress, that fits squarely inside the emotional diorama that she has arranged for herself in the manner of Blanche DuBois -- a nexus of ambition, regret, infidelity, jealousy and fear.
Winslet's performance is a remarkably rounded depiction of a woman tortured by a cruel mistake in her past, for which she has only temporarily obtained rescue and redemption through cohabitation with her second husband, Humpty (Jim Belushi), a fellow recovering alcoholic who, like her, works on the boardwalk. Ginny is preoccupied by her son, a budding arsonist, and by her affair with a lifeguard and aspiring playwright, Mickey (Justin Timberlake).
But it's the arrival of Carolina (June Temple), Humpty's estranged daughter from his first marriage, which truly turns the household upside-down. After marrying a gangster several years earlier, causing a rift with her father, Carolina has since seen the error of her ways. But having sung to the FBI, this little canary is now a woman targeted by the mob, putting everyone in her family in jeopardy.
Compared to other recent Allen films -- "Cafe Society," "Irrational Man," "Magic in the Moonlight," "Blue Jasmine" and "To Rome With Love" -- "Wonder Wheel" shows a higher degree of diligence in his screenplay -- its dialogue and plot are less writerly and mannered. And for a story that is remarkably stagebound (this could easily be produced as a theatrical play, as hardly any scenes take place near surf), the look of the film is beautifully expansive, taking full advantage of cinematographer Vittorio Storaro's evocative colors, Santo Loquasto's production design, and Suzy Benzinger's costumes. The glowing light that frames Winslet's face as she reveals the depth of her emotional needs, shifting colors as her moods shift, is both stirring and sad.
The cast also brings a naturalism that is sometimes missing from the actors in Allen's films, given his propensity to lean on his absurdist humorist's touch in the realm of storytelling. (Some actors in his films, like Joaquin Phoenix in "Irrational Man," can blend realism and farce; others are less well-equipped.) Winslet is tops here, as is Belushi, who brings enormous empathy to the figure of a man trying to pull together his fractured psyche (and who feels responsible for his wife's as well). Timberlake is believably untrustworthy in his pursuit of amorous attention. And Juno Temple is delicate in her dream of escaping the role of a gangster's wife and picking up her life where she left off.
And while "Wonder Wheel"'s story turns on plots twists that may be conveniently stretched here and there, it isn't predictable or overbearingly melodramatic when characters become trapped by the consequences of their actions. They're done in by serendipity, the universe's karma, and their own willful blindness, and that's quite dramatic enough.
"Wonder Wheel" (distributed by Amazon Studios) opens in theatres on December 1. 101 mins. Rated PG-13.
To watch a trailer for "Wonder Wheel" click on the video player below.

For more info:

More New York Film Festival reviews:
Thanks for reading CBS NEWS.
Create your free account or log in
for more features.