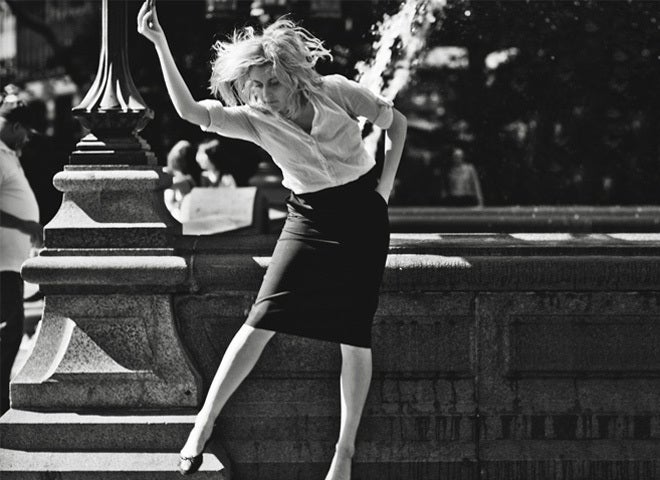 N.Y. Film Festival: Noah Baumbach's whimsical "Frances Ha"
NEW YORK "I wanted to kind of reinvent the way I made movies a little bit," said Noah Baumbach. "In some ways it was less about budget and more about a philosophy of shooting."
The director of "Kicking and Screaming," "The Squid and the Whale," "Margot at the Wedding" and "Greenberg," Baumbach also co-wrote the screenplays for Wes Anderson's "The Life Aquatic With Steve Zissou" and "Fantastic Mr. Fox." That whimsy informs his latest film, "Frances Ha," which stars Greta Gerwig as a twenty-something dancer in Brooklyn still on the cusp of adulthood, engaged in the process of choosing the identity she will wear in the world. Baumbach and his cast spoke to the press at this year's New York Film Festival, after the film's positive receptions at Toronto and Telluride.
Frances' feet never quite touch the ground and her wallet is perennially thin, as she flits from roommate searches to job searches to holidays with her family, all the while evoking someone far younger than her years.
While Gerwig expresses a brazen personality - her character is not averse to talking trash to friends and even engaging in playful mock fights - Frances is also unsteady and, like many of her generation, feels lost. As the film progresses you sense her growing desire to redefine herself, even as she risks separating from the people to whom she clings for support.
Although intimate, "Frances Ha" was shot in a formal manner, to give the character a stage, the director said, that was very much a movie. The style is reminiscent not only of Woody Allen's "Manhattan" - an inescapable comparison, given its black-and-white vision of New York City - but also of Jim Jarmusch and Francois Truffaut (underscored by quoting the music of Truffaut's frequent collaborator Georges Delerue). "The music was grand and romantic, and the look was beautiful and black-and-white and cinematic," Baumbach said, whose intent was to give Frances "her movie." With the difficulty nowadays of finding labs to handle black-and-white film, however, "Frances Ha" was shot digitally.
"I was comparing it to like a record like Paul McCartney made after The Beatles," Baumbach said. "He made these records in his basement, and they were really big sounding but they were very intimate, sometimes done with his wife. There's a tradition of pop records that are made that way. So I felt like, What's the movie version of that? What's something where, with a small group of people, we could make something in some ways homemade but in some other way that was like a great pop album?"
Baumbach was also back shooting in the city in which he grew up: "With 'Greenberg' I wanted to make a movie about Los Angeles . . . my great love for it and also the way that I felt not at home and alienated there," he said. "And with 'Frances' . . . I wanted it to feel like I how I felt about New York.
"I haven't run through Chinatown holding my friend's hand laughing, or peed on subway tracks, but maybe on some level I know that feeling,' he said. "The fact that it's also about location and dislocation, and about moving places - moving forward but also moving in place - I think all of that is true about my experiences in New York City."
The movie is structured by locations, Baumbch said, and was edited to allow glimpses of the characters in specific moments - sometimes cutting in the middle of dialogue, or ignoring the need to explain motivation.
"I think it's a continuation of this thing I started doing on 'Squid and the Whale' and 'Margot' and 'Greenberg,' to different degrees: the notion of coming in the middle of the scene, or when a scene needs to start, say, 20 seconds into it."
Baumbach and Gerwig (who also starred in "Greenberg") collaborated on the script, working on scenes together or separately, to develop the main character.
Gerwig said she related to Frances moving beyond her fantasy of success to feeling the satisfaction of having authorship over her career, by moving beyond dreaming that success will be handed to her and seeing past the obstacles that get in the way of her ambitions. "Making her own choreography, but in her small way, while holding down a day job, I think that's something emotionally that I very much relate to," Gerwig said.
Asked about her acting style, Gerwig quoted Johnny Cash: "'I play guitar like this because I don't know any other way.'
"It's funny, working on the script doesn't make acting in anything any easier. In some ways it makes it harder," she said, because the character's future is more defined to the actors. To that end, Baumbach only shared selected parts of the screenplay with the cast in advance.
Mickey Sumner, who played Frances' closest friend Sophie, said not knowing what was to come for her character was "liberating" as she did not have to "freak out what we were going to shoot next week. It really allowed me to focus on the day."
"Frances Ha" will be released by IFC Films in March 2013. Produced by Baumbach, Scott Rudin, Rodrigo Teixeira and Lila Yacoub.
Thanks for reading CBS NEWS.
Create your free account or log in
for more features.