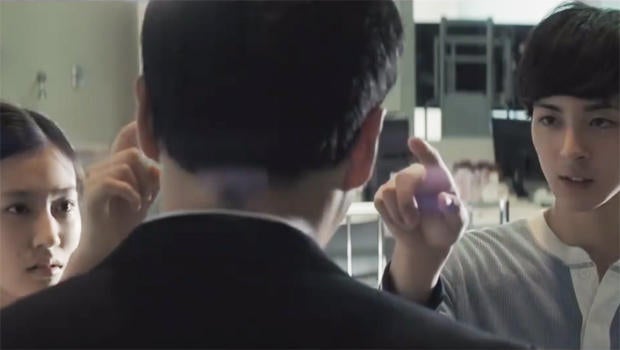 Review: An alien invasion and marital discord in "Before We Vanish"
"Before We Vanish" (bowing Saturday at the New York Film Festival) is the most recent of Japanese director Kiyoshi Kurosawa's three dozen film and TV features. Best known for his takes on horror and sex (including "Cure," "Charisma," "Pulse" and "Journey to the Shore"), Kurosawa toys with genre expectations, blending a sci-fi story about an alien invasion with a romantic drama of a marriage in crisis.
The film opens with a scene of Grand Guignol horror, in which a family is slaughtered, and a young woman (Yuri Tsunematsu), soaked in blood, wanders down the middle of a busy roadway, laughing to herself.
But the mystery behind that violence is buffered by a parallel domestic drama, in which a young woman (Masami Nagasawa) tries to help her husband (Ryuhei Matsuda) convalesce from a mysterious malady. He does not appear to be himself, and has difficulty with language and locomotion. He asks bizarre questions, and constantly wanders off, unsure of his surroundings. (There are no giant pods around, but there might as well be.)
Meanwhile, an ambitious reporter (Hiroki Hasegawa), investigating the woman behind the opening scene's bloodbath, crosses paths with a mysterious young man who claims to be an alien, part of an expeditionary force preceding an invasion that will wipe out the human race, except for a chosen few. The reporter humors him, but becomes convinced of the truth when he meets the bloodied girl, who is quite adept with firearms and close-quarter combat.
"Before We Vanish" doesn't take itself too seriously, with aliens casually attacking policemen when they aren't leisurely strolling towards the end of the world. But the domestic drama of a young couple struggling to reconnect, and of the power of love to surmount obstacles -- even an alien invasion! -- is more substantial, resonating while a beautifully-evoked apocalypse blinks in the background.
"Before We Vanish" (distributed by Neon Films) screens Saturday and Sunday at the New York Film Festival. No U.S. release date is announced. In Japanese. Not rated. 129 mins.
To watch a trailer for "Before We Vanish" click on the video player below.

For more info:

More New York Film Festival reviews:
Thanks for reading CBS NEWS.
Create your free account or log in
for more features.