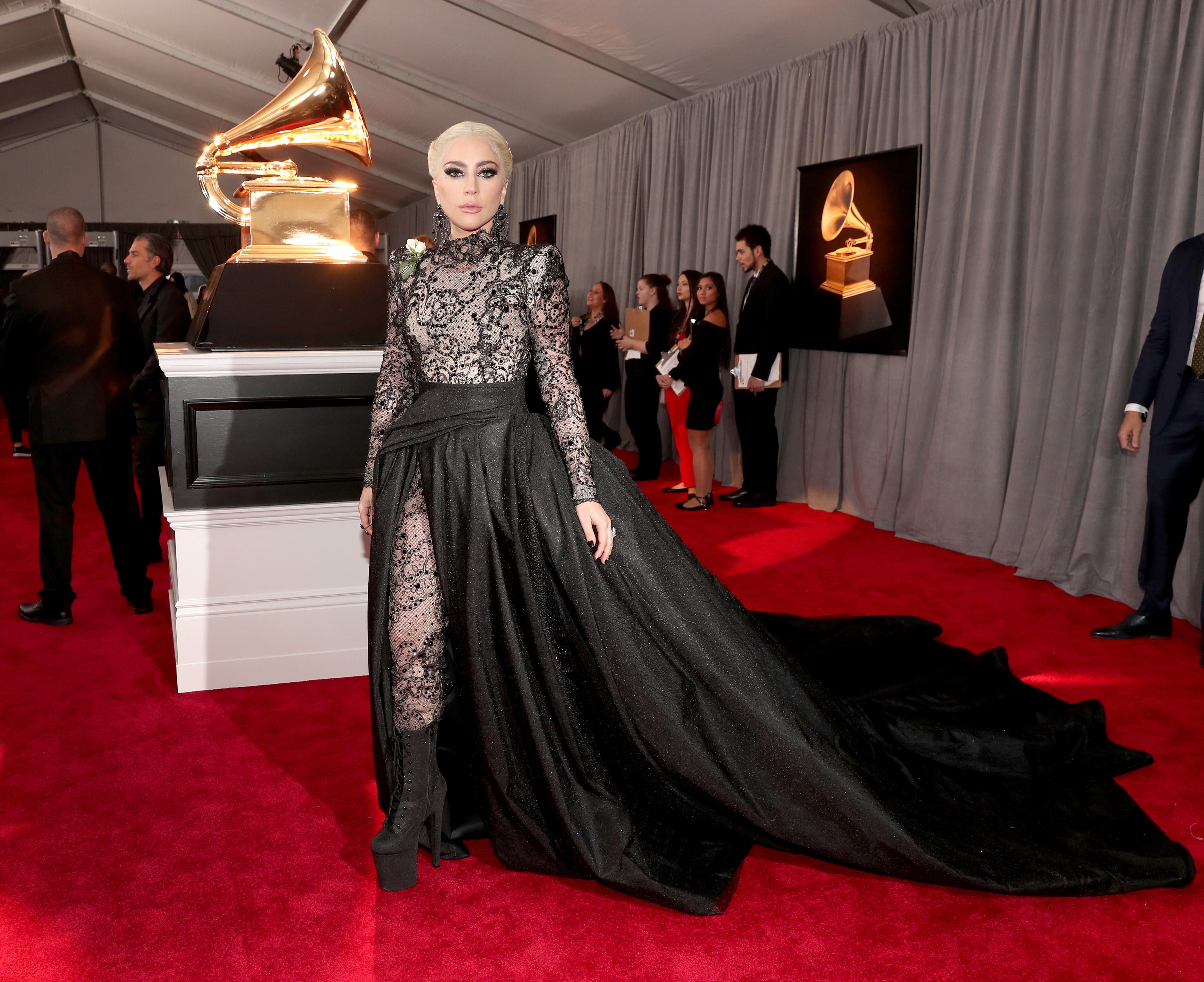 Lady Gaga among stars wearing white roses on Grammys red carpet
NEW YORK -- Stars, including Lady Gaga, turned out on the Grammys red carpet Sunday displaying white roses in solidarity with the Time's Up and #MeToo movements against sexual misconduct ahead of music's biggest night and what is usually the wildest display of fashion during awards season. Gaga was in a black lace top and leggings with a full skirt and train, white rose in place and her hair swept into a fishtail braid with black lacing.
Her signature towering platform shoes -- black boots this time around -- were on her feet.
In an interview with CBS News, singer Rita Ora said she was excited to participate in the music industry's response to the Time's Up movement.
"I'm wearing the white rose this week, which represents solidarity with everything that's going on and there's a lot of people also wearing it, so I'm excited to show my support," she said.
CBSN's Vladimir Duthiers spoke with several celebrities on the red carpet about the impact of the sexual misconduct movements.
"I think it is 'Time's Up,' I am #MeToo," artist India Arie said. "I think that it's important that it's crossing over to the music industry. I have to be honest, I was skeptical it was going to cross over at all."
"Its been so commonplace, that we're not sure what's appropriate and what's not appropriate," artist Andra Day told Duthiers. "I think there are certain things that we're just supposed to accept. It's so normal for us, it's so mundane. We've become used to it and we shouldn't be."
"It's been too long that people have been getting away with just how they want to treat them. It's time to get back to equality," Ne-Yo added.
Also seen on the red carpet: Rick Ross went for black fur over his black tuxedo, gold-trim shades in place.
Rapper K. Flay, in a black tuxedo jacket, chose a Time's Up button instead of the flower but noted all such symbols are important expressions of solidarity for women. Songwriter Diane Warren, a 15-time Grammy nominee, wore black and white and went her own way on symbols. She wore white gloves with "Girl" on one hand and "Power" on the other, explaining: "I didn't want to wear the rose. I'm a rebel."
Nominees The Secret Sisters won for largest white roses, noting it's time for the music industry to step up and better acknowledge sexual misconduct.
Perhaps it was a New York vibe -- the Grammys hadn't been held here in 15 years -- that had a parade of music men opting for traditional black tuxedos and suits. Or perhaps the black, including sparkly star looks, was a holdover from the solidarity display in support of women sexual misconduct survivors at the recent Screen Actors Guild awards.
Many women also went for black, both edgy and chic. Country star Reba McEntire, the latest pitch person as Col. Sanders for KFC, was among them in a Jovani sleeveless studded gown in black with silver embellishment, white rose in place as a reminder to everybody to "treat each other like we want to be treated. It's the golden rule."
Joy Villa, ever provocative on the red carpet, made a statement last year in a pro-President Donald Trump dress. This year, she wore a white gown with a rainbow uterus with fetus on one side and carried a "Choose Life" handbag. Oh, and a huge crown topped her head.
Country's trio Midland -- Mark Wystrach, Cameron Duddy and Jess Carson -- went big in the cowboy hat department, including a topper with a rainbow feather to match a similarly adorned jacket for one.
Thanks for reading CBS NEWS.
Create your free account or log in
for more features.