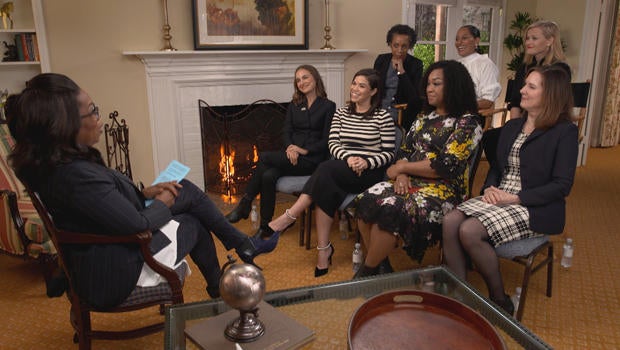 Oprah Winfrey on "Time's Up": Where do we go from here?
Oprah Winfrey delivered a much-acclaimed speech on behalf of the Time's Up campaign at last Sunday night's Golden Globes. A "60 Minutes" Special Contributor since last fall, she takes stock this morning with other members of the movement. We're delighted to welcome her to "Sunday Morning":
Even before the first award was handed out at last Sunday's Golden Globes, the Time's Up campaign had already won the night.
Time's Up -- which began as a meeting of Hollywood women last fall to address sexual harassment in the workplace -- has become a movement for victims everywhere. Stars wore black as a sign of unity, and for one dazzling moment, the fight against harassment and gender inequality was center stage.
But now what?
On the rainy Southern California day after the Globes, Winfrey gathered some of the women who helped start it all.
First questions: Who is the head of the group? And is it an organization? A movement? "At this moment it's a campaign," said Tracee Ellis Ross, star of "Black-ish." "And we're all sort of workers among workers and women among women, sort of rolling up our sleeves and doing whatever sort of comes to the forefront."
"Well, how do you get things done with no leader?" Winfrey asked.
"Well, we're women!" Ross replied.
And what exceptional women they are: Lucasfilm president Kathleen Kennedy, the force behind the "Star Wars" movies; mega-producer Shonda Rhimes, creator of hit TV shows including "Grey's Anatomy" and "Scandal"; entertainment attorney Nina Shaw; and actresses Ross, America Ferrera, Natalie Portman, and Reese Witherspoon.
Winfrey asked, "Beyond raising awareness, how is this going to help the waitress, the farm worker, the factory worker, the caregiver? How does what's happening in the room with Time's Up affect the people who are watching this right now?"
"We have to maintain the momentum of this conversation, because they can't," said Kennedy. "It's not only in what we're doing with a group like Time's Up, but it's in the content we're creating, the conversations we're having. We have to continue this work because we do have the spotlight."
And they also have the money: The $16 million Time's Up Legal Defense Fund can help female harassment victims get a lawyer, if they need one.
Winfrey asked, "There's so many men and women now who are uncomfortable in their workplaces because of all that's been uncovered and aren't just really sure how to be. What do we say to them?"
"We're humans; we're all humans," said Portman. "And I think it's treating people as fellow humans … it's not because you have a daughter that you respect a woman, it's not because you have a wife or a sister, it's because we're human beings, whether we're related to a man or not. We deserve the same respect. We have an instinct about how to treat our fellow human beings."
Winfrey asked, "Were there those of you who joined because you were also a woman who could say, 'Me too'?"
Yes, replied Witherspoon, who has spoken of being assaulted on one of her first movies, at age 16. "I have been very open that I was assaulted."
Ferrera had also posted a "Me Too" message: "I posted vaguely about an incident of when I was nine years old being assaulted by a man who I was then sort of forced to see afterwards for a long time. And what struck me about my experience was his certainty that I would be silent. And he was right. He was right for 24 years."
Winfrey asked about a series of tweets by Dylan Farrow during last weekend's Golden Globes:
"What would you want to say to her?"
"I hope so," said Rhimes. "You know, I'll be honest. I don't know about anybody else, but I hope so."
Kennedy added, "I'd like to believe that time's up for silence. We can start there."
Portman added, "I believe Dylan. I would want to say that: 'I believe you, Dylan.'"
It should be noted that Allen has denied Dylan's allegations, and following two investigations, no charges have ever been filed against him.
Still, the larger issues remain.
Ferrera said, "I think a big part of this, too, is not just changing the written rules but the unwritten rules. I think what we are experiencing right now is a tectonic shift underneath our feet, where women, and men, are feeling like we can no longer not say the truth. And when the truth is said, there is maybe a ripple in our culture right now that is going to allow for there to be a change."
"I feel like there's a constructive fury that has resulted in a resolute pursuit of equity," Ross said. "There's this, as you said, that tectonic shift, and then, like, something has galvanized, that we're all like, this is not just my hurt, this is more than my hurt, this is not just my anger, this is our anger. And instead of it just being a feeling, it's becoming an action."
"I have heard the confusion about the difference -- or people are afraid to even say there's a difference -- between inappropriate behavior [and] inappropriate comments, and sexual assault and sexual predators and rape," Winfrey said. "There is a difference."
"There is a difference, but there's a culture [where] one part of it supports the other," Ross replied. "There's an understanding of consent and respect that I think has gotten very confused in our culture that has set up a space that can make all of that happen."
Shaw said, "In my business, in my law firm, several people have come to me and said, 'I just don't know what to say. I just don't know what to do.'
"And I said, 'You know the difference between right and wrong. Is it a conversation that you would be comfortable going home at night and telling your wife or your mother that you had?' If you are uncomfortable in telling them about this conversation, then you shouldn't have it."
"Do you think some men need some re-learning?" Winfrey asked.
Oh, yes, was the collective response.
Ross added: "The thing that's always surprising to me: I am a strong, outspoken, powerful woman, and there are places and ways and times that I am even afraid to speak up. There are environments that we all work in that support a culture of harassment or a culture of any of those things … inappropriateness under the guise of humor, under the guise of all these things, or, 'I'm just complimenting you,' all of those kinds of things. And it's like, 'Why aren't you smilin', honey?' You know, all of those kinds of things that play into an overall idea of what the role that I'm supposed to be playing as a woman.
"And if it's scary for me to speak up …" she laughed.
Winfrey asked, "The question, Tracee, is: how is this measured? How do we make the punishment fit the crime for somebody who's saying, 'I was just complimenting you,' versus somebody who is actively a predator?"
"Maybe there isn't an answer for that yet," Ross replied.
"And once someone has been accused of this bad behavior, this inappropriateness, is there, do you believe, a path to learning and then overcoming those mistakes and doing better? Is there? Where is forgiveness in this?"
Witherspoon replied, "I think there's a lot of room for reconciliation. I think there's a time to approach people and tell the truth and have them listen thoughtfully and meaningfully, and apologize sincerely."
"So, once somebody's been accused of sexual harassment and loses their job, should they ever work again?"
"I'm not here to make that decision!" Witherspoon laughed.
"Just having a conversation for the world!" Winfrey said.
"But this conversation, by the way, has caused a lot of arguments for me at dinner parties," said Rhimes. "There have been a lot of shouting across a lot of tables about this, because some people really feel like, 'No, that's it, that's it for them,' and some people feel like they're not so sure. I mean, I was raised in a world in which I believe that there has to be a belief that people can grow, change and learn and know better. I mean, not if you've committed a crime. I feel like you need to go pay, do you time for your crime. But I do believe people have to be able to grow, change and learn from their mistakes.
"At a certain point there has to be room for reconciliation in a world, in a weird way. But a lot of people don't think that right now -- and a lot of women have the right to not feel that right now."
Ferrera said, "Speaking of this moment, as a culture we've gone from not listening, hearing or believing women, and how were we going to skip over the whole part where women get to be heard, and go straight to the redemption of the perpetrators? Can't we live in that space where it's okay for perpetrators to be a little bit uncomfortable with what the consequences will be?"
Winfrey asked, "Can you speak to how the speaking out of your own truth and telling your story, 'cause I think I was in the room the very first time you shared your story, Reese, and how has the speaking out of it actually led to a greater sense of empowerment and control over it?"
"Well, I don't know if I've gotten to that place yet," Witherspoon replied. "As you can see, I'm very emotional about it. But I keep going back to somebody sent me this Elie Wiesel quote that said, 'Silence helps the tormentors, it doesn't help the tormented. And neutrality helps the oppressors, not the oppressed.'
"And there's moments that you have to evaluate whether silence is going to be your only option. And certain times that was our only option. But now is not that time.
"You know, we have public voices. We have resources. But women who are workers in this country have nothing to gain in certain instances by coming forward. But we want to help. Like, it gives me strength to hopefully help other women."

For more info:
Thanks for reading CBS NEWS.
Create your free account or log in
for more features.