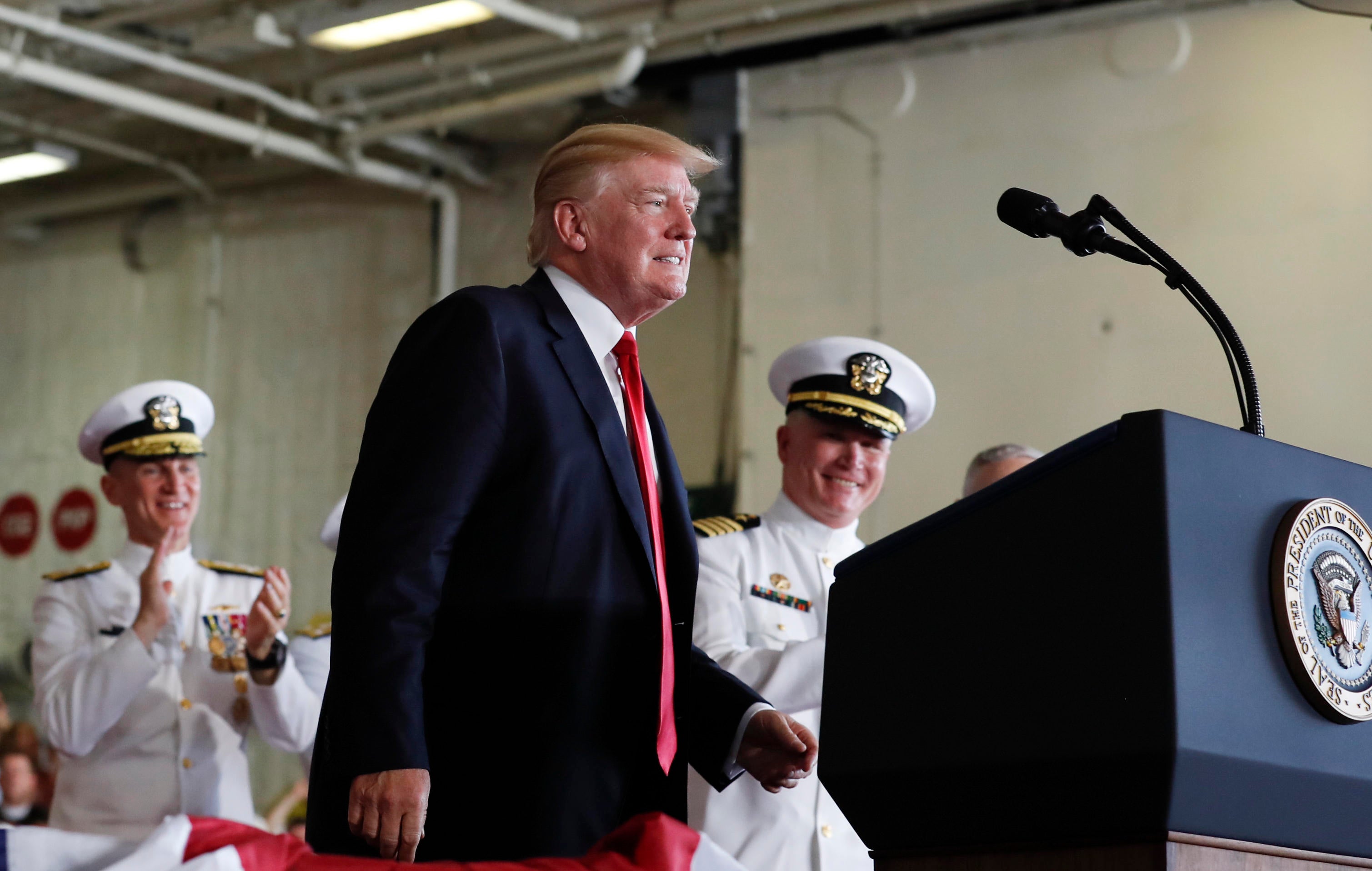 Trump announces military ban on transgender service members
President Trump announced in a Wednesday morning tweet that transgender people will not be allowed to serve in "any capacity" in the United States military.
In a series of tweets, Mr. Trump announced the new policy after what he called "consultation with my generals and military experts."
The president added that "our military must be focused on decisive and overwhelming victory and cannot be burdened with the tremendous medical costs and disruption that transgender in the military would entail."
The reversal appears to contradict Mr. Trump's previous tweets in support of the LGBTQ community during the 2016 campaign, saying in June of last year that he would "fight for you while Hillary brings in more people that will threaten your freedoms and beliefs."
Mr. Trump's eldest daughter and White House adviser Ivanka Trump has also frequently spoken out in support of the LGBTQ community, tweeting that she was "proud to support my LGBTQ friends."
In response to Mr. Trump's early morning announcement, Defense Department's Press Director, Cpt. Jeff Davis said in a statement, "We refer all questions about the President's statements to the White House."
Davis added, "We will continue to work closely with the White House to address the new guidance provided by the Commander-in-Chief on transgender individuals serving the military. We will provide revised guidance to the Department in the near future."
The ban reverses an Obama-era military policy in operation since last year, which allowed transgender service members to serve openly in the military after former Defense Secretary Ash Carter ended the previous ban, saying it was "the right thing to do."
Since October 1, transgender troops have been able to receive medical care and start formally changing their gender identification in the Pentagon's personnel system.
Obama's reversal of the ban mandated that the military had until July 1, 2017, to develop new policies to allow people already identifying as transgender to join the military if they met the variety of physical and medical standards necessary to enlist.
The policy also mandated that individuals "can no longer be discharged or otherwise separated from the military solely for being transgender individuals."
According to Defense, the policy was originally crafted through a "comprehensive and inclusive process" including leadership of the Armed Services, medical experts within the department, current transgender service members, outside advocacy groups and the RAND corporation.
While Mr. Trump claimed the costs associated to allowing transgender service members into the military were too high in regards to medical needs, a RAND study on the policy found that the costs of gender transition-related health care treatments were in fact relatively low.
"Using private health insurance claims data to estimate the cost of extending gender transition–related health care coverage to transgender personnel indicated that active-component health care costs would increase by between $2.4 million and $8.4 million annually, representing a 0.04- to 0.13-percent increase in active-component health care expenditures," the study reported.
There are an estimated 1,320-6,630 transgender service members but few seek transition-related medical treatment -- between 29 and 129 per year, based on a survey of health insurance data.
The RAND study went on to show that "even upper-bound estimates indicate that less than 0.1 percent of the total force would seek transition-related care that could disrupt their ability to deploy."
The ban comes after military chiefs announced last month that they would seek a six-month delay before letting transgender people enlist in their services.
Service leaders hammered out an agreement that rejected Army and Air Force requests for a two-year wait and reflected broader concerns that a longer delay would trigger criticism on Capitol Hill.
Mr. Trump's surprise announcement comes amid his ongoing public battle with his Attorney General Jeff Sessions and the continuing Senate debate on health care.
Meanwhile, in a statement by Sarah Kate Ellis, President and CEO of the LGBTQ advocacy group GLAAD, Ellis said, "President Trump today issued a direct attack on transgender Americans, and his administration will stop at nothing to implement its anti-LGBTQ ideology within our government -- even if it means denying some of our bravest Americans the right to serve and protect our nation."
Ellis added, "Today further exposed President Trump's overall goal to erase LGBTQ Americans from this nation. Trump has never been a friend to LGBTQ Americans, and this action couldn't make that any more clear."
Chelsea Manning, the transgender soldier convicted of giving classified government materials to WikiLeaks who was released from a Kansas military prison last month, tweeted in response to Mr. Trump's ban saying, "biggest baddest most $$ military on earth cries about a few trans people but funds the F-35? Sounds like cowardice."
President Barack Obama granted Manning clemency in his final days in office in January. She served seven years of her 35-year sentence.
This is a developing story. Please check back for latest updates.
Thanks for reading CBS NEWS.
Create your free account or log in
for more features.