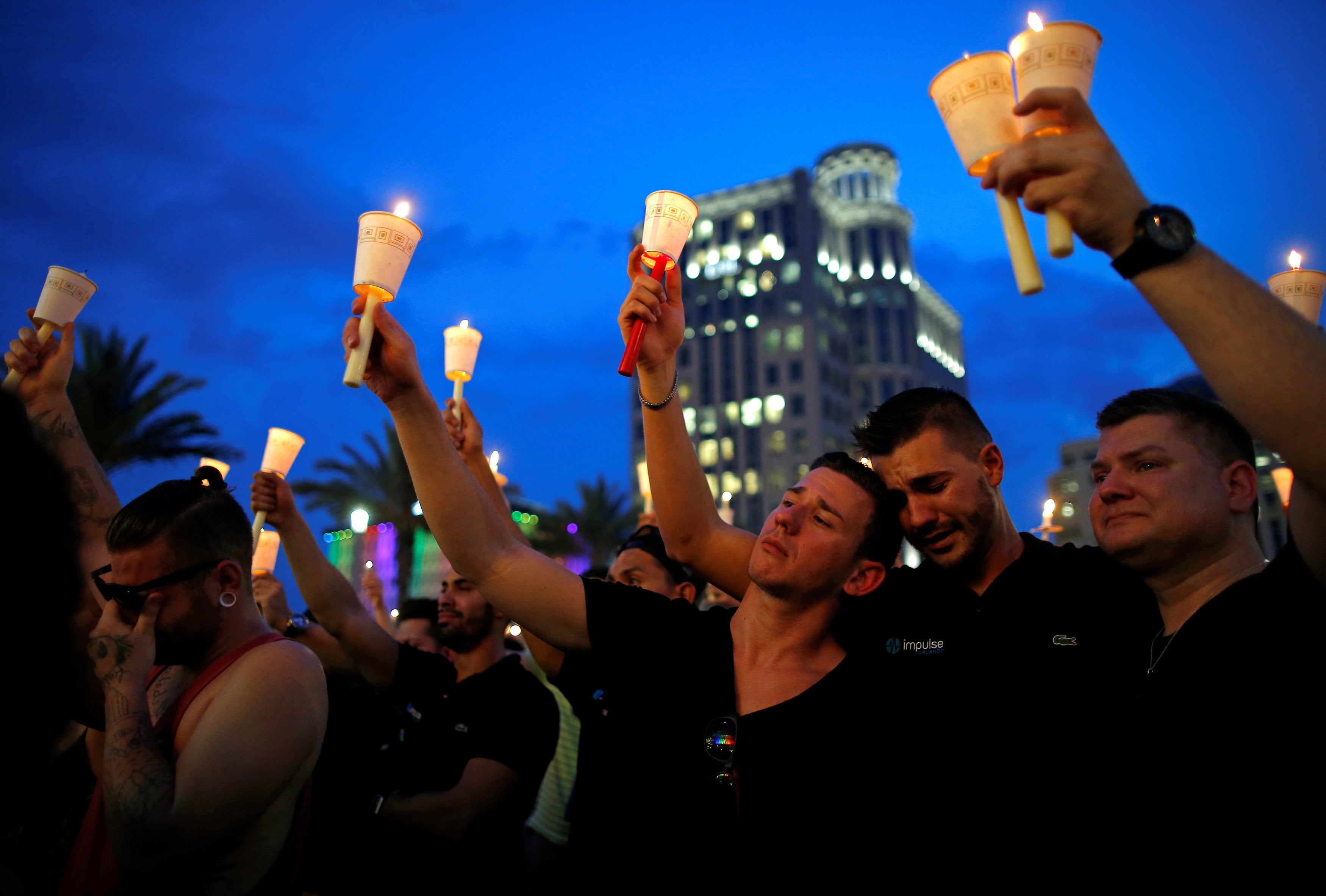 Thousands gather at Orlando vigil for nightclub shooting victims
ORLANDO -- Thousands of people gathered in downtown Orlando Monday evening for a vigil to support the victims and survivors of the Pulse nightclub mass shooting.
The shooting early Sunday morning left 49 people dead and dozens more injured. It was the worst mass shooting in modern U.S. history.
Many in the crowd at the vigil Monday evening say they were inspired to attend because Pulse played a huge role in their lives as gays and lesbians.
Cathleen Daus, now 36 says, "It was a place that a young 20-year-old who wasn't openly gay felt safe for the first time." She worked at Pulse in her twenties. "Pulse gave me confidence, made me realize I was normal and so much like everyone else."
The vigil was held on the lawn of the Dr. Phillips Center, the area's main performing arts venue. It's also the location of a makeshift memorial, where folks have been leaving flowers, candles and notes for the victims.
At the vigil, CBS Orlando affiliate WKMG said a bell was rung 49 times for each victim.
Across the U.S., vigils were held Monday to honor the victims.
ALASKA
The Alaska House of Representatives stood for a moment of silence Monday to honor the Orlando victims, at the request of Rep. Matt Claman, a Democrat. The Senate doesn't have a floor session scheduled until Thursday.
BOSTON
Hundreds of people gathered in Boston to pay tribute to the victims.
Boston Mayor Martin Walsh and Gov. Charlie Baker attended Monday night's candlelight vigil at City Hall Plaza, which was organized by Walsh's office.
Many people carried rainbow-colored flags and signs calling for peace. At times they held and comforted each other in a show of solidarity.
Songs were sung and speakers addressed the crowd in both English and Spanish. Walsh has invited the public to sign a condolence book and pride flag at City Hall that will be sent to Orlando.
CALIFORNIA
The rainbow colors of the gay pride flag flew Monday on the side of the California Capitol and on the floor of the Senate -- a first for the Senate, according to President Pro Tem Kevin de Leon, a Democrat.
In Southern California, the Los Angeles LGBT Center has organized a rally and vigil outside City Hall on Monday evening, one of a number of events around the state.
In San Francisco, home to one of the nation's largest gay communities, police said more officers would be patrolling popular LGBT venues and local mosques in the weeks ahead. The city's gay pride celebration and parade are set for June 25 and 26.
Scott Wiener, who represents the Castro District on the city Board of Supervisors, said he intends to host a meeting this week to involve owners of gay nightclubs, bars and restaurants in planning discussions with police.
Tim Eicher, who co-owns four bars in the Castro, said he and the owners of other LGBT venues "are doing everything possible to ensure that we keep our employees and customers safe."
COLORADO
Vigils are planned around the state Monday, with one of the biggest in Denver's Cheesman Park. Meanwhile, organizers of Denver's PrideFest say next weekend's festival will go ahead with tight security, including metal detectors and fences.
GEORGIA
More than two dozen human rights organizations have announced plans for a vigil and community gathering Tuesday night at Atlanta's Center for Civil and Human Rights. The groups include gay rights organizations, the Islamic Speakers Bureau of Atlanta and the Anti-Defamation League.
IDAHO
A vigil is planned Monday evening in Sandpoint, a small lakefront town in the north of the state, among other events this week. Chelsea Gaona Lincoln, an LGBT-rights activist who helped organize the vigils, urged the public to help protect the rights of Idaho's gay community.
Organizers of the ongoing Boise Pridefest, Idaho's largest LGBT pride event, met with police Monday to talk security details and shift the route of the event's upcoming parade away from the heart of downtown, for safety's sake.
On Sunday, just hours after learning of the Florida shooting, Pridefest organizers fielded an intimidating comment on the event's Facebook page, director Rodney Busbee said. Organizers immediately reported the remark to authorities, Busbee said.
"In the past, I've had people text me or post that that they were going to kill me," Busbee said. "But that became a reality over the weekend."
LOUISIANA
Gov. John Bel Edwards described the Orlando shooting victims as "our brothers and sisters" during a vigil Monday with Louisiana's legislative leaders at the State Capitol in Baton Rouge. The Democratic governor and dozens of other politicians sang "Amazing Grace" together, and Edwards read a Bible passage.
"There is no room for terror and hate," he said.
MICHIGAN
Students, faculty and staff at Lawrence Technological University held a vigil Monday on the school's Southfield campus, north of Detroit. A gathering and prayer service also was held at St. Aloysius Church in Detroit.
Later Sunday, dozens of candlelit paper bags decorated the steps of Michigan's state Capitol in Lansing as more than 100 people gathered.
The Ann Arbor News reports that a special community performance of Mozart's Requiem will be held Tuesday night at the University of Michigan's Hill Auditorium.
NEVADA
Advocacy groups were organizing a vigil Monday evening at the University of Nevada, Las Vegas. The organizations included advocates for immigrant students, LGBT people and survivors of sexual assault or domestic violence.
NEW MEXICO

Santa Fe Mayor Javier Gonzales announced plans for a public event honoring the shooting victims Monday on the Santa Fe Plaza, the landmark square that has served as the capital city's central gathering spot for hundreds of years. A vigil also is planned in a park in Farmington, a mid-sized city near the Colorado border.
NEW ORLEANS
Dozens gathered at a church near New Orleans' French Quarter to pray for the families and victims of a deadly shooting that targeted a gay nightclub in Orlando, Florida.
Clergy from a variety of faiths -- Episcopal, Catholic, Jewish, Sikh, Methodist and Muslim - read a passage of scripture Monday or recited a prayer to help begin the healing from the effects of the weekend massacre.
Twenty-six-year-old Stephanie Oshrin quietly sat in a pew before the program started. She says she came because she's part of a community where there are not a lot of safe places and there's a real sadness that comes when one of those places you think are safe is violated.
Mayor Mitch Landrieu and former Democratic state Rep. Austin Badon also attended the vigil, which included a candlelight ceremony during which the names of each person killed was called.
NEW YORK
Thousands crowded the streets around the Stonewall Inn in Manhattan where large-scale gay rights activism got its start in 1969.
Under banners heralding the upcoming Pride Week event, people held hands and hugged. Some waved rainbow flags and others carried signs showing support for Orlando as they listened to a slew of elected officials, including New York Gov. Andrew Cuomo and Mayor Bill de Blasio.
Spectators watched from fire escapes and windows of nearby apartment buildings as chants of "love beats hate" rang from the crowd.
At the end of the vigil, attendees held candles and some sobbed as the names of the victims were recited. Each name was met with the Spanish cry of "Presente!" from the crowd.
Thomas Dougherty, 23, of Manhattan, said he came to the rally to feel united and connected.
He said he had friends in Orlando who ordinarily could have been at Pulse and he spent a frantic Sunday tracking them down to make sure they were all okay.
"Seeing everyone here makes me feel at home, makes me feel safe," he said.
OHIO
Cincinnati Mayor John Cranley plans to attend a Monday night vigil at a downtown nightclub. Cranley, a Democrat, says he's proud to stand in solidarity with LGBT people "and to let the world know that Cincinnati is an inclusive and welcoming city."
OREGON
The Morrison Bridge in downtown Portland was being illuminated in rainbow colors Monday night. The bridge featured a similar display last year after the U.S. Supreme Court ruled in favor of same-sex marriage.
The rainbow colors had already been slated to return for the city's annual Pride weekend, which starts Friday.
PENNSYLVANIA
Philadelphia's LGBT community is organizing an early evening vigil Monday outside City Hall in what organizers describe as an outpouring of "grief, love and solidarity for the victims in Orlando."
An evening march also is planned in the state capital, Harrisburg.
RHODE ISLAND
A candlelight vigil is planned Monday night outside a gay nightclub in Providence, followed by a march to the Statehouse steps.
With other vigils and memorials also scheduled around the state Monday and Tuesday - and the Rhode Island Pride Festival expected to draw 40,000 people Saturday in Providence - police are planning to provide more officers, dogs and other security measures for the events.
The head of the state police and members of the Providence Police Department met Monday with Pride Festival organizers and the owners of several gay bars.
"They are nervous, like any other community that was targeted for violence," State Police Superintendent Col. Steven O'Donnell said.
VERMONT
Democratic presidential candidate Bernie Sanders joined more than 1,000 people in his hometown Monday to show solidarity with the victims of the mass shooting at a nightclub in Orlando.
Sanders and his wife, Jane, participated in a march that started near a church in downtown Burlington, his hometown, and ended at City Hall Park, less than a half-mile away.
In his brief remarks, Sanders said the Orlando shooting was carried out by "one hateful person" and that it was not committed by the Muslim people. To say otherwise, "is bigotry pure and simple," he said.
"Our job is not to allow politicians, Mr. Trump or anyone else, to divide us up by where our family came from, the color of our skin, our religion or our sexual orientation," Sanders said, referring to Republican presumptive presidential nominee Donald Trump.
Sanders, a former mayor of Burlington, said he hopes the shooting inspires people to "prevent hatred and to create the kind of nation based on love that we all know we can become."
WASHINGTON, D.C.
A Muslim-American women's group is planning a candlelight vigil Monday night in Dupont Circle, the hub of a neighborhood near downtown. Organizers say the goal is to stand together against anti-gay, anti-transgender and anti-Muslim bias.
Thanks for reading CBS NEWS.
Create your free account or log in
for more features.